CHESAPEAKE, Virginia--The Super Bowl is finally here and DraftKings Sports-Book--an official betting partner of the NFL--goes all in with a huge offer! New customers can get 56-1 odds on either team to win the big game! Bet just $5 and win $280 in free bets if your team wins! Just use promo code GODZILLA! The magic promo code of all time!
Not a new customer? No Problem! You can still get in on the action of the Super Bowl with SAME GAME PARLAYS!
Combine multiple bets from the same game for a bigger payout. The more legs you add, the more money you can win!
Download the DraftKings Sports-Book APP now and use PROMO Code GODZILLA and get 56-1 odds on the Rams or the Bengals! Bet just $5 to win $280 in free bets if your team wins! You must use the promo code: GODZILLA
Lines by DraftKings as 02-12-22 3:00 PM 
Well, here we are at last. So this is my final NFL football column until opening night next season! Maybe I'll take the break and write a book instead. I already have the title:
From Rags to Rent. Stay tuned. In the interim, I'm waiting for the opening day of the baseball season (if we have one) when my beloved Astros take on the Phillies in Houston on March 31. Verlander is back. Screw the Braves. Chop this.
I was 1-1 ATS last week, making me 6-6 ATS for the playoffs and 104-82-2 overall ATS. That's 22 games over .500. I bet $100 on Draft Kings on each team I picked so I ended the season up +$1,380. Not a bad season when you bet 188 games ATS. I bet $100 on the Super Bowl and $1,000 on the Astros to win the 2022 World Series at 9-1 odds, and I cashed out the rest = +$280. That's a lot of fun for a whole season and getting $280 back, too! I love Draft Kings!
Peter Kriebel, our 16-year old NFL expert, and die-hard Ravens fan went 2-0 in the Conference Championships so he earned his way into this column with a Super Bowl pick.
The Game
Bengals Vs. Rams (4.5) -- I decided to go back to the beginning of the season and get some highlights on what I actually said about Cincinnati.
Here's a recap:
Conference Championship -- On the roadside, the Bengals won a clown show in Tennessee where Ryan Tannehill coughed up three picks - on this first and last passes of the game - and the Bengals overcame nine sacks for minus 175 yards. For Titans fans, that game will suck for a long time, equal to blowing the 35-3 lead to Buffalo in the third quarter in the Oiler days. It is what it is. I'm home on the couch instead of in Nashville. Bottom line, I was at the Bengals - Titans game, and Cincinnatti is just not that good. Chiefs in a laugher, seven points is a joke.
Divisional Game -- Derrick Carr lit the Bengals secondary up like a Christmas pinball machine. Add in the fact the Bengals' offensive line is a spaghetti strainer and the Titans have a fierce pass rush and this points to a home cooking win.
Week 16 -- Ravens at Bungles (-4.5)Wow. The Bungles playing for the division lead at home. Joey Burrow says the Bungles have no Covid issues because Cincinnati is a dead town for young people with no nightlife. He says he goes to Applebees for a night on the town. Burrow torched the Ravens secondary in their first meeting for 417 (!) and Baltimore had no answers for Ja'Mar Chase and company. So when in doubt: #BAP. Get this: the game opened at 2.5 and got bet up to 4.5 by you know who: the public
Week 15 -- Bungles at Broncos -3
I'm done with Cincinnati. They do everything but win games down the stretch.
Week 8 -- Cincinnati Bengals (-11.5) at New York Jets
Am I in an alternate universe? Are the Bungles a double-digit favorite on the road? Who would have ever predicted this in August? Well don't look now but there is a new sheriff in town in the AFC North: Joey Burrow. This team is for real.
The Jets are one of the worst teams in the NFL. Their only bright spot was Zach Wilson, who won't play Sunday. So the Bungles get a backup no-name QB at Jimmy Hoffa Stadium.
Who is Ja'Marr Chase? Can you say his name fast three times? Who cares, he's a beast and he'll be dancing in the Jets' end zone as the boo-birds with paper bags over their heads pepper the stands. It's a Halloween horror show for the Jets in the biggest swamp this side of K-Street. Bungles in a laugher. I'd lay 21 here. Can't believe it's only 11.5!
On Week 8, I also made this bonus pick: Youngkin wins and Virginia GOP takes House of Delegates
Week 1 -- Minnesota Vikings (-3.5) at Cincinnati Bungals
Give Burrow a game to get the bugs out and the rust off after missing the last half of last season with a leg injury. Cincy at home means nothing – their fans are all at the Reds game. Vikes -3
So, I picked against the Bungles much of the season. Who Dey? 
Every dog has its day.
The Rams are a superior team in every facet of the game. Their pass rush should sack Burrow 18 times. But don't bet against magic. Its the Queen City Miracle. Somehow, someway, this year, Burrow gets it done. Next year, not so much. But that's a long, long way off. Take the points.  Pick: Bengals + 4.5 
2-0 Peter up next! 
Here's a little about Peter Kriebel: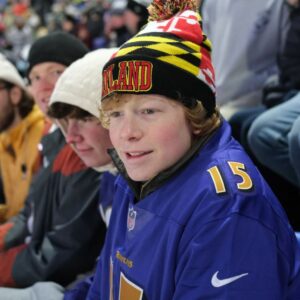 Peter is a Baltimore native now living in Richmond, Virginia. He is a junior in high school and a huge fan of NFL football. His favorite team has been the Ravens since he was in second grade. It didn't happen this year but the Ravens will win a Super Bowl with Lamar Jackson. Go Birds!
IT'S NOW OR NEVER: Don't forget to get in the action with DraftKings Sportsbook - Bet $5 and Get $280 in free bets instantly when your team wins on a $5 bet--use the promo code: GODZILLA.
Bengals Vs. Rams (-4.5) 
By Peter Kriebel 
How many times do I have to bet against Joe Burrow before I learn my lesson?
I mean, seriously, this guy is special. An 18-point comeback in the AFC championship game is the stuff of legend. While the second-half Mahomes collapse may not be getting as much attention as it deserves, many quarterbacks wouldn't have kept their poise in that spot. Burrow showed grit, clutch, and swagger in that game but that's really nothing new for him.
In fact, it's been the story of his young career. He just has a way about him, and while I believe QB wins are an overblown stat, this guy is just a winner. Opposing him this Sunday is a really tough defense, with two of the NFL's best defenders in Aaron Donald and Jalen Ramsay. It's obvious that any Bengals O-lineman is overmatched against Donald. If the Bengals have any interest in Joe Burrow leaving this game in one piece, they need to have a plan for #99. Jalen Ramsay, on the other hand, isn't such a clear favorite in his individual matchup with J'mar Chase.
This is really the key to the Bengals' ability to consistently move the ball. If L.A. feels comfortable with Ramsay on Chase, it opens up so much for their defense. It would allow for less favorable run looks for Cincinnati, more help covering Tee Higgins and Tyler Boyd, and maybe even a QB spy for slippery Joe. In contrast, if J'mar Chase proves too much for Ramsay to handle, the Bengals can force L.A.'s hand defensively the way they did Kansas City's. I hope for the sake of entertainment that Jalen and J'mar are on an island all game.
As for how Cincinnati's defense stacks up against L.A.'s offense, this side of the ball is more of a mystery to me. I don't anticipate the Rams being able to gash Cincy in the run game. The Chiefs were able to run the ball at nearly 6 yards a clip against Cincinnati, but they have one of the best O-lines in the league. In my opinion, the Rams O-line is a unit that ranks around the middle of football and they don't blow people off the ball in the run game.
They were worked by the 49ers front four in the Conference Championship, with Stafford seemingly on his back after every pass attempt. Cincinnati has shown they can get after the passer and I think that continues on Sunday.
McVay will scheme plenty of quick throws and rollouts to negate some of the pass rush, but the Bengals will likely get home to Stafford a couple of times. Another factor to consider is the fact that the game is being played at the home stadium of the Rams. Even though the L.A. fans are seemingly a fairweather bunch, the familiar game-day routines of all the Rams players should provide some sort of psychological advantage. Ultimately, I foresee McVay in his second Super Bowl coming up with a better game plan than Zac Taylor.
The Bengals won't be able to stick with the Rams' elite receivers in man coverage and McVay will have plenty of gameplan-specific coverage beaters to exploit their zones. As long as Stafford remains half as cool as Joe Burrow in this game, L.A. gets it done. Having said that, the last time the Bengals lost by more than 4 was in early December so they'll cover the spread. Pick: Bengals +4.5
By John Fredericks and Peter Kriebel