SEC Tournament 2023: Expert Picks and Predictions
There are too many exciting conference tournaments to count. We've already previewed both the Big Ten tournament and the Mountain West. Let's turn our attention to the SEC Tournament. 
Here are the seedings and matchups for the SEC Tournament: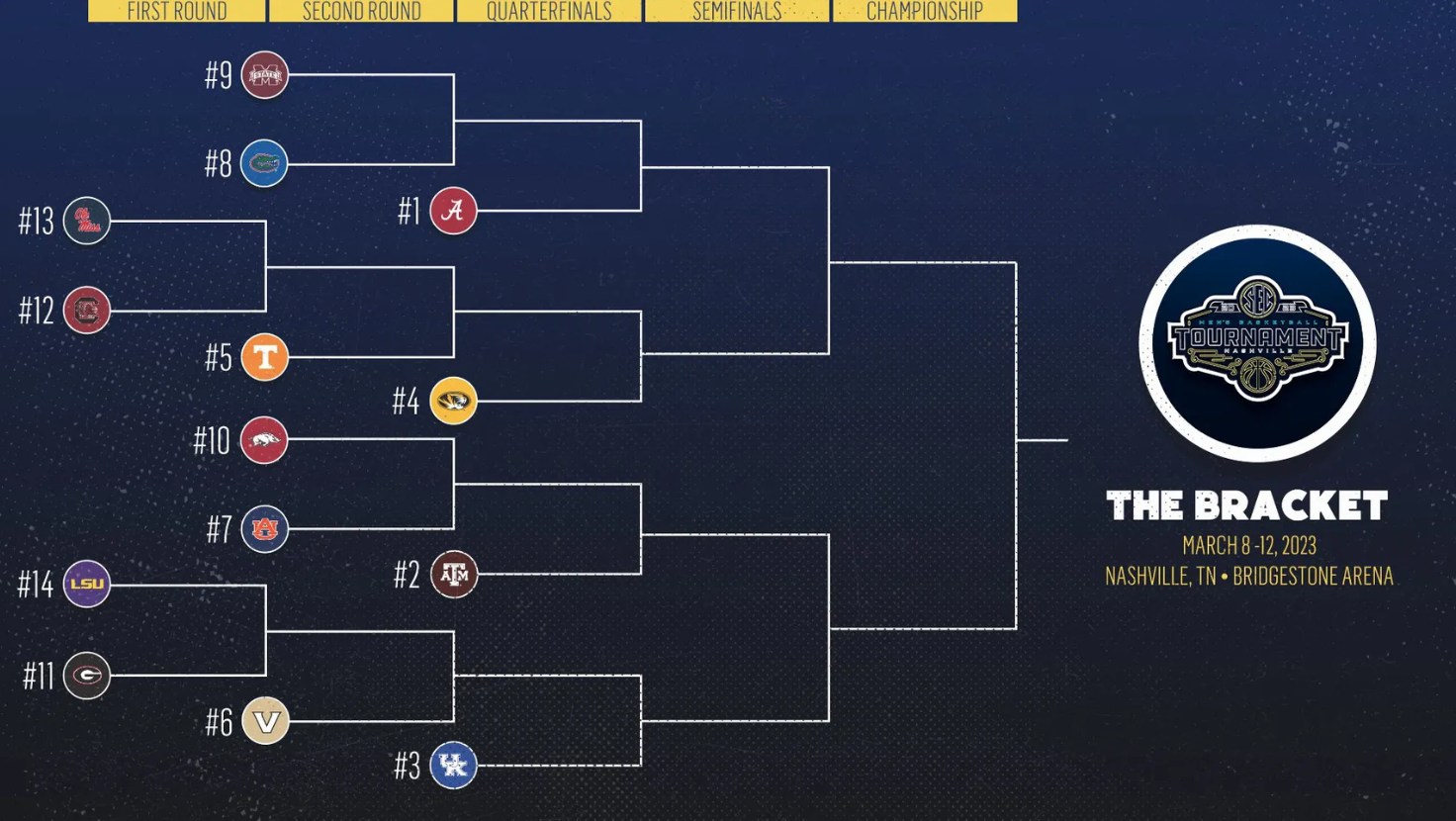 Matchups
Wednesday, March 8: LSU vs Georgia, Ole Miss vs. South Carolina 
Thursday, March 9: Mississippi State vs. Florida, Arkansas vs Auburn, Vanderbilt vs. LSU-Georgia winner, Tennessee vs. Ole Miss-South Carolina winner 
Kentucky, Alabama, Texas A&M, and Missouri all have byes into Friday's quarterfinals. 
There are plenty of teams who can win this tournament and plenty that will be playing in the NCAA Tournament next week. However, let's examine a few teams in detail. 
Tournament Preview 
Alabama is an easy choice to win this, especially with the 26-5 record and 16-2 conference mark and a 4-spot in the latest top 25 polls. On the other hand, the situation around Brandon Miller has been difficult for everybody to deal with, and the Crimson Tide just lost to Texas A&M to finish out the regular season. 
Missouri climbed into the top 25 after winning four straight to finish SEC play, and Texas A&M won eight of the last nine, with the lone loss being to Mississippi State on the road. 
Then you have Tennessee, who was a projected top seed at one point this season before losing six of the last 10 games to end the year. 
Let's not forget about Auburn, who was in the top 25 for a good chunk of the early portion of the season before dropping eight of the final 12, although they beat Tennessee to end the regular season. 
Oh, and Kentucky won five of the last six and you can never count out a team with John Calipari as head coach. 
Prediction
Here's the scenario: Alabama beats Florida but falls to Tennessee, and the VOlunteers get to the final. On the other side of the bracket, there's more chaos. Georgia beats LSU then stuns Vanderbilt, but Kentucky beats Georgia and Auburn beats Texas A&M as Kentucky and Auburn face off in the semifinals.
However, in these tournaments, we tend to see the best player make a massive difference, and one of the best players in the entire country is Oscar Tshiebwe from Kentucky. Tshiebwe had 22 and 17 in the last meeting against Auburn, and he leads Kentucky to the final. Now, IF Auburn gets past Kentucky, they can win this thing,  but the Wildcats don't let it happen. 
Kentucky has beaten Tennessee both times this year, and Oscar Tshiebwe has combined for 31 points and 20 boards in those games, and he leads the way again. 
Pick
Outright Winner Pick: Kentucky (+450)
Runner-Up: Tennessee (+280)
Longshot: Auburn (+1200)
All odds provided by DraftKings as of 3/6/23