Our crack team of analysts pick futures bets in the SEC for the 2022 season. 
By: Jack Fredericks (He/Him/His) and Nate Perry (#NoPickNate)
We're nearing the beginning of college football and will be previewing our best picks for futures bets on odds to win each conference (and division in some cases). While Alabama took the SEC crown last year, it was the Dawgs (ruff ruff) who came out as victors in the National Championship. The SEC has long been considered one of the most difficult conferences to wager because of the parity in the league. Brian Kelly has a Southern accent now. Mike Leach uses an outhouse. Kentucky has a quarterback. Florida says they are going to stop jumping offsides! Our experts, Jack Fredericks and Nate Perry, do their best to wade through each division. We seek value here, instead of locks. We'd rather lose a long shot then win a weasel wager on the Tide. Keep reading if you love the adrenaline rush you feel after Tennessee rips off four straight wins before imploding by Halloween. 
Odds to win the SEC

Alabama -145

Georgia +155

Texas A&M +1800

Florida +4500

Ole Miss +5000

Tennessee +5000

Kentucky +5500

Arkansas +6000

LSU +7000

Mississippi State +12000

Auburn +12000

South Carolina +15000

Missouri +30000

Vanderbilt +100000
Odds brought to you by DraftKings
SEC EAST
Odds to win the SEC East

Georgia -550

Florida +1000

Tennessee +1100

Kentucky +1200

South Carolina +4000

Missouri +8000

Vanderbilt +40000
Odds brought to you by DraftKings
GEORGIA 
+155 to Win Conference
-550 to Win Division 
Jack: The Dawgs are fresh off their first national championship win in over thirty years. They're so good that Herschel Walker thinks he can get elected to office. They went 8-0 in the conference last year and 14-1 overall. They don't play a preseason ranked opponent until November 19th when they face off against Kentucky. If they can get past Oregon, they have a very good chance of running the table. Yes, yes, they lost a lot on both sides of the ball. However, Stetson Bennett has the confidence of the team and if you know anything about Georgia football it's that a talented tailback always emerges. A wager to win the division at -550 is boring, but a small one to win the conference might find you with a little action in early December. 
Nate: UGA must be riding high after finally breaking through for the first time since 1980, which allows some of my family members in Georgia, coincidentally, to not look like delusional fools every time college football is brought up in conversation. Clearly everyone is still high on this team given the odds to win the SEC East, or maybe bettors just think everyone else sucks. The defense that ranked first in the nation last year lost a pile of players to the NFL and their coordinator and that will be tough to replace. The offense also lost some key pieces though they retain the services of Stetson Bennett. Overall, the offense should still hum. But losing all those defensive pieces gives me pause when looking at their outrageous odds to win the division.  
FLORIDA
+4500 to Win Conference
+1000 to Win Division 
Jack: After UGA, the SEC East drops off measurably. That's bad for the casual viewer but great for the adrenaline junkie with a DraftKings account. I'm not sure why Florida's odds are so high. They went 2-6 in the conference last year, but the talking heads feel like they're much improved. Everyone loves Billy Napier. I also think they get a little bump just for being Florida. Everyone says if they can get their penalties under control, they'll pass for a real football team. I'm not convinced. They start their season with Utah and if they get waxed, I'm not sure they'll recover in time for Kentucky. A&M is also on their schedule this year. I'd rather save my money. Wait until Rick DeSantis loses to pay attention to the Gators.
Nate: Jack, everyone loves Billy Napier because all he did was lead his former team, the Ragin' Cajuns to double-digit wins each of his previous three seasons. And we all know how the natural progression in college football is dominating the Sun Belt and then cruising into the SEC completely ready for all the pressures that entails, right? Right? The offense he inherits should still be pretty solid as they return quite a bit of talent on that side of the ball, but the defense could be a huge liability in an SEC where offenses are getting better by leaps and bounds. It's not outside the realm of possibility that Billy Napier rises to the occasion and that the defense can make a stop or two to win some games, but it won't be easy. Week 1 matchup against a nasty Utah team should be telling as to what to expect from this crew moving forward. 
TENNESSEE 
+5000 to Win Conference
+1100 to Win Division
 Jack: The Vols have been everyone's sexy pick for years. The experts want to crown them king of the South before the season has even started and many people see value in that 50/1 to win the conference. WRONG! I'm not buying it. These are the Vols we're talking about. You're correct in thinking they have a relatively easy schedule. They can rip off some early wins and everyone will overrate them for beating Pitt, but I just can't put my money behind this. I'm out. Peyton should have gone to Ole Miss. 
Nate: I don't begrudge anybody for wanting to throw some beer money on Tennessee for either of these futures. If you're chasing a big payout, this is just sort of how it goes. You're speculating that Tennessee won't be a massively overhyped disappointment like they have been for basically every other year for the past decade-plus. The offense will be good – they return tons of talent with Hendon Hooper (what a name!) coming back along with two RBs, leading receiver, and four members of the offensive line. Not much should change for them as they will probably have the best offense in the SEC. The problem will be (and I feel like a broken record) is that their defense will not be good. This team is gonna have to win some shootouts, get past Pitt in a potentially competitive non-conference game – oh, and then play Alabama. Anyways, this could be a fun bet right up until they start 7-0, lose to Kentucky, and you throw your tv through a window.  
KENTUCKY
+5500 to Win Conference
+1200 to Win Division
Jack: Give me these odds all day. Will Levis is a top 10 draft pick and there is talent all over the offense, even without Wan'Dale Robinson. The Cats did lose Liam Cohen as the offensive coordinator, but with a QB like Levis it really doesn't matter who's calling the plays. They bagged some transfers to help out the secondary. I'm optimistic they can finally beat Tennessee and run the table until they face off with UGA in November. I'm putting some serious money on the Cats this year. You might lose your wallet, but you'll be screaming at your television in the fall, which is ultimately the goal.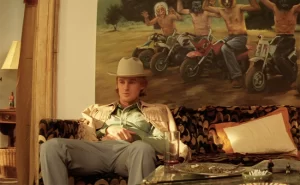 Nate: Really, I just wanted to insert a video of Eli Cash from the movie The Royal Tenenbaums muttering Wildcat, but alas, I can't find a good gif or video. Anyways, this should be a helluva fun team to watch. They fall into basically the same category as Tenneesse where they could be a fun sweat if you felt like throwing a few bucks at the Cats to win the East or the SEC. The offense will still be good, and the defense may improve as well (gasp, a team with an improving defense). The thing to like about them is, as far as SEC schedules go, they actually don't have it too bad. They don't play Alabama this season (unless they make it to the SEC Champ, in which case you can hedge like crazy holding that 55/1 ticket) and their toughest game happens in scenic Lexington where they'll face Georgia. They should also be able to dispatch the Gamecocks and Miss. State at home. Go Big Blue.
SOUTH CAROLINA
+15000 to Win Conference
+4000 to Win Division
Jack: The only South Carolina fan I knew had a habit of drinking three liters of margarita mix with a bottle of Hornitos. He'd fall asleep on his floor, because he didn't own a couch. That sounds like more fun than watching this team lose to Missouri. 
Nate: This team is like a thrift store SEC team. Almost everyone of note was salvaged from some other place and brought here in a fun transfer portal experiment. I doubt it ends well, but credit to Shane Beamer for trying to make it happen. Thoughts and prayers, Gamecocks fans. 
MISSOURI 
+30000 to Win Conference
+8000 to Win Division
Jack: My favorite place in America is Liberty, Missouri. My least favorite thing to do is bet on Missouri to win football games. 
Nate: I'll second that. Nowhere better than Liberty, Missouri. This team will be bad. They weren't good last year, and lost most of their good players. This team is in a race to the bottom of the SEC East, and if it weren't for Vanderbilt, they'd already be there. I'm glad they thought they could be competitive when they came over from the Big 12 – and this should've been a lesson to Oklahoma and Texas. But it seems nobody learns. All the stupid Big 12 teams that left or are leaving a once-proud football conference to get pummelled every season moving forward can kick rocks. I hope Missouri, Texas A&M, Texas, and Oklahoma lose every game from now until college football is just an Alabama barnstorming tour and everyone else has scrapped their programs. All right, now my blood pressure is spiking and I need to take a walk. 
VANDY (AKA the Doctors)
+100000 to Win Conference
+40000 t0 Win Division
Jack: Vandy beats Ole Miss every other year for absolutely no reason other than Ole Miss loves to lose home games to med students. I didn't even know that the odds went this high. 
Nate: Sorry, Vandy fans. Vegas projects the win total at over/under 1.5 for this season. That pretty should say it all about expectations this year. Really, this win total is just a reflection of the fact that they could very well start 2-0 before their demolition derby begins in earnest. My advice to Vandy fans is to not get your hopes up after two wins, it will only make it hurt more later. 
SEC WEST
Odds to win the SEC West

Alabama -600

Texas A&M +700

Ole Miss +2000

Arkansas +2200

LSU +3000

Mississippi State +5000

Auburn +6000
Odds brought to you by DraftKings
 ALABAMA 
-145 to Win Conference
-600 to Win Division
 Jack: Bryce Young. Will Anderson. Nick Saban. Kay Ivey. The brother at the KA house. Harper Lee. You just can't get any better than Alabama in college football. This team is poised to smash everyone, run the table, embarrass Jimbo and Brian Kelly, and win another championship. There's no value in taking these odds unless you live in T-Town. Pass. 
 Nate: This is annoying because it's exactly what everyone else is saying, but Bama will be ridiculous this year. Better than last year, where in a down year with a lot of new pieces to juggle, they finished runner-up to Georgia. So, buckle up Tide fans and haters. Their schedule is relatively soft this year, as they won't play Georgia. The Tide will roll. 
 AGGIES
+1800 to Win Conference
+700 to Win Division
Jack: Interested to see what Nate thinks here. This is the biggest bust in the SEC for me. Jimbo does a lot of talking for a guy who hasn't ever produced in Arlington. There are national championship expectations hovering for these guys, which is never good unless your name is the Alabama Crimson Tide. I fully expect them to barely beat App State, get trounced by Miami, and immediately start losing games in the SEC West. In six months we'll be asking ourselves what happened to Jimbo and why is he retiring?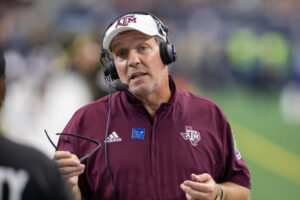 Nate: My rant about Missouri could roughly be copy and pasted here. I despise Jimbo and I despise A&M. It's just that simple. They are a program with nothing to be proud of. They won the Big 12 in 1998. Their other previous conference championships happened in the now defunct Southwest Conference. Grow up, Aggies fans. They have tons of talent and Jimbo is a great recruiter, but it seldom translates to results on the field. They're replacing some talent and replacing their defensive coordinator who left to take the job at Duke. Their schedule is going to be tough and they will have to settle on a QB pretty soon otherwise this whole thing may fall apart before it gets going. Miami won't be easy, and they have a weird schedule in the SEC where they only have three home games at Kyle Field. 
OLE MISS 
+5000 to Win Conference
+2000 to Win Division
Jack: At the risk of homerism, I'm going to pick against my alma mater. I don't like these odds. Sure, with Lane calling plays you always have a shot. You could put $10 on the Rebs to win the conference and feel alive for four weeks. It's hard to win with a new quarterback. They haven't beat Alabama since Hugh Freeze was firing off late night calls on his burner phone. They've never won an SEC championship. I have season tickets and I'll be rooting for my guys all year, but I'd rather bet the under on the win total and be pleasantly surprised with a nine win season. Hotty Toddy. 
Nate: All aboard the Lane Train. Lane is the most hilarious and irritating coach in college football – rivaled only by his in-state rival, Mike Leach – and I'm always going to give him the benefit of the doubt for this reason. Now, what does that mean exactly? Nothing. Their non-conference schedule is easy and they have a chance to not embarrass themselves at Vandy. They won't be good, but they'll win those games and be competitive against UK, Auburn, LSU and Miss State. So, enjoy The Grove and enjoy the games. And if you see Jack there, do me a favor and make sure he's had breakfast before he starts on the whiskey. 
ARKANSAS (AKA HOGS)
+6000 to Win Conference
+2200 to Win Division
Jack: I'm taking this wager all day. Put $100 on the Hogs to win the conference. This team was one game away from putting it all together last season. Yes, it's a long shot for the Hogs to beat Bama, A&M, and Ole Miss, but this is what you live for! If you're reading the GodzillaWins page it's because you've got an extra $2,000 you need to unload before the taxman comes for you and what better way than on a mediocre Hogs team that will deliver at least four heart attack finishes?
Nate: This team is fairly one-dimensional in that they will just absolutely batter you on the ground. That will work well against some teams (ahem, Ole Miss. Sorry, Jack), but not against others. I don't think it's unreasonable for Hogs fans to enjoy 8 wins this season, but I wouldn't encourage anyone to wager on them to win the division or conference. 
LSU 
+7000 to Win Conference
+3000 to Win Division
Jack: This is the Brian Kelly bump. This team was better off playing Name that Mixed Drink on Bourbon Street than playing defense in the SEC last year. I have no doubt Brian Kelly will be competitive, but even Saban needed a year. Give it time. Don't waste your money. 
Nate: Brian Kelly is a southerner now, but I don't think that's gonna be enough for this team. He's still settling in, and I have no doubt he will eventually elevate this team, but this probably isn't the year for it. The schedule is brutal, and he's still getting all of the pieces in order. He's improved teams quickly in the past, and it's easier to do that at LSU with all of their resources than other places like Notre Dame (where they can be notoriously stubborn). 
 MISSISSIPPI STATE
+12000 to Win Conference
+5000 to Win Division
Jack: How can you count Mike Leach out? There is a billboard in Clarksdale, Mississippi with his face on it for some reason. Look at these odds! We can't afford not to at +12000. I'm throwing $5 on these clowns to win the conference. Leach always surprises us early in the season and then loses to Wyoming on a Friday night. I don't think Mississippi State will be as bad as people predict. We're all about value here and who's more valuable than the mad scientist? 
Nate: This team is always entertaining with Mike Leach at the helm. They play cupcake games in non-conference and should give a handful of teams a run in the SEC. Do they have a chance of doing anything special this season? No. But Bulldogs fans should be able to enjoy the press conferences and some of the games, so long as it doesn't pull them away from their farms for too long. 
AUBURN 
+12000 to Win Conference
+6000 to Win Division
Jack: Everyone thinks Auburn stinks and they might be right. Can Jabari Smith play tight end? Let us pray for the Tigers. 
Nate: This team is a disaster from the outside. They are cycling through coaches faster than Trump moves through lawyers. There's basically no continuity and when this team hits the field, it's going to be pure guesswork to predict how they'll perform. They lost Bo Nix to Oregon and have a QB battle shaping up with a variety of transfers and freshmen. They might win some just because their schedule is ridiculously easy, but this is a team that should be happy if they finish over .500.

ADVERTISEMENT
Download DraftKings Sports-Book APP now and use PROMO CODE GODZILLA when you sign up! GODZILLA gives you the best deals in America!  If you or someone you know has a gambling problem, call the Problem Gambling Helpline at 888-532-3500.