Flying With the Flock: Ravens Exact Revenge
 That was a weird one.  At the beginning of the third quarter, we were in a Bizarro World. Lamar, who's been so sharp all season, missed two of the easiest throws he'll ever see, both of which would have gone for touchdowns. Ravens fans everywhere chalked these errors up to Lamar's just having a bad outing. In reality, this game was being played on opposite day, where the only consistency was the play of kicker, Justin Tucker.
After all, under what other circumstances could Patrick Queen get an interception? Kidding! In fact, I owe Patrick Queen an apology. Way to go, Patrick, you made me and every other talking head cowering behind their keyboard eat it.
The defense as a whole gave a collective double-birdie to everyone who doubted them, myself included. The D-line, which has been so heavily criticized, made Joe Burrow miserable. They tore apart the interior of Cincinnati's O-line and confused them with perfectly executed stunts.
Mike Macdonald, take a bow. Joe Mixon's averaging over 5 yards a rush was all a part of the plan because it meant the Bengals receivers were held in check on the back end. Speaking of the back end, how about Marcus Peters? The Juiceman more than earned his nickname last night. Fighting through a thigh injury that many thought would keep him sidelined in this one, he fought with a tenacity that you simply don't see in today's NFL.
Peters perfectly embodies this team and this city and deserves more recognition as one of the game's best corners. His coverage-mate, Marlon Humphery, had a delightfully quiet game, losing only a few reps to the All-Pro across from him. Something about those all-black uniforms in a nighttime game just brings out the best in this team's defense. For one night every year, if you squint, you can fool yourself into seeing Ray and Ed flying around out there.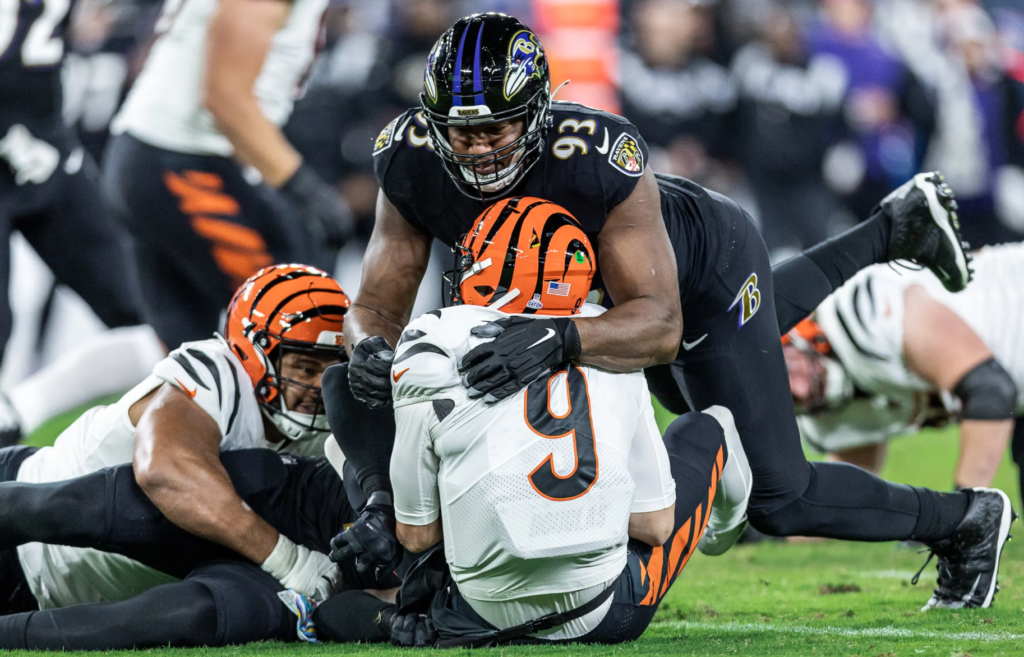 Uncharacteristic Offense
As for the offense, welcome back, Ronnie Stanley!
We're all familiar with the practice of putting a player returning from injury on a pitch count, but I can't recall ever seeing an O-lineman take every other series off. Stanley looked great when he played, unlike his return last year against the Raiders. It would seem that switching off the way he did would disrupt his ability to get into a groove, and that may have been true, but it also may have posed problems for the pass rusher across from him.
Pass rushing is like a boxing match; the rusher sets up the offensive linemen so he can try and deliver a knockout blow. So what happens if the fighter you're up against switches out every round? Trey Hendrickson records 0 sacks is what happens.
I'm not proposing this as a long-term strategy, but I could see how it was beneficial on Sunday night. It really was a poor overall offensive performance. Lamar Jackson had one of the worst passing games of his career. He overthrew multiple wide-open receivers and didn't see the field all that well.
It was a total role reversal for this team; Lamar was the one who got bailed out by his defense. That's not to say he was a total lame duck. When it mattered most, he was able to drive down the field with his legs and set up a kick from the greatest leg ever.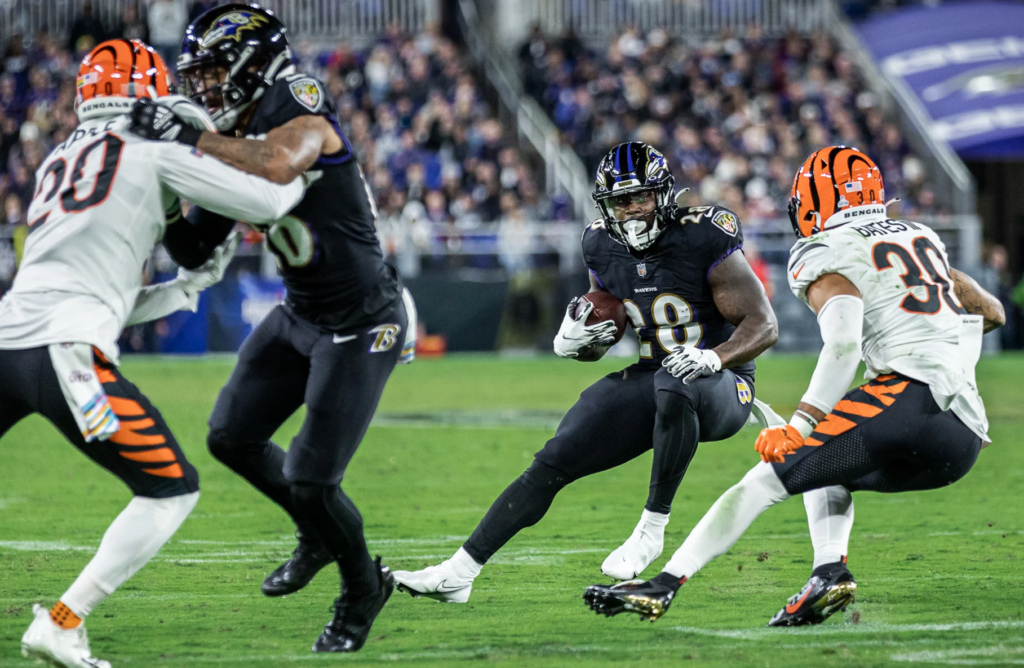 Get Tucked!
Which segues into our next subject: Justin Tucker, the most consistent athlete of all time. F
or over a decade, AutomaTuck has reminded us that no moment carries too much pressure for him. Once Lamar had picked up the last first down of the game and forced the Bengals to burn all of their timeouts, the Ravens still had 30 seconds to make the kick easier for Tucker.
After all, 43 yards is no cakewalk, for any mere mortal, that is. Instead, the Ravens sat where they were and trotted out the goat to win the game. The broadcast did everything they could to curse him, showing graphics about how he practically never misses, but no hex could phase Tucker.
Not only did he crush the football, but he hit it as pure as one possibly could. If the goalposts were as wide as a loaf of bread that ball would have split them with ease. We take Justin Tucker for granted as Ravens fans, so just silently take a moment right now to appreciate his glory.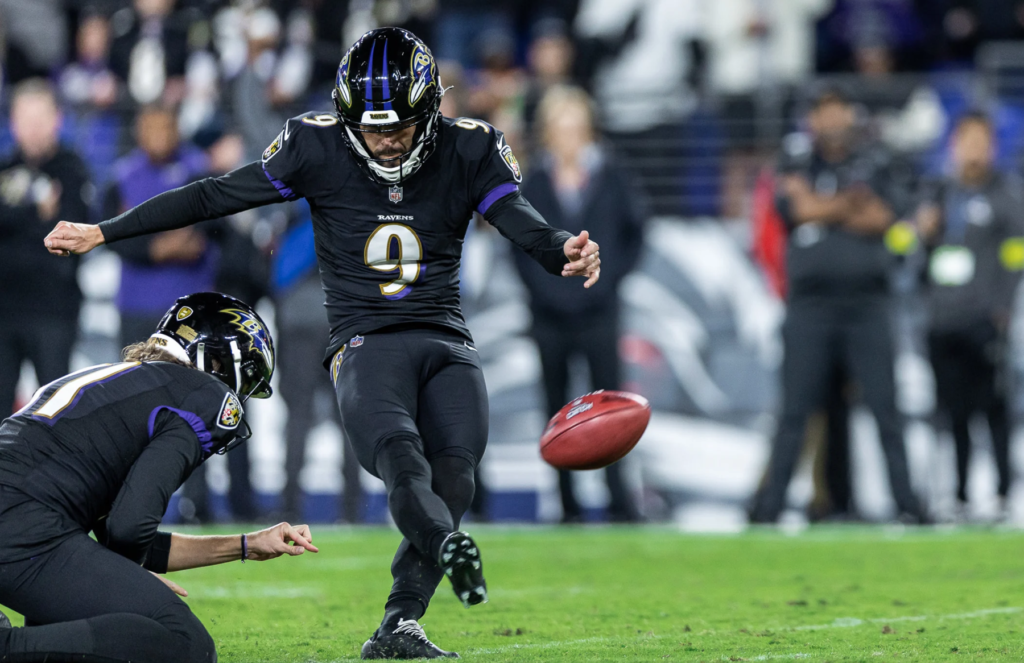 You Ain't Seen Nothing Yet
I say it every week, but this Ravens' team remains a good distance away from playing their best football. So far this season when the offense has been on fire the defense has been abysmal. Now for the first time this season, the defense looked like one of the league's best, so the offense lays an egg. I pity the poor team that suits up against the Ravens when all phases of the team are clicking because they will be lambasted. So huge win, great win, but the best is yet to come.
Final Grade:
B+