NFL Week 8: Expert Picks and Predictions
It's Week 8 of the NFL season and your crack team of indestructible analysts are locked in for another salty Sunday of absolute scorchers. The Godzilla is on assignment in Houston, watching the Astros fumble their way through another World Series. 
Nate and I are bringing you the best six games of the week from our couch as we frantically google "Why do the Rams suck?" and "Can the Seahawks actually win the Super Bowl?" Stick with us and we promise you'll go 3-3.
All odds courtesy of DraftKings as of 10/29. All times are based on the Eastern Standard Time Zone. 
The Standings
| | | | | |
| --- | --- | --- | --- | --- |
| Thru Week 7 Records | Wins | Losses | Push | Winning % |
| Nate | 33 | 25 | 1 | 56% |
| Jack | 35 | 27 | 1 | 56% |
| John | 45 | 51 | 3 | 45% |
Miami Dolphins at Detroit Lions (+3.5) (o/u 51.5)
Kickoff: 1:00 pm on CBS
Jack: The Miami Dolphins (4-3) look to continue their upward trend against the lowly Lions( 1-5). It makes no sense to dive into the offensive statistics for the Dolphins because Tua's absence left a gaping hole in an efficient passing game. I'm not super interested in the Lions offense either. They've been held up as an incredibly effective offense that can't score enough to keep with the atrocious defense. That's fine, but the one time I played them his year they scored 3 points, so I'm not interested. 
Let's look at the defenses instead.
According to FootballOustiders, Miami is ranked 20th in total DVOA for defense (3.0%). Their DVOA for pass defense stays at 20th (14.35), but their DVOA for rush defense ranks 9th (-14.0%). The Lions like to throw the ball, so look for Detroit to try and exploit a weaker secondary. 
Where the Dolphins really struggle is the red zone. Miami's defense allows a touchdown in the red zone 68.18% of the time. In their last three games, that number is actually higher at 72.3%. If the Lions can get inside the red zone, they're going to score. 
But can Detroit stop the Miami offense? No. This defense is so bad. The Lions are 31st in total DVOA for defense (16.6%), 31st in DVOA for pass defense (23.5%), and 29th in DVOA for run defense (7.9%). They suck in the red zone too, ranking 29th. 
This is why the points total is so high. I don't like to hammer a total that is over 50, so I'm avoiding that. I'm sure all the public money is on Miami for this one, but I'm just going to be a sucker and lay the points. I hope Tua scores 100 touchdowns. Pick: Miami -3.5.
Nate's Bargain Basement Discount Barn
Nate: I think we're getting a little bit of a discount here because the Dolphins stumbled through some games without Tua, which made them look mortal on offense. 
The reality though is that with Tua playing quarterback, this offense is electric. According to Football Outsiders, Tua is the third most efficient QB in the league, just behind Mahomes and Allen (and just ahead of our favorite QB, Geno Smith). 
Tua, Waddle and Tyreek Hill are going to be a problem for the Lions who have really struggled on defense. 
The Dolphins are 4-0 when Tua is out there for the game and they are 0-3 when he's not. That's really all there is to it with this game. Pick: Dolphins -3.5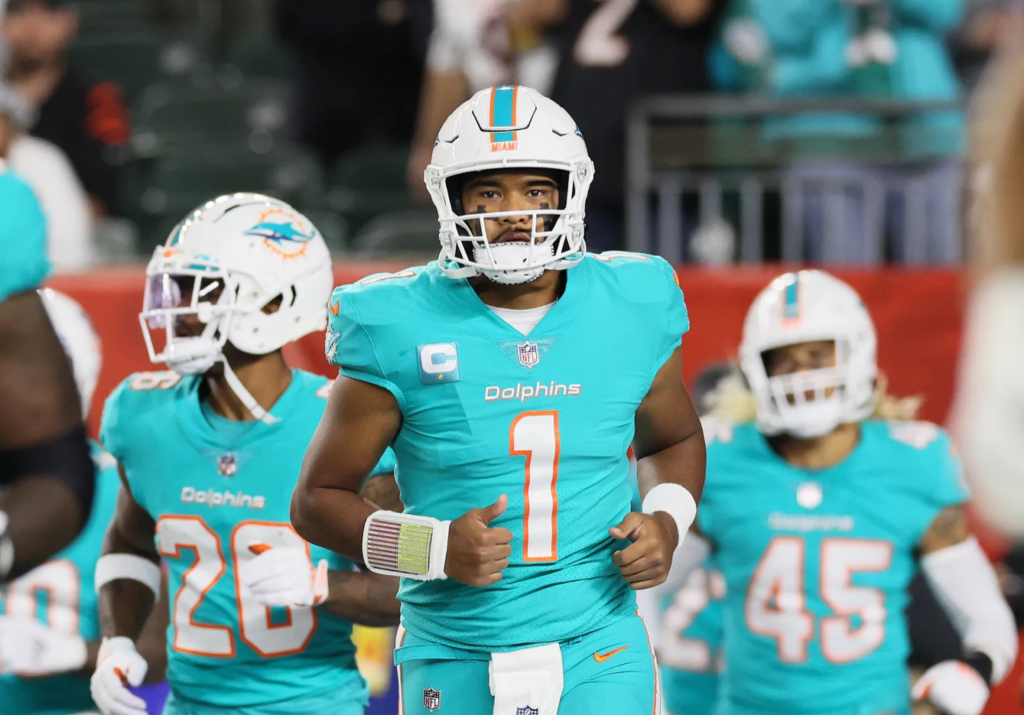 Carolina Panthers at Atlanta Falcons (-4) (o/u 41)
Kickoff: 1:00 pm on FOX
Jack: The Atlanta Falcons (3-4) finally burned the true believers in a blowout loss on the road to Joe Burrow's Cincinnati Bengals (4-3). This week they face a below-average Carolina Panthers (2-5) team in the midst of a firesale that pulled a not-so-surprising upset against the Bucs last Sunday. 
The Panthers rank near the bottom in every category. They're 29th in DVOA for total offense, 23rd in DVOA for total defense, and 30th in red zone scoring for touchdowns. They're starting a backup quarterback, traded away their star RB, and fired their coach. The win against Tampa says more about the Bucs than it does the Panthers. 
The Falcons dropped to 32nd in DVOA for total defense after getting absolutely torched by Cincy. You don't drop to 32nd after one game if you haven't already been struggling on defense, but the Falcons tend to hide their weakness by slowing the pace of play, dominating the run game, and praying for a few quick stops on D. 
Cincy was a bad matchup for Atlanta and their weaknesses were exposed. Look for them to get right this week with Carolina. I expect them to compete for the division and in order for them to do that they have to be the bad teams in their division. Let's root for a blowout: Pick: Falcons -4.
#RiseUp
Nate: The Falcons got exposed by a Bengals team that is playing really well after getting off to a rather ugly 0-2 start. Joe Burrow getting loose against a bad secondary is just going to happen sometimes and it happened to the Falcons last week. 
It is not time to panic in Atlanta.
The whole world seems to be hopping on the Panthers after they beat the Bucs, as this line has steadily dropped from six points to four. That Panthers win looks worse after the Buccaneers dropped another game on Thursday though. 
I'm not willing to move off my opinion that this Panthers team is terrible and tanking. They snuck out a win last week, and it's always an accomplishment to beat Brady, but Tampa stinks. 
The Falcons still have an offense that hums and they will be able to do things against the Panthers that Tampa could not, like establish their dominant run game. 
The Panthers, led by P.J. Walker, don't generate a ton of anxiety when it comes to exploiting a very vulnerable Falcons secondary. Don't fall into the trap of thinking these teams are even close to the same level. The Falcons are still a sneaky good team. Pick: Falcons -4
Pittsburgh Steerlers at Philadelphia Eagles (-10.5) (o/u 43)
Kickoff: 1:00 pm on CBS
Jack: The Eagles (6-0) might be the best team in the NFC. In terms of total offense, they're 5th in yards per game (394.5), 6th in rushing yards per game (156), and sixth in red zone scoring for touchdowns (64%). We know that teams that can run the ball score in the red zone. The Eagles don't have trouble putting up points. They play fast, physical, and can keep a defense honest with the amount of weapons they have on the offensive side of the ball. 
If the Eagles offense is good, their defense is excellent. They rank 4th (-17.0%) in DVOA for total defense and 2nd (-27.5%) in DVOA for passing plays. They do struggle to stop the run, but teams don't have the luxury of running the ball against a team that can score at will. The Steelers (2-5)  will have to throw. 
The question isn't if the Steelers can win, but if they can keep it close enough for a backdoor cover. The only way they do this is if they can rely on their run defense to hold Philly to field goals and pray Kenny Pickett doesn't throw three interceptions. If the Steelers get down early, look for the mistakes to pile up in a major way. Scary stuff. Pick: Eagles -10.5.
Philly Phun
Nate: This is a boring article where Jack and I agree on almost everything. That's the downside of John missing all of his deadlines. The good news is that you don't have to sift through his bad picks to get to our picks which are actually researched and well-considered. 
This is just a tale of two different teams.
The Steelers have a couple wins over teams we expected much of in the preseason: Bengals and Bucs. They also played a tight game with Miami. So, if you're talking yourself into them being a live underdog, those are likely the games you're staring at.
We know now that all of those teams are flawed that they've beaten or been competitive with. 
In the one game that Pittsburgh played against a truly elite NFL team, they got their doors blown off by the Bills to the tune of 38-3. That feels like the closest comp for this game they are playing this week.
Maybe Tomlin rallies the troops for another frisky performance, but Kenny Pickett hasn't shown that he's capable of rising to this level yet. 
The Eagles are good at basically everything, and they should be fresh coming off a bye week.
This is just a bad spot for a struggling Steelers team. Pick: Eagles -10.5
New York Giants at Seattle Seahawks (-3) (o/u 45)
Kickoff: 4:25 pm on FOX
Jack: I love the New York Football Giants (6-1). They covered for me in Week 1 when they surprised the Titans on a shovel pass, 2-point conversion. They beat the Packers in London before we all realized the Packers stink. Here's the problem, they haven't beaten anyone that good. They're most impressive win is probably Baltimore and we all know the Ravens have been struggling to close out games. 
Meanwhile, the Seahawks (4-3) continue to look incredible on offense, as Geno Smith ranks in the top five across almost all quarterback metrics. D.K. Metcalf is injured for this game, which could hurt the efficiency a little. Metcalf is Smith's favorite target. He is a gigantic target who comes down with improbable catches. Even still, the Seahawks will score. 
The liability has been on the defensive end and the young secondary. Danny Dimes isn't much of a test for the Seahawks, so I don't expect a huge scoring game from the Giants. Seattle is an incredibly tough place to play. The energy will be electric. I'm hoping the Seahawks can jump ahead early and force the Giants to get away from their run game. If that happens, this is an easy W. Pick: Seahawks -3. 
Nate is Moving to Seattle
Nate: Here's what you need to know about the Seahawks: they are good. This is a legitimately good team that is good at nearly everything. Over the past four weeks, Football Outsiders has them rated in the top-8 of passing offense, passing defense, rushing offense, and rushing defense. They are the only team who can boast those gaudy and well-rounded stats over the last month.
We've waxed philosophical about the greatness of Geno Smith and he's still the 4th best QB in the league according to Football Outsiders and PFF grades him out as leading the league's 5th best offense. 
There won't be many more chances to get a lot of value on the Seahawks, but there's still value here because the Giants have rolled to a very misleading 6-1 record in which everything that could go their way has gone their way and more. 
The Seahawks are for real. They are a legit contender in the NFC West and look to be primed to make the playoffs in a year where everyone had written them off. Pick: Seahawks -3. 
San Francisco 49ers at Los Angeles Rams (+1.5) (o/u 42) 
Kickoff: 4:25 pm on FOX
Jack: I absolutely will not sell my Niners stock. Hold your position, Niners fans. It's not always going to look good, but we will continue the trend of winning more games than we lose, which is the point of football. However, I can't take them this week. 
The Niners (3-4) slipped to 7th in DVOA for total defense after a horrible loss to the Chiefs. They're still a top 5 unit and they will get right this Sunday against the Rams. The Niners defensive line is an absolute wrecking crew, ranking 2nd in DVOA for line play and averaging 3.80 adjusted line yards per play. Want another nugget? They've recorded 24 sacks. Only Dallas has more. 
We know the Rams can't block and Stafford can't move. This is an ugly game that will feature little scoring. Take the under and be happy with the outcome. Pick: Under Total Points +/- 42. 
Bonus: Any prop guys out there? Look at the over/under for total sacks or the juice on a Nick Bosa sack. Absolute locks.
Rams? No Thanks
Nate: LA just hasn't looked like the team we were accustomed to on offense. Matt Stafford has been harassed nearly every time he drops back and they just can't seem to get into a reliable flow on that end of the ball.
This could be a problem against an absolutely nasty Niners defense.
The Deebo Samuel injury definitely takes some options away from the Niners offense, but adding McCaffery might negate that as they do very similar things. I agree with Jack on the under, as both of these defenses are better than the offenses, but that makes for a boring writeup when we agree on literally everything.
Give me the 49ers here to get a win over the Rams. Pick: SF -1.5.