CHESAPEAKE, Virginia--The NFL Conference Championships are here and DraftKings Sports-Book--an official betting partner of the NFL--is kicking things off with a huge offer! Counting down to Super Bowl 56, new customers can get 56-1 odds on any Conference team to win their game! Bet just $5 and win $280 in free bets if your team is victorious. Just use promo code GODZILLA! The magic promo code of all time!
Not a new customer? No Problem! You can still get in on the action of the Divisional Round with SAME GAME PARLAYS!
Combine multiple bets from the same game for a bigger payout. The more legs you add, the more money you can win!
Download the DraftKings Sports-Book APP now and use PROMO Code GODZILLA and get 56-1 odds on any NFL team! Bet just $5 to win $280 in free bets if your team wins! You must use the promo code: GODZILLA
Lines by DraftKings as 01-29-22 12:00 PM 
Screw the Bengals. Sitting in Nissan Stadium last week an hour before kickoff, my son Joe turns to me and says: "Dad, the only way we lose this game is if Tannehill throws three picks. Our defense can overcome two. Three will nail us." Prophetic words from a 17-year old.
Getting bombed last week, I was 1-3 ATS last week, making me 5-5 ATS for the playoffs and 103-81-2 overall ATS. That's 22 games over .500 so I need to go 3-0 to reach our +25 goal.
After getting shellacked last week, I've brought in reinforcement for the last three games! Meet Peter Kriebel, a 16-year old NFL expert, and die-hard Ravens fan!
By John Fredericks and Peter Kriebel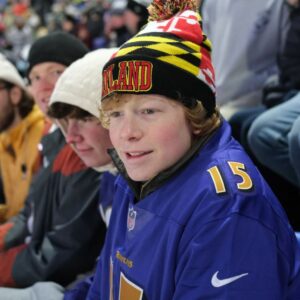 Here's a little about him:
My name is Peter Kriebel, I'm a Baltimore native now living in Richmond, Virginia. I'm a junior in high school and a huge fan of NFL football. My favorite team has been the Ravens since I was in second grade. It didn't happen this year but we will win a super bowl with Lamar Jackson. Go birds!
IT'S NOW OR NEVER: Don't forget to get in the action with DraftKings Sportsbook - Bet $5 and Get $280 in free bets instantly when your team wins on a $5 bet--use the promo code: GODZILLA.
SUNDAY 3:00 PM ET
Bengals at Chiefs (-7) 
JOHN: There was "The Immaculate Reception." Then came "The Fumble." Finally, "The Drive." Now, add this to all-time NFL playoff lore: "Thirteen-seconds." All the Bills had to do was pooch kick the ball, eat up :06, then defend one pass for less than 40 yards, game over. But they chose to give Mahomes two shots instead of one, and here we are, at Arrowhead, in a conference championship. Wow.
On the roadside, the Bengals won a clown show in Tennessee where Ryan Tannehill coughed up three picks - on this first and last passes of the game - and the Bengals overcame nine sacks for minus 175 yards. For Titans fans, that game will suck for a long time, equal to blowing the 35-3 lead to Buffalo in the third quarter in the Oiler days. It is what it is. I'm home on the couch instead of in Nashville.
Bottom line, I was at the Bengals - Titans game, and Cincinnatti is just not that good. Chiefs in a laugher, seven points is a joke.  Pick: Chiefs -7 
PETER: Let's start in the AFC. Speaking of October; remember when the Chiefs' dynasty was over, Patrick Mahomes was figured out, and everyone was trying their best to make Justin Herbert the heir to the AFC west throne? Well, it seems balance has been restored to the football universe because this weekend, the Chiefs will play in their fourth straight AFC championship. They've won their last six conference playoff games by an average of nearly 13 points per game.
To put that in perspective, Tom Brady-led playoff teams since 2014 have a point differential of +9. We're witnessing one of the most dominant stretches by a team in the history of the league. There's just one hiccup this week, and he wears number nine for Cincinnati. Joe Burrow has been playing out of his mind this year. He's like an elite point guard on the field, orchestrating one of the deadliest passing attacks in the league. He's surrounded by other-worldly skill position talent. Tee Higgins is a number one wide receiver for half the teams in football yet he's not even in the stratosphere of his teammate J'mar Chase right now. Chase has solidified himself as a top-three receiver despite his drop issues. He can turn a simple 5 yard out into a 60-yard touchdown. No one knows this better than Kansas City, who got absolutely torched by a Chase a month ago when the young receiver caught eleven passes for 260 yards and three touchdowns.
I have to think Chiefs DC Steve Spagnuolo will design a game plan to force someone else on the Bengals to beat them. If he leaves Charvarious Ward on an island all game again, he can expect the same result. As for Cincy's defense, it's hardly an elite unit but it is solid. Trey Hendrickson and the rest of that Bengals Dline will have to generate pressure from a four-man rush if they don't want to have 40 dropped on their heads. There's not a corner on this earth that can stick with Tyreek Hill for 60 minutes and there's nobody on Cincinnati's roster who can stick with him for even one down. I don't anticipate a whole lot of defense being played in this game. The Bengals have a soft interior offensive line and their tackles aren't much better. Match that up with the force that is Chris Jones and it's a recipe for a whole lot of running around for Mr. Burrow.
The Chiefs are just a more talented team that has played on this stage before. I think they got exposed for a terrible defensive game plan that should have taught them their lesson. If they double J'mar Chase and Chris Jones shows up to Arrowhead on Sunday, they'll win this game. That being said, Cincinnati covers the spread. Pick: Bengals +7
SUNDAY 6:30 PM ET
'Niners at Rams (-3.5) 
JOHN: We've been saying all season the Rams are kind of phony-baloney. They blew a 27-3 lead at Tampa last week in the middle of the third quarter. Had it not been for Cooper Kupp somehow sneaking behind the Bucs defense with 10 seconds to go they lose and get bounced. This team is just not scary. San Fran's defense shut down Aaron Rodgers in Green Bay last week in an impressive fashion. Jimmy Jesus is a game manager, if he can limit dumb picks by not chucking the ball into double coverage the 'Niners win this game outright. Deebo Samuels is a beast, he does it all. This is a very close game, and I like the points. Remember what your father said: "Defense wins championships."  Pick: Niners +3.5
PETER: This game is fascinating. Two division rivals who really don't like each other battling it out for a shot to play on the biggest stage in all of sports. If you don't feel like you have to pinch yourself, you shouldn't be calling yourself a football fan. Let's start with the coaching. McVay v. Shanahan is as much a coaching rivalry as you'll see.
It's obvious that 49ers week means a little more to McVay. The best example of this is him running 40 yards to celebrate with his team in the endzone after a week 17 2nd quarter touchdown vs the 49ers. Despite how much the game means to McVay, Shanahan has managed to win his last six vs the Rams. Even when the team has been overmatched, it's been evident that Shanahan has McVay's number. As for the players' rivalry, in a time when it seems like all the players are friends off the field, these teams are the exception.
Whether it was Aaron Donald pretending to not know who Deebo Samuel was last year, or George Kittle calling the week 17 matchup a "body bag game," it's safe to say that there's some real bad blood between the teams. But words don't win football games. So let's talk about what does. If you're the 49ers, the way you win this game is to establish the run game and open up the play-action game off of it. If San Francisco can manufacture high percentage throws for Garoppolo, L.A. is in trouble.
For the Rams, you need better play from both lines. If the 49ers continue to dominate the offensive line the way they have in the past couple of matchups, it will be tough for L.A. to escape with a win. McVay will be able to scheme Stafford some room to throw with rollouts and misdirection but to win this game they need to hold up better in the conventional drop-back pass game.
The fact that the 49ers were able to win the last game and rush for over four yards per carrying without the best offensive tackle in football bodes well for them heading into this game. I think they will dominate the line of scrimmage on both sides of the ball and not ask too much of Garoppolo. Kyle Shanahan will win his seventh straight over the Rams and the 49ers will be on their way to their 2nd Super Bowl in three years.  Pick: 'Niners +3.5