By: Nate Perry and Jack Fredericks
Jack: Your crack team of suspicious analysts is back with an incredible jumble of nonsense picks to gift you with unnecessary anxiety all Saturday (and Friday!). I experienced an absolute bloodbath last weekend with an abysmal 2-10 record. But that won't stop me from wagering a few bucks on a bunch of college kids tomorrow. I'm feeling great this week after Biden avoided a railroad strike, banking even more goodwill before the midterms! The Mississippi Marxist is here to refute #NoPickNate's ruinous takes on weird games that nobody watches. Let's get into it.
Lines Courtesy of DraftKings as of 9/15
This article is written for entertainment purposes only. Must be 21 or older to gamble. If you or someone you know has a gambling problem, call the problem gambling helpline at 888-532-3500. 
Florida State (-2.5) at Louisville, Friday 9/16 7:30 PM EST ESPN
Nate: Why wait until Saturday when you can start making money on Friday night? Florida State is coming off a massive win against LSU, and this is obviously a spot where they could be due for a letdown. I don't think Louisville is the team that's going to slow them down yet. The 'Noles have to be feeling confident about the direction of their program, which is more than can be said about other blue-chip programs (looking at you, Fighting Irish). There is every indication they should be able to move the ball well against a Louisville team that has been downright soft against the run. 
Malik Cunningham is always a worry when betting against this Cardinals team, but he hasn't performed very well in his previous two games. If Florida State can contain Cunningham the way UCF and Syracuse were able to, they should be good to go. Can't anticipate that scoring will be an issue for the Seminoles. Lay the short points with the Florida State team to shine again in primetime. Bet Florida State -2.5
Jack: This game won't tell you much about Florida State, but it's going to tell you a lot about Louisville. Florida State is going to score. We know they're looking at a real turnaround this season after the statement win against LSU. The 'Noles got the week off last Saturday and have had plenty of time to prep for Malik Cuningham. The Cardinals were a darling pick to contend for an ACC championship, but they can't seem to get their star QB going. If this game is in Tallahassee, I think the spread is closer to 6. I'm happy to lay 2.5 points in what could be a big blowout. Bet FSU -2.5.
WHAT A FINISH‼

Congrats to the #AllstateLouisianaKickoff Champs@FSUFootball @Allstate | @LouisianaTravel pic.twitter.com/0njyFkMNe2

— Allstate Sugar Bowl (@SugarBowlNola) September 5, 2022
Oklahoma (-11) at Nebraska (O/U 66), 9/17 12:00 PM EST FOX
Nate: It's been an eventful week for Nebraska as they fired Scott Frost earlier this week after losing to Georgia Southern. They'll look to rally around their interim coach and pull things together at home versus the Sooners. This line feels like a little bit of an overreaction to the horrible loss the Huskers suffered, and the public perception of Oklahoma as a perennial powerhouse. 
Let's keep in mind that Oklahoma hasn't exactly been performing like world beaters themselves after trailing 3-0 to Kent State for most of their first half last week, and really, most of their offensive output was restricted to one third quarter outburst. The smart play here is probably to hold your nose and take Nebraska. They aren't as bad as their loss last week suggests. I think the smarter play here is to play the under for this game Sure, Nebraska didn't show us much on defense in a shootout against Georgia Southern, but I think they will find some focus here and get back to playing a little bit more respectably. Look for Oklahoma to start off slow like they did last week and this bet will cash. Bet Under Total Points +/-66.
Jack: Nate is a points total monster, so when you see him play an over/under, go ahead and take it. As for his feel for college football, the guy is more tepid than a reluctant stepfather. You'll see one of two Nebraska teams this Saturday: Scott Frost's Cornhusker Dumpster Fire or a rejuvenated team rallying around an interim coach to prove they don't suck. I absolutely will not bore you with the statistics. Oklahoma is a better team. Nebraska has been gross. But funny things happen when a coach gets fired and I'm willing to bet Nebraska plays hard in a get right game. I wish the spread was 14, but I'll take the 11 points and throw away my ticket when the Cornhuskers give up six touchdowns in four minutes. Bet Nebraska +11. 
Western Kentucky at Indiana (-6.5), 9/17 12:00 PM EST Big Ten Network
Nate: Indiana has been desperately trying to retool this roster and coach Tom Allen has brought in a zillion transfers to infuse this team with some talent. The Great Portal Experiment of 2022 in Bloomington hasn't gotten off to a wonderful start as the offense has failed to perform at a consistent level. The problem is, for all the woes and inconsistency on offense, their defense is worse. They made Idaho's Gevani McCoy look like an all-star in a game where they trailed for the entire first half. Not being able to contain an FCS quarterback spells big problems for this secondary.
The Hilltoppers are heading to Bloomington with a better quarterback and, presumably, more problems for Indiana's hapless pass defense. Austin Reed is an absolute animal for Western Kentucky, and he's gotta be looking forward to showing out against Indiana. Bet We Are All Hilltoppers Today +6.5
Jack: Nate loves to find value in a bizarre team playing in a weird conference matching up against a mediocre power five program. The problem is, he's like 50% on the year with these bets. He mostly just thinks it's funny to bet underdogs with silly mascot names. This is a misguided wager. The Hoosier are 2-0, but the numbers don't exactly add up. Offensively, they are 76th in yards per game and 87th in points per play. They do score when they get in the red zone. They love to pass the ball. On the defensive side, they are much more impressive, ranking 36th in opponents' points per game and 42nd in opponents' yards per play. They are averaging 1.5 turnovers per game and the Hiltoppers are usually good for an interception here or there. Look for turnovers to be the key here in a 7 point win for the Hoosiers as they advance to 3-0. Lay the points. Bet Indiana -6.5.
Senior linebacker Aaron Casey keeps making plays for the Hoosier defense with his strength & speed. 3 plays from Idaho stand out. He's gonna bring it all season.#iufb pic.twitter.com/5UPkSB08AE

— Saint Tom Allen (@SaintTomAllen) September 15, 2022
Penn State (-3) at Auburn, 9/17 3:30 PM EST CBS
Nate: Both squads come into this game with 2-0 records and a real opportunity to earn some real recognition in a primetime game. The crux to this game will be whether or not Tank Bigsby and Co. can get loose against Penn State's defensive line. The strength for Penn State this year had been in their secondary, which the Tigers might have trouble exploiting given their quarterback issues with both Zach Calzada and TJ Finley. That being said, this run game is an absolute force, and will draw all of the attention which may ease up the pressure for whoever is under center for Auburn come kickoff. 
Penn State has been good, but not out of this world. They struggled against Purdue and demolished a bad Ohio team like they were supposed to. Penn State is traveling to one of the most hostile environments in the country at Jordan-Hare Stadium and to think that place is going to be anything other than electric come kickoff is foolish. It's a lot to put on Sean Clifford who is going to be expected to exploit Auburn's vulnerable secondary. This game will be close, and I love Auburn's edge in the trenches on both sides of the ball. Take the points. Pick: War Damn Eagle +3
Jack: Jordan-Hare stadium is definitely not one of the most hostile stadiums in the country. Auburn does not have a solid option at quarterback. QB play is ultimately going to decide this game. Nate mentioned the Nittany Lions' shaky secondary and that's a big concern, but Auburn wants to run the ball. Fair enough. Too bad Penn State has a formidable defensive front. I took Ohio last week and got burned. (Nate took them too, by the way.) I hate laying 3 points on the road, but I can't see a situation where Auburn has enough offense to win this game. Bet Penn State -3. 
BYU at Oregon (-3.5), 9/17 3:30 PM EST FOX
Nate: This is one of those fun and funky lines for college football where the AP has Oregon ranked #22, yet they are favored over #12 ranked BYU. Baked into this line is a few things: Oregon will be playing at home in front of a rowdy crowd, they played well against Eastern Washington last week (if that's a thing to be proud of) after getting mauled by Georgia the week before, and nobody knows what conference BYU plays in or where it's located. Add to that combo that BYU's two leading receivers are likely going to be out for the second week in a row, and it makes sense why the Ducks are favored. 
Here's the rub, BYU is an absolute giant killer of a team and seem to get better when the pressure gets hotter. Quarterback Jaren Hall is 7-1 lifetime against Power Five teams and 3-0 against ranked teams. The dude brings it under the bright lights, and that's what you want in this game. What I love about BYU is that they play one of the toughest schedules in the country, and basically have to treat every game as a must win. If this team loses to Oregon, it won't be because they fell asleep at the wheel. Teams have to earn it against the Cougars. This is a massive opportunity for them to step into the playoff picture and vie for a New Years Six game. They hang tough here until the end. PIck: BYU +3.5
Jack: Nate's analysis of the line is spot on. There are so many factors at play that could have influenced this spread. BYU's statement win in Provo (yes, Nate, some people know where BYU plays) last week launched the team up in the polls and Oregon is still nursing its brand after the Bo Nix disaster in Atlanta. However, pay attention to the oddsmakers, as they'll tell you a story. BYU was favored against a highly ranked Baylor team last week. If you laid the points, you won the bet. Every square bettor saw that line and jumped at the opportunity to take Baylor and get the points. They lost. Now BYU is the underdog against a Ducks team that can't recover in the rankings. Don't fall into the trap Nate recommends here. The Ducks should be favored and have a strong chance of winning this game and covering the spread. The Ducks like to pass the ball, which shouldn't be a problem for the Cougars since BYU has the 21st ranked pass defense. BYU's offense is also ranked higher than Oregon's but some of that has to do with the game against Georgia. If BYU forces a ton of Backyard Bo's signature turnovers, the Cougars win and cover. I'm willing to bet Oregon plays a clean game and BYU has a bit of a let down. Lay the wood and hope for the best. Bet Oregon -3.5.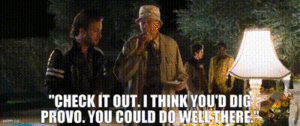 Kansas at Houston (-8.5, OU 58), 9/17 4:00 PM EST ESPNU
Nate: I am not capable of writing this column without throwing in one of these games. They games we're all waiting for with bated breath as the undefeated Jayhawks travel to the unfriendly confines of TDECU Stadium to take on a perennially competitive Group of Five team in the Houston Cougars. Suddenly, Kansas looks like a good team, sort of, and I'm not sure anyone has ever said that about their football team in my lifetime. Houston, on the other hand, is coming off a tough loss to Texas Tech in overtime. The reality is this, Houston is favored for a reason. They are a much better team. Their quarterback, Clayton Tune, is a stud. He had a clunker against Texas Tech and his team still almost won. He will get right against a Kansas defense that has been and still is awful. JT Daniels carved them up last week for WVU even though the Jayhawks eventually prevailed. Houston puts a complete product on the field with a great offense, and a very solid defense. It will be too much for the Jayhawks to handle here. Bet Houston -8.5
Jack: Nate can have this game. Kansas is 2-0 and put up 50 points in both games. The Cougars have been averaging over 30 points per game. The over/under is set at 58, so give me the over. Kansas has no pass defense, but they love to score. Root for a blowout. Bet Over Points Total +/- 58. 
The Grimm Reaper™ pic.twitter.com/wxEJ6U6Py6

— Kansas Football (@KU_Football) September 13, 2022
Tune in to the Godzilla Wins Radio Show – Saturday at 9:00 AM!
ADVERTISEMENT
Download 
DraftKings Sports-Book APP
 now and use PROMO CODE GODZILLA when you sign up! GODZILLA gives you the best deals in America!  Must be 21 or older, Virginia only. Bonus issued as free bets. 1 early win token is issued at opt-in, money line bets only. Deposit and wagering restrictions apply. Eligibility and terms at DraftKings.com/football-terms. If you or someone you know has a gambling problem, call the Virginia Problem Gambling Helpline at 888-532-3500.