By: Jack Fredericks and Nate Perry
Jack: I woke up feeling incredible this morning after a long night drinking exactly two Miller Lite tall boys while fighting crime in New York City courtesy of the Spider-Man video game. I've eaten breakfast (win). I've had coffee (win). My shirt is clean (triple win). I feel spritely. I paid my DirecTV bill (loss).  Nate has picked a slew of weird games that nobody else is thinking about. Most of them start at noon, which is good for the guy (me), who needs to get up to Oxford by 6:00 to watch Jaxson Dart throw strikes against Central Arkansas. I went absolutely ham this A.M. with eleven wagers over a six game spread. Watch out, Vegas, I'm hitting eight of these and then buying another Spider-Man video game. 
Nate: I have slept for three hours, drank 11 cups of coffee, and can't remember the last time I had a hot meal. I could not be more fired up for a little college football today to serve as an appetizer for a loaded NFL slate tomorrow. I've got six games picked out for everyone today that I liked after looking through the absolutely massive card I've bet, and I think these are games people may want to get down on. Or not. Suit yourself. 
This article is written for entertainment purposes only. Must be 21 or older to gamble. If you or someone you know has a gambling problem, call the problem gambling helpline at 888-532-3500. 
(All odds courtesy of DraftKings, 9/10)
UNC at Georgia State (+7), Sept. 10 12:00 PM EST ESPNU
Nate: You'll notice this week that we're going to be seeing some familiar faces and we're either switching sides to bet against them, or we're going to continue to fade them. This is the latter. Even though we lost picking against UNC last week in what was an early candidate for Game of the Year, we'll press onward in fading this ridiculous team. Drake Maye looked like one of the greatest quarterbacks ever last week against App. State, and after the Tarheels defense gave up over 60, they are a touchdown favorite on Georgia State. The Panthers didn't impress anyone against South Carolina, but I don't think that game was a true indication of their talent or ability. They were plagued by turnovers and downright weird plays (two blocked punts returned for TDs? Yep). Georgia State wants to run the ball, which is exactly what Appalachian State did well last week. Count on the Panthers to run the rock and keep the clock rolling. They will cover this spread and give a fraud 2-0 UNC squad all they can handle. Bet Georgia State +7
𝙃𝙚'𝙡𝙡 𝙩𝙖𝙠𝙚 𝙩𝙬𝙤 😤@quashowtime_20 had not just 1, but ✌️ picks in Saturday's game#OurCity | #SoundTheHorn pic.twitter.com/Zp6a6JeKBO

— GSU Football (@GeorgiaStateFB) September 5, 2022
Jack: Nate likes Georgia State here and I can see why. UNC shouldn't have covered last week. They looked a mess and then had the gall to celebrate like they upset Clemson. Meanwhile, Georgia State didn't show us much against the Gamecocks. The game is in Atlanta, so UNC has to play their second road game against another tricky team in as many weeks. I don't like the odds. Only degenerates like Nate need to have a line on this game. Let's get weird with some prop bets instead. Let's start with the over at +/- 64.5. UNC plays about as much defense as Russell Westbrook, so this one feels safe. Yes, yes, Georgia State runs the ball, but it doesn't take much time off the clock to run 80 yards into the end zone. Let's also take Georgia State as the first team to score in the game at +110. Let's see…give me the over for the half as well at +/- 33.5. Last one: take Georgia State to win by 1-6 points at +550. Caution: Only hammer these bets if you've eaten a big breakfast. Bet Over Total Points +/- 64.5. Bet Georgia State First Team to Score +110. Bet Over Total Points +/- 33.5. Bet Georgia State to Win by 1-6 +550. 
Duke at Northwestern (-10), Sept. 10 12:00 PM EST FOX SPORTS 1
Nate: The Blue Devils are riding high after a win against Temple last week which gets them halfway to their projected Vegas win total of 2 games. Gotta love the grit. The problem is that Temple is terrible, and Northwestern should be able to take Duke apart. Northwestern will do the thing where their offense just keeps making first downs and doesn't give Duke the opportunity to counterpunch. They will bottle up Duke quarterback Riley Leonard. Don't fall into the trap of thinking that you should take this inflated line just because nobody thinks that these two conference cellar-dwellers stink. Bet Northwestern -10
Jack: I'll admit, I haven't gotten around to watching much Duke football this year. Have you? This pick is all feel for me. I feel like the Big 10 bottom feeders are better than the ACC bottom feeders. I feel like Northwestern is going to win four or five games this year. I feel like this line is a little too high and is relying off the Wildcats' Week 0 win against the Cornhuskers. I feel like I can't tell you to lay the wood. Bet Duke +10. 
UTSA at Army (+2.5), Sept. 10 12:00 PM EST CBSSN
Nate: I was absolutely all in on the Roadrunners last week, and they brought us some money in an absolute thriller, but we're moving on. Jeff Monken is building something special out there in New York and it cannot be ignored. UTSA hasn't seemed to figure out how to slow down the option and they've struggled to contain Army in recent memory when they've played them. I expect more of the same here. The Black Knights shouldn't be a dog in this spot as this is a really solid football team. I expect them to be able to move the ball well here and keep up with the high-powered Roadrunners offense. The option has a way of stalling out teams and expect them to hold the ball and grind off clock. UTSA would prefer a faster paced game that keeps them in rhythm like they got last week. Not happening here. Bet Army +2.5
Jack: O ye of little faith. Nate was all in on the Roadrunners last week. He took ten minutes on the radio show discussing the intricacies of their offense. UTSA rewarded him by covering. Then he abandons them for Army: his new shiny object. Army lost to Coastal by 10 last week, but Coastal is a pretty solid football team. I still like UTSA simply because they can put up more points than Army can. Look for West Point to slow the Roadrunners' offense down enough to enjoy an under bet, too. Bet UTSA -2.5. Bet Under Total Points +/- 54.
Ballard let's it fly for SIX‼️

📺 ESPN+ https://t.co/rPgqXGJTme#GoArmy pic.twitter.com/SYOpVJ7518

— Army Football (@ArmyWP_Football) September 4, 2022
Ohio at Penn State (-28), Sept. 10 12:00 PM EST ABC
Nate: I decided we should preview this game at about 1:00 a.m. last night and I regret that decision very much, almost as much as I regret being awake until that time knowing that I needed to wake up three hours later to prepare for the radio show. Anyways, Ohio showed they can score a little when they beat Florida Atlantic. PSU wasn't super impressive in battling Purdue, and even though their defense wasn't horrible in that game, I think it could be vulnerable. This is mostly just a numbers play and I think that Ohio can score just enough to hang around here. Do what you want with this information. Bet Ohio +28
Jack: Nobody on this website is a huge fan of Penn State. Still, the Vegas oddsmakers know how to set a line. Penn State either wins this game by 27 or 29 and it's up to you, my loyal DraftKings wager monsters, to decide where you fall on the line. Personally, I love getting the 28 here. Penn State always starts off slow and Ohio has a pretty good offense. Ohio QB Kurtis Rourke threw for 345 yard and 4 TDs against Florida Atlantic in Week 1. That's enough for me to believe they'll hang around and lose by 27. Let's also take a guess and hope Ohio scores first. Bet Ohio +28. Bet Ohio First to Score +270. 
Appalachian State at Texas A&M (-18.5), Sept. 10 3:30 EST ESPN2
Nate: I was all in on App. State last week and they broke my heart losing by two to UNC in a thriller. I won't quit this team. I'm not sure if we learned that the Mountaineers have a great offense last week or if UNC is just really that bad on defense. It's probably a combination of the two. What we're hoping for is that App. State finds some focus on the defensive end. Jimbo will be putting a ton of talent on the field in College Station, more talent than App. State faced last week, but this is a big spread. We ride with the Mountaineers again. App. State +18.5
Jack: Nate loves App. State. His takes on this team are clouded by his inability to see anything but the money they made him the week before. Yes, they played a wild game against UNC. Yes, they give a lot of Power 5 teams trouble. Yes, nobody on this site likes A&M. But the SEC is not the ACC. A&M is certainly not UNC. I can't believe I only have to lay 18.5 points. This line should be 30. Bet Texas A&M -18.5.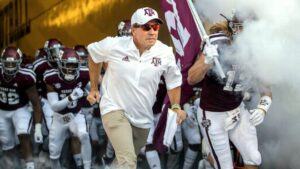 Tennessee at Pittsburgh (+5.5), Sept. 3:30 PM ABC
Nate: We didn't learn a ton about the Vols in their rout against Ball State last week, but they look like a team that can be scored on. Ball State got into position a few times and Tennessee stopped them, but they threatened. Pitt is better than they looked against West Virginia and I think they should be able to run the ball well against a Tennessee team that looked soft on the defensive line and PItt's defense should make life difficult for the Vols. This line is inflated because it's an SEC team playing someone out of conference. Catching all these points with Pittsburgh is a gift. Take it. Pitt +5.5
Jack: The Vols haven't really been tested this year. They displayed an explosive offense against lowly Ball State – a game where three RBs got 10 carries. Expect a different game this week. Pitt struggled against WVU on national television, which is why you're getting 5.5 points. I think WVU might be a little better than what we thought. Both these teams like to run the ball, so let's also take the first quarter total points under at +/- 14. I expect them to slow down the Vols offense enough to cover. Hell, they may even win the game. Bet Pitt +5.5. Bet 1st Quarter Under Total Points +/- 14. 
We have officially taken over Pittsburgh pic.twitter.com/HFre5fuNlj

— Barstool Rocky Top (@BarstoolTenn) September 9, 2022