By: Nate Perry and Jack Fredericks
All right, let's get to it. This is going to be a column where I break down a half dozen games and give a little bit of analysis on how and why I pick the way I do. You'll see plenty of this throughout the season where me and the crew will be talking NFL. The pick-six will probably get folded into that column once the NFL season starts with less analysis (but not less winners!), but for right now, I have the floor.
Full disclosure: I make a ton of bets well ahead of the actual games being played. Ideally, I get the best line before it moves, but that isn't always the case. I'll be giving you a rundown of a few games that I think still have value – or games where I badly miscalculated and I'm stuck with a horrible line on a bet like an idiot. 
My random thoughts and musings on gambling, and a little bit of a deeper dive into some of the more exotic degenerate bets I made will be forthcoming in a weekly column called "Dispatches from a Degenerate," on this site. There I'll be discussing the ridiculous things I bet. Like, how I woke up one morning about two months ago, hungover, and decided I had to pull the trigger on Max Homa to win the Masters in 2023 — almost a full nine months before the tournament starts – just so that I could have something to look forward to and ease my Sunday scaries. I'll also be throwing some futures bets in there for the upcoming season – like Rookie Offensive Player of the Year – while pouring one out for my two Super Bowl bets on the Jags and Jets that were dead before I even hit the submit button.
Anyways, let's look at some games!
(All odds courtesy of DraftKings, 9/2)
Buffalo (+24) at Maryland, Sept. 3 12:00 EST Big Ten Network
Nate: Remember how I said I bet a lot of games early trying to predict when the line might move? And remember how I said sometimes I'm left holding the bag like an idiot? Yeah, this is one of those times. I bet Buffalo a week ago thinking that +21 was the best number I could get, but it has since gone up to +24 in the last week. 
This is a Buffalo team that is going through some issues, there's no denying that. Their head coach Lance Leipold left to take the Kansas job after the 2020 campaign and a once strong mid-major program has struggled to find its footing ever since. I suspect that's why Maryland has gotten so much steam (in the biz, that's what we call money that is moving the betting line).
The problem I'm having is that Maryland is also dealing with some issues after losing 14 players to transfers in the offseason. This feels like a spot where they may come out a little flat playing a team that they are far more talented than. Buffalo is reloading their team with the top-rated transfer haul in their conference, so they'll be more talented than last year, but it remains to be seen how they all look on a field together.
With so much uncertainty for both teams in terms of roster, I have to take Buffalo here and hope they can just hang around for a little while to keep us in the game. I make a lot of bets that make my stomach hurt, and this is one of them. Trust the process here and take a bundle of points in a game where it's hard to say what either team will look like. Bet Buffalo +24.
Jack: This game fits the GODZILLA WINS COLLEGE FOOTBALL GOLDEN RULE: Always bet the team that belongs to the Power 5 conference. Too bad that team is Maryland! I agree with Nate that this game isn't so much about how good Buffalo plays, but how bad the Terps are. Twenty-four points is a lot of wood to lay for a team thinking that four wins could be a pretty nice season. Maryland sputters early and recovers, but not enough to cover the spread. Bet Buffalo +24.
UNC at Appalachian State (-1.5, 56.5), Sept. 3 12:00 EST ESPNU
Nate: All right, this is one where I snuck out some value betting App. State last week when they were +1. I still think they are fine at -1.5, but I'm also fine if you want to play the over in this game (which I've done as well).
Here's the thing, it's obvious we're riding with a lot of other people betting on Appalachian State with the odds moving so much, but I still think it's the right side. UNC has lost seven road games in a row and this team wasn't great even with Sam Howell at quarterback before he entered the draft. Boone, NC is going to be electric for this game as they get to host the big-time school in North Carolina.
Appalachian State is an experienced unit of many fifth and sixth-year players, led by sixth-year QB Chase Brice. This game will likely be something of a shootout as the offenses look to be the more polished units for both squads, but Appalachian State always puts a strong defense out there in years past. 
Lay the points with App. State to get at least a couple stops against UNC, and take the over while you're at it.
Jack: I disagree with Nate here. I'm suspicious of any line that swings so much in a short span of time. I don't like betting against Mack Brown in weird season openers against in-state rivals. I think this comes down to preparedness. I'll take the experienced coach over whomever they got drawing up plays in Boone. Avoid groupthink. Bet UNC +1.5.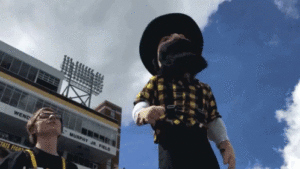 Houston at UTSA (+4), Sept 3 3:30 EST CBS Sports Network
This is another game where I snuck in and got some value getting UTSA +6, but I think you can still take them at +4 here. It's never fun to recommend a bet when it comes off a key number (in football, lines of 3, 6, 7, and 10 are key numbers) like 6, but I think it's still the right side. 
We'll start by talking about Houston who ripped off a 12-2 record before losing the AAC title game to CFP-bound Cincinnati. But you know who else went 12-2 and had their best season in program history last year? Oh yeah, the UTSA Roadrunners. 
UTSA's offense was hotter than a brushfire last season, and they look to be as good this season. Frank Harris absolutely balls at quarterback as a rusher and passer and he is throwing to the same receiving corps he had last year. In a game with so little continuity on the rosters from year-to-year, you have to absolutely love that. 
Houston looks to be shaky on defense, having to replace a number of positions in the secondary and I think UTSA feasts on them. The wrong team is favored here. Go Roadrunners. Bet UTSA +4
Jack: I wish I had gotten the Roadrunners +6 a week ago, but the #1 Jackpot Casino in Tunica is too far away for me to be firing off speculative sports wagers a week before the season starts. This is where I think you throw out whatever you know about the teams and worry about the odds. Nate is correct when he says that it's never smart to bet the spread when it comes off the line. Laying four points is a boondoggle for gamblers because it opens you up to so many worst-case, end-of-game scenarios. Bottom line? Houston has the ability to absolutely roll on teams. This one will feature a lot of offense, but I'm hoping Houston scores a TD near the end to go ahead by 6 and give us a W. Bet Houston -4
UTEP (+30) at Oklahoma 3:30 EST Fox
Nate: I'll be honest, you probably don't want to do this to yourself. Every time I do this in these early season games, my entire being is consumed with self-loathing. But I have a bet here and I'm going to tell you about it and withstand the public shaming that entails.
I'll make this short, but at the end of the day when you're taking north of four touchdowns, you just need a team to hang around. The UTEP Miners have a very good quarterback in Gavin Hardison who is capable of putting some scores on the board for a Miners team that will be playing catchup from the moment the game starts.
This is the sort of scenario where Oklahoma gets up early, you hate yourself, and you wait for the backdoor to come through when Hardison is launching the ball everywhere against Oklahoma's second string. Do what you want with this information – and know that I hate myself for even bringing up the possibility of betting this game. Go Miners. Bet UTEP +30
Jack: We love Nate because the casual gambler never punches the UTEP ticket against Oklahoma just so he can do some self-flagellation halfway through the game because the Sooners scored twenty-eight in the first half. I would be all in on the UTEP train if they didn't burn me last week. The only shot Nate has here is if the Sooners sub in the second string by halftime and let UTEP slowly march down the field for one touchdown in the fourth quarter before completely laying down. Do as Nate says, not as he gambles. Bet Oklahoma -30
Tulsa (-6.5) at Wyoming 3:30 EST Fox Sports 1
Nate: I bet this game early on as I was overreacting to how terrible Wyoming looked in Week 0 and managed to get Tulsa -3. The entire world has now overreacted and moved this to -6.5. 
Honestly, I'm having a little bit of trouble justifying this bet, but we're going to try and stay positive. Wyoming is extremely one-dimensional on offense. They keep the ball on the ground and try to keep the chains moving. If they have to pass, they're in enormous trouble as their QB went 5-20 for 30 yards and an interception. Our hope here is that this will help Tulsa's defense and ease the strain on them as they shuffle in some new pieces on their defensive line. Tulsa had a decent defense last year so they should be able to get some stops.
Covering this game hinges on Tulsa's quarterback and how many opportunities he gives Wyoming to get something happening on the ground. Davis Brin can be a gunslinger out there and it's hard to tell if we're getting the guy who threw for 18 TDs and over 250 yards per game…or the guy who tossed 16 interceptions. Let's hope that his decision making is getting better and Tulsa rolls. Bet Tulsa -6.5
Jack: Wyoming looked atrocious last week, but Illinois lost a close game to a tough Indiana team on Friday night. This may be a case where the Illini are a little better than we thought. The QB issue at Wyoming is a problem. Their offense is basically nonexistent and Tulsa's Davis Brin can absolutely take over a game. I get nervous when a line moves like that and -6.5 is terrible because you have to win by 7. However, I'm going to agree with Nate here and go with Tulsa. Bet Tulsa -6.5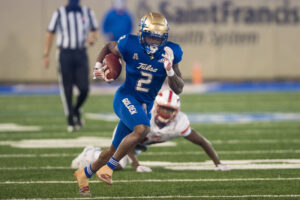 Arizona at San Diego State (-6) 3:30 EST CBS
I think that this line is just based on a name and reputation. University of Arizona is a big brand and SDSU, is, well, not. The Wildcats were just horrible last year going 1-11, while losing to SDSU in Tucson 38-14. SDSU is on the opposite trajectory having gone 12-2 last season while earning a spot in the Mountain West title game. 
I don't see how Arizona has improved enough to be able to hang with the Aztecs this year after getting smoked last season. This Aztec team just wears opponents down with the run and I don't think Arizona will be able to stop them. 
I'm not going to belabor this, but these are two teams going in opposite directions and I think the line is mispriced like this solely because of the conference these two teams play in. Expect the Aztecs to roll again this year like they did last year. Bet SDSU -6 
Jack: Nate is right on this one. Arizona is going to be horrible all year. SDSU might be a basketball school, but their lineman know the plays, which I'm not sure is true with the Wildcats. This one is an absolute lock. If you have any Top Secret documents lying around, bet those too. You're not losing this game. Bet SDSU -6