College Football Week 6 Predictions: Best Plays
Your analysts are back for another six-pack of picks for college football Week 6.
Jack has been running hot so far this year, while I continue to freefall further and further away from a winning record. These results will turn around and Kansas will lose soon; this much I am confident. We have a Friday night amuse-bouche to get the palate ready for a Saturday slate of spicy takes. 
Odds courtesy of William Hill as of 10/5.
Houston at Memphis (-3) (o/u 57.5)
Friday 10/7 at 7:30 pm EST on ESPN2
Nate: Friday night special for college football week 6! Houston and Memphis come into this game staring down the barrel of dramatically different seasons. 
Houston came into the season with high hopes, but have stumbled to a 2-3 record while giving up 34.0 points per game. 
Memphis is having a good season, sitting at 4-1 atop the AAC. Memphis has had a stingy defense in conference play limiting opponents to 16 points through two conference games, but that probably speaks more to their competition in those games than the stellar performance of their defense. 
Houston's quarterback Clayton Tune has been improving as the season goes on and has been getting excellent pass protection to do so. The Cougars have had a hard time slowing down teams either passing or rushing, so this is a good spot for Seth Henigan to get back to his early season form. 
Both teams are comfortable playing quickly. These teams are happy to play fast and neither has an interest in grinding a game out. I think that if you want to play a side, Houston is probably the look here in a game that could come down to the last score. I'm more comfortable just taking the over here. Pick: Over 57.5.
Jack: The problem with Memphis is their strength of schedule. Their opponents' combined record is 7-12. Their only quality opponent came in the season opener against Mississippi State (4-1) who blew them out of the state and back to Tennessee. 
Memphis' defense is only stingy against offenses that stink (Temple) or offenses that run the option (Navy). In fact, their defense averages 400 yards/per game. The Cougars average 411. Neither of these defenses are stingy. 
This is why everyone and their pet Godzilla is going with the over: two high powered offenses with average defenses. It makes sense. 
I like the Cougars to cover here. These teams are very similar in personnel, philosophy, defense, and quarterbacks. The biggest difference is the record and Houston has played unquestionably better programs. The line should be -1. Take the points. Pick: Houston +3.
(Side note: If you can find a Memphis prop bet on turnovers, take it. They rank 2nd in the country in turnover margin (+1.8). Houston is ranked 55th.)
Turbo Boost Activated 💨@Tp__5 #ALLIN | #MadeInMemphis

🔗 https://t.co/MPAq9GqHVg pic.twitter.com/iD1VCuyQXU

— Memphis Football (@MemphisFB) September 18, 2022
#17 TCU at #19 Kansas (+6.5, o/u 68.5)
Saturday 10/8 at 12:00 PM EST on Fox Sports 1
Nate: You knew we were going to talk about the continued bane of my existence in this column, and here it is. 
This Kansas team is just crazy overrated, and at some point soon they will lose. The defense is smoke and mirrors and it will trip them up eventually. That happens this week.
ESPN's College Gameday will be there and I will be absolutely locked in on the Horned Frogs as they try to topple unbeaten Kansas. What this comes down to is the Jayhawks' defense, which is not good. 
Football Outsiders has them rated as the 119th ranked defense overall. 
TCU has been rolling on offense lately, and I would expect that to continue. This team hung 55 points on Oklahoma last week, and I see no reason why they should keep that level going. 
Iowa State finally figured out how to slow down Jalon Daniels last week, limiting him to 102 all-purpose yards and forced him into making bad decisions. 
Meanwhile, Max Duggan has been spectacular for TCU on the season, ranked 3rd in QBR while totalling 11 TDs and zero interceptions. This is where the Cinderella story ends for Kansas as they enter the difficult part of their schedule. Horned Frogs make a statement here. Pick: TCU -6.5.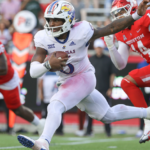 Jack: TCU recorded an impressive win against the Sooners last weekend. They're 4-0. They have a stout defense and an offense that can absolutely roll. They are a legitimate threat to win the Big 12. Next week's game against Oklahoma State is going to be huge. The Horned Frogs should be favored in this game. 
The reason Nate hates Kansas is because they are a square bettor's dream and a handicapper's nightmare. The defense ranks outside the top 100 in almost every category for every metric. The offense fares slightly better, but most advanced metrics have them in the 60s. They are over performing in a major way and every square bettor in the galaxy is throwing money on the Jayhawks week after week, moving the line every few days, only to be rewarded with a reckless bet that all the statistics suggest should have been a loser. 
But college football is not like the NFL. It's more like baseball. The wrong team is always winning for reasons undetermined. 
Kansas will lose this game, but they might keep it close enough to cover. TCU may have done more to expose a fraudulent Oklahoma squad then demonstrate their own dominance. I'm fairly certain that a bunch of dumb turnovers and missed PATs keeps things tight in Lawrence and Jayhawk find a way to lose by 4. For once in your life, make the stupid play. Pick: Kansas +6.5.
Arkansas at #23 Mississippi State (-9.5, o/u 59)
Saturday 10/8 12:00 PM EST 
Nate: Everything in this matchup points to Mike Leach's Bulldogs in this game. Arkansas has been through an absolutely brutal stretch playing Texas A&M and Alabama, and it's fairly well known by this point that teams often struggle to recover the week after dealing with the physicality of the Crimson Tide. 
Per PFF, the Hogs have the 101st ranked defense and their coverage grade puts them at 126th nationally. All of this is to say, Arkansas really struggles against the pass. This is a horrible matchup against a Mississippi State thanks ranks inside the top-30 in passing, while also occupying the top-10 in both passing attempts and completions. 
It's no secret that Mike Leach likes to throw the ball around. I just can't see a way for Arkansas to slow them down. The Hog's starting QB K.J. Jefferson is still dealing with a concussion and has yet to practice this week, and you have the formula for a rout. 
This line will almost certainly rise if he's ruled out and has been steadily climbing all week, so hop on this quickly. Pick: Mississippi State -9.5.
The only way that the Hogs win this game is if they are able to get a 7-0 lead and kneel for 28 minutes.
Sam Pittman wants to play that old school ground and pound, grab and go style of SEC football that dominated the conference until Johnny Manziel beat Nick Saban and proved to everyone that offense is your friend.
The problem with that model is that it's based on the assumption that the opposing QB is not mobile and can't throw the ball downfield. Will Rogers doesn't run the ball at all, but he can throw. PFF has the Mississippi State QB in the 94th percentile in deep passes (+20 yds). He's in the 85th percentile in medium passes (10-19 yards). 
That's terrific news for Arkansas! According to PFF, the Hogs rank 121st in tackling and 126th in coverage. Nate mentions the coverage statistic above, but I wanted to cite it here too because it is so shocking. This is an SEC school that ranks 126th in pass defense. 
The only thing that is even remotely functional on the Arkansas defense is the pass rush, where they rank 30th. The Bulldogs are in the 70th percentile in pass blocking, so protecting Rogers shouldn't be much of an issue. This game is silly. Lay the points. Pick: Mississippi State -9.5.
"Will Rogers is the most disrespected, underappreciated quarterback in the entire country."@JRodgers11 | @HailStateFB pic.twitter.com/5jueJVwccf

— SEC Network (@SECNetwork) September 17, 2022
#4 Michigan at Indiana (+22.5, o/u 59) 
Saturday 10/8 12:00 PM EST FOX
Nate: Michigan looked like the real deal last week when they easily handled a very stout Iowa defense. 
Michigan quarterback J.J. McCarthy has completed almost 80% of his passes this season and hasn't thrown a single interception. Sure the schedule hasn't been full of many threats, but this is a team who has had a tendency to play down to opponents in years' past. 
This is not that team. Michigan is handling its business and they look tough. 
The Indiana secondary is still bad and McCarthy should be able to run up the score. It's always awkward to lay a gigantic number in college, and I hate doing it. Which is why I won't be recommending a side here. 
Indiana plays at one of the fastest paces in the country by almost any metric. This should mean that Michigan should get plenty of chances to score in what looks like it could be a bloodbath for the Hoosiers. 
I'm always worried about the backdoor though. Michigan will score a pile, and Indiana will add a few in a desperate attempt to make a comeback after going down early. The over feels like a safer play. Michigan has scored over 50 points three times this season, so once they get hot they usually keep the pedal down. Pick: Over Points Total +/-59.
Jack: The over is the right play here for a myriad of reasons, most of which Nate described above.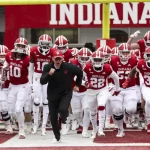 The Hoosiers lose in impressive fashion all the time. They score points quickly because they like to play fast, but they can't get the opposing offense off the field. They consistently give up 30 points per game and they haven't played any team like the Wolverines. 
See if you can get an over/under for the first half. If it's close to 30, I'd take that before I hammer the point total for the entire game, because I worry Michigan will take some off in the second half with the second string. Pick: Over Points Total +/-59.
Wisconsin at Northwestern (+10, o/u 44) 
Saturday 10/8 at 3:30 PM EST on BigTen Network
Nate: This is the game of the week where I have to wander outside the confines of my home in order to beg a bartender to turn on a game that has almost zero viewing appeal to anyone who isn't actively invested in the outcome. 
This game would typically scream under. It's a very low college total and the identity of Wisconsin has long been that they are a slow, run-heavy team content to grind it out. The problem is the head coach for Wisconsin, Paul Chryst, was fired after a horrible start to conference play losing in a blowout to Ohio State (no shame in that) and Illinois at home (that's bad). 
Wisconsin grades out as the 13th best passing offense in the country when they do attempt to throw the ball, so maybe the interim head coach decides to mix things up. 
Something needs to change in Wisconsin and they have playmakers between their stud running back Braelon Allen and Graham Mertz. 
Something tells me they try to balance out the offense and jump-start what has become stagnant. Northwestern has a bad defense, so this is a good opportunity for the Badgers to get right. This is another game where I worry about the backdoor. I think the safer play is the over. Badgers get rolling quickly and Northwestern battles to hang in the game. Pick: Over 44
Jack: Dear Reader, pray for Nate. He's chosen three point totals in his pick six so far. That's because he went 1-7 last week in his college football column and is worried he's lost his feel for point spreads. The over/under point total hustle is one that we always recommend for someone who is trying to get back to .500. #NateNeedsPrayer.
This game seems like an easy cover for a traditional powerhouse in Wisconsin against a four loss Northwestern team. However, the Badgers are going through some mighty big changes and may not be the sharpest play in the month of October. 
Wisconsin has a high functioning offense with a Heisman-caliber running back. They move the ball relatively well through the air and will score points. This is bad news for Northwestern, because they rank 101st in rushing defense, averaging almost 200 yards per game on the ground. Northwestern does a little better in the secondary, where they rank 25th nationally. Look for the Badgers to attempt to grind one out and control the clock while Northwestern attempts to keep it with comeback range. I think ten points is too much to lay here, considering the Badgers have had some major issues with the coaching staff turnover and Northwestern's inability to stop the run. Take the points and pray the Wildcats score. Pick: Northwestern +10.
Northwestern quiets Beaver Stadium. @jacobagill1 @NUFBFamily pic.twitter.com/GNIdjYzo1Y

— Big Ten Network (@BigTenNetwork) October 1, 2022
Washington at Arizona State (+14, o/u 57)
Saturday 10/8 at 4:00 PM EST on Pac-12 Network 
Nate: The Washington defense got exposed last week against UCLA, giving up 40 points and performing poorly in most metrics. This is matching their overall defensive stats which have shown that they are below average, but benefitting from a high turnover rate. Turnovers are something that tend to be exceedingly random and are not really good indicators in predicting future results. So, assuming that the stats are correct, and that Washington is fielding a pretty poor defense, I have a hard time laying two touchdowns here. It isn't sexy, but take the Sun Devils here. Pick: ASU +14
Jack: Nate picked a spread where he should have picked a point total. The Huskies are 110th in pass defense and the Sun Devils are 85th. Washington is ranked 5th in passing offense at 361 yards/game. The Sun Devils offense sort of stinks, but anyone can find the end zone against Washington. Both of these teams are going to put up 35 and if the game is even remotely close then the scoring will be bananas at the end when these two pedestrian secondaries are gassed. Take the over. Easy play. Pick: Over Total Points +/- 57.