MLB Playoff Picks 10/11: Time to Kick Some Millenial Baseball Ass
MLB PLAYOFF PICKS 10/11: I love my millennial son Jack and his best friend Nate Perry (part of our surrogate family) but it's time to teach them a thing or two about sports handicapping.
You see these Millennials who live on their electronic devices really don't get it. They want to judge all sports by analysis, trends, numbers, metrics and the like. They don't grasp culture, the locker room, leadership or veteran presence.
This is where your resident baby boomer comes in.
I look at numbers sure, but there is also gut, instincts, feel, and momentum – and above all: team culture.
Notice too that they never post their ledger or record either—like I do. Now I'm 6-6 in the MLB playoffs and down -$205, but I'm transparent. My generation is accountable.
So you think you know baseball?
Well I've challenged Nate Perry, our senior writer and co-founder of Godzilla Wins to go head to head with me for the rest of the MLB Playoffs.
It's put up or shut up! And let's see if the new whiz kids can beat Godzilla!
Let's go Nate: show me what you got!
Until then: I'm still King!

John Fredericks MLB Playoffs 2023
October 11
6-6, $-205
All Picks Based on $100 Unit Wagers
Braves at Phillies (-120)
Oh yeah! Give me Aaron Nola at Citizens Bank Park with 42,000 crazed fans and I'll show you an early exit for Atlanta on Thursday.
The Braves had a nice comeback win — and now they are all that and a bag of chips.
The Phillies are going to win this series by winning both games at home. Their mission was to win one game in Atlanta — and they did that.
Nola is a beast at home: he's given up three earned runs in his last three starts over 19.2 innings.
Pick: Phillies (-120)
Nate's Millennial Take
I'm already plenty invested in the success of the Phillies. In August, I made my only World Series future bet when I took them at +2200. I've since bet them to win the NL at +675, along with other bets to win this series.
In short, I'm all in on what the Phillies are doing right now. After, they take down the Braves, I have to believe they are capable of beating anyone.
I think the Phillies are the right play, but there isn't much utility in adding money because of my futures.
The Phillies absolutely smoke right handed hitting. Since August 1, they have ten guys who are hitting above .310 xwOBA against righties. The numbers are especially absurd for their two studs, Bryce Harper and Kyle Schwarber.
They'll knock Elder out of this game early. With so many guys figuring to be on base, I'm also intrigued by the over 1.5 stolen bases.
Nola has been great, and I expect him to pitch well here.
Nate's Picks: Phillies over 1.5 steals (+120)
                          Brad Elder under 11.5 total out recorded (+100)
                          Aaron Nola under 1.5 walks allowed (-164)

Houston (+110) at Twins
The Astros did what they had to do last night. Their starter tonight is Jose Urquidy. He's struggled since he came back from a three month shoulder injury. Those of you who follow the Astros know he's a gamer. This guy always shows up for big games, and he comes in with seasoned playoff experience. He'll give Houston six solid and then the best bull-pen in MLB history takes over. Bring it.
The Twins Joe Ryan is 11-10 with 4.51 ERA on the season. He's given up 15 earned runs in his last four starts over 20.2 innings. This is a tough assignment.
Pick: Astros (+110)
Nate's Millennial Take 
John is mad because I sort of love the Twins. I think they are finally healthy and they looked red-hot in the Wild Card series.
They've since cooled off, but I'm still holding tickets for them to win this series, and to win the AL. I can't give up on them now.
This is another game where I don't see any utility in betting on the game outcome since I'm already pulling hard for the Twins.
Anecdotally, there have been a few times where I've questioned how aggressive the Twins have been pitching to some of the big bats (like Yordan) in this series. Joe Ryan has been getting worse as the season has progressed, and I suspect he may try to tread carefully around some of these hitters in ways that Sonny Gray did not yesterday.
Walks are better than getting torched by Yordan Alvarez.
Nate's Pick: Joe Ryan over 1.5 walks allowed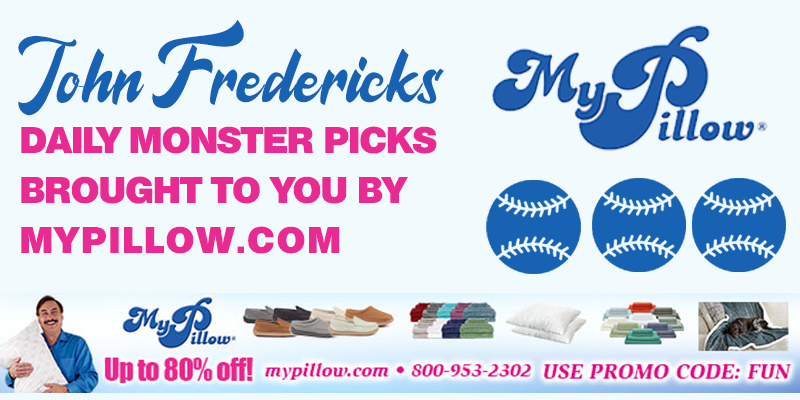 Dodgers (-130) at D-Backs
Los Angeles has averaged 5.9 runs per game on the road this season and hit .260 as a team with an on-base percentage of .337.
They won the division by 16 games with 100 wins. Do you really think they'll get swept by Arizona?
The brain dead biased sports media has already written the 2023 Dodgers into the ashbin of history. More fake news coming from the same losers who wrote Houston off after losing a game Sunday night.
Look, I'm not a Lance Lynn fan, but the D-Backs Brandon Pfaadt is worse. He was smoked by Milwaukee in his last start. This is an elimination game for L.A. Time to step up and score some runs.
Lynn has some post-season experience—Pfaadt has none. The Dodgers have nowhere else to go.
Pick: Dodgers (-130)
Nate's Millennial Take
The Dodgers haven't managed to get their starter through the second inning yet, and that's a big problem in the playoffs.
After Miller and Kershaw sucked, the bullpen probably needs a little bit of relief.
Lance Lynn has been a horse throughout his career. If things stay on track and he continues to pitch towards weak contact (which has been a big key to his success this season with LA), I have to imagine he goes through the lineup twice. His total number of outs at 11.5 sounds pretty reasonable.
If Lynn can't go four innings and cash this ticket, the Dodgers are probably cooked.
On the other side, Pfaadt has been a lot better since getting back to the big leagues at the end of July. He's prone to giving up the long ball, but the other numbers are fairly encouraging. His total outs are set at 12.5. I don't think it's unreasonable for the D'Backs to leave him out there with the 2-0 cushion they have in the series if things are going all right.
Nate's Picks: Lance Lynn over 11.5 total outs (-119)
                          Brandon Pfaadt over 12.5 total outs (+130)