Las Vegas Aces vs New York Liberty: Expert Pick – August 6, 2023
LAS VEGAS ACES VS NEW YORK LIBERTY EXPERT PICK – AUGUST 6, 2023 – Happy Sunday basketball fans. Welcome back to our weekend WNBA coverage here at Godzilla Wins. There are four games on today's slate and one of the marquee games features the Las Vegas Aces (24-2) taking on the New York Liberty (21-6).
This game comes with a ton of hype and with good reasons. For starters, these two teams will face off two more times this month. Second, you have the two frontrunners in the MVP race going head-to-head — Breanna Stewart and A'Ja Wilson.
Last, but certainly not least, these two squads have the best records in their respective conferences. It doesn't get any better than this folks.
So, without further ado, let's dive into this matchup of conference heavyweights to see which team has the edge and why.
Tipoff
When: Sunday, August 6, 2023 at 3:00 PM ET
Where: Barclays Center, Brooklyn NY
TV: ABC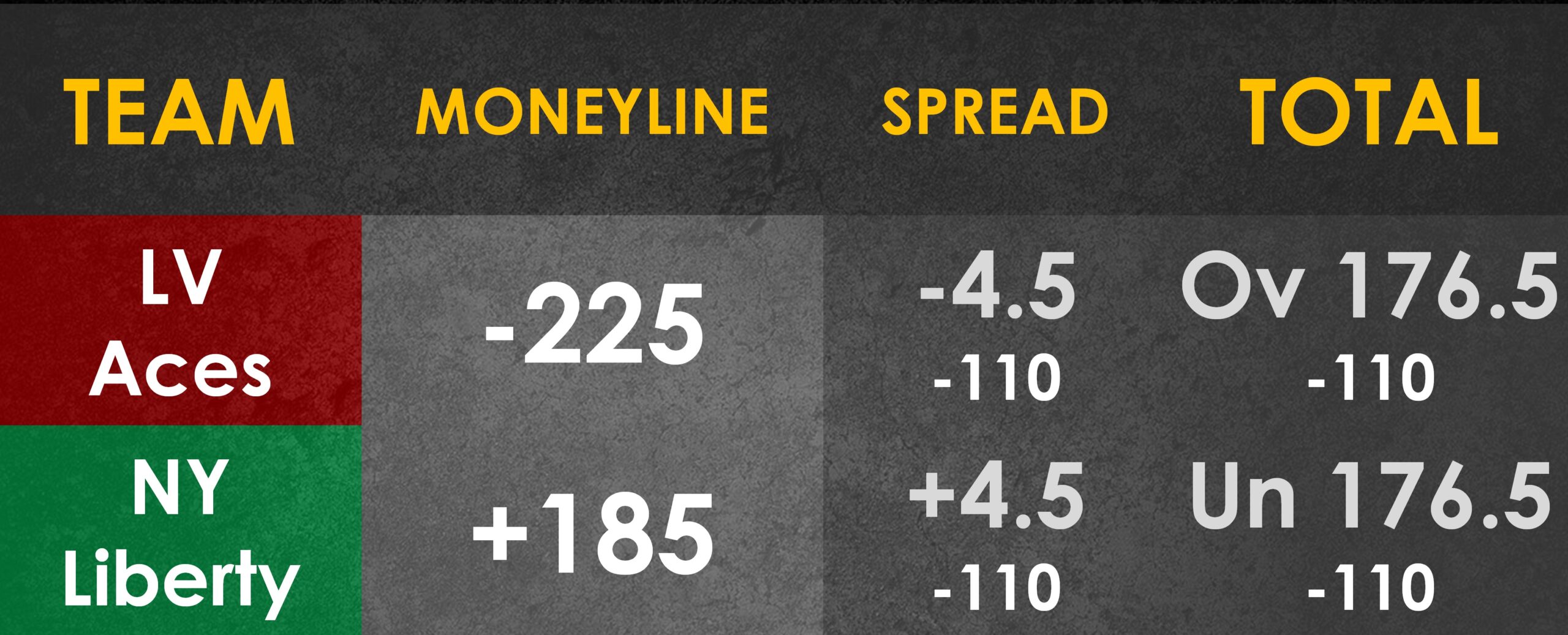 Table provided by editorial staff. Odds courtesy of DraftKings.
Las Vegas Aces vs New York Liberty – Season Trends
Defending Champs Look Virtually Unstoppable
What is there not to like about the defending champs coming into this matchup? The Aces boast the best offense in the WNBA, averaging 94.4 points per contest and 116.7 points per 100 possessions.
Las Vegas is also the best shooting team in the league as well. They are shooting 50.4 percent from the field and 38.6 from beyond the arc. Here are a few other noteworthy stats about this ball club.
Rebounds: 34.8 per game (4th)
Assists: 22.0 per game (2nd)
Steals: 8.1 per contest (2nd)
Blocks: 5.3 per contest (1st)
Turnovers: 11.3 per outing (1st)
Point differential: +15.5 (1st)
At the other end of the court, Las Vegas has the second-best scoring defense, giving up 78.9 points per contest.
The Aces also have the best defensive rating in the association – allowing just 97.6 points per 100 possessions. Not only that, but the reigning champs have posted nine wins in their last 10 contests, and are riding an eight-game winning streak coming into this matchup against New York.

Liberty Are Capable of Holding Their Own At Both Ends
While the Aces are certainly formidable at both ends of the floor, the Liberty aren't exactly pushovers, either. New York has won eight of its last 10 games and comes into this contest riding a three-game winning streak with a pair of wins over the Los Angeles Sparks and a 76-66 win over the Minnesota Lynx on Friday.
The Liberty have the second-best offense in the league, averaging 87.7 points per contest and scoring an average of 109.5 points per 100 possessions. New York is additionally tied for the second-best shooting percentage (44.7) and it has the second-best conversion rate from beyond the arc (37.1 percent).
From a defensive standpoint, the Liberty are ranked fourth in both scoring defense (81.4 PPG) and efficiency (allowing 101.6 points per 100 possessions).
Although New York doesn't defend well against the 3-point shot (ranked 10th – 34.8 percent), this ball club is limiting opponents to 42 percent shooting overall, which is the lowest opponent conversion rate in the association.

The Picks
While the defending champs have only been defeated twice, it is easy to understand why this game could go either way.
The Spread
In the first meeting between these two teams, the Aces came out on top 98-81. Despite that performance, the Aces are just a 4.5-point favorite in this contest. Here are a few reasons why I'm picking the champs to cover the spread.
Las Vegas is 6-2 ATS in its last eight contests overall.
The Aces are 5-2 ATS in their last seven games against New York.
Las Vegas is 10-4 ATS in their last 14 road games against the Liberty.
New York is 2-6 ATS in its last eight contests.
The Liberty are just 2-5-1 ATS in their last eight matchups against Las Vegas.
Prediction: Las Vegas Aces (-4.5)
Over/Under
The projected over/under total for this contest is 176.5 points. The total is somewhat high for my taste, but here is why I'm picking the OVER.
Across the past two seasons, these teams have played each other seven times, and the OVER total has hit in each of those seven contests.
The OVER total cashed in four times in the Aces' last five road contests.
In New York's last seven games, the OVER is a perfect 7-0.
The OVER total is 6-1 for Las Vegas in their last seven games against teams with a winning record. New York is 21-6.
When New York plays on one day of rest, the OVER is 10-4 in those games.
The OVER is 10-4 from the Liberty in their last 14 outings following an SU win.
Prediction: OVER 176.5
Player Prop Bet
While there was no player prop bet available at the time of this writing, my key player to watch in this contest is Las Vegas Aces guard Kelsey Plum. Sure, she scored just 14 points in her last outing against the Atlanta Dream on August 1.
On the flip side of the narrative, She is the team's second-leading scorer, averaging 19.7 points per contest. Not only that, but she has scored 20 or more points in seven of her last 10 outings.
With that in mind, go with the OVER if her projected scoring total is 20 points or lower.
Prediction: Kelsey Plum to score OVER 20 points

James's Picks
Las Vegas Aces (-4.5)
OVER 176.5 points
PPB: Kelsey Plum OVER 20 points