John Fredericks: MLB Picks for Monday, July 17th
JOHN FREDERICKS: MLB PICKS FOR MONDAY, JULY 17th – Tired of all this winning yet? We went 3-4 on Saturday night and still made some jack: plus +$95 with a couple of big doggie plays: White Sox and Brewers.
I took off Sunday to sleep in and get some rest after watching the Astros blow consecutive six and three run leads to Anaheim and then losing on a passed-ball and an error in the tenth. They suck.
We are now at 207-167-1 and plus +$720 for the season. BTW, the Padres suck, FYI.
2023 MLB Godzilla Season Stats
207-1671-1, +$720
*Based on all wagers at $100 per game at money or run line odds as specified in DraftKings. Note: If money line is -$150, we are laying $150 to win $100, etc.  If we take +$130 and we win, we win $130 for our $100.
Gambling Problem? Call 1-800-Gambler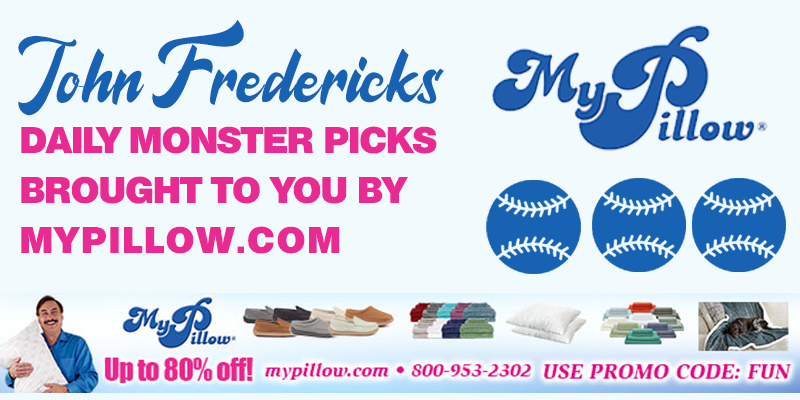 The second-half of the season is where I always get on a roll! I like three games tonight: 
Yankees (+125) at Angels 
The Angels lost a heartbreaker to Houston last night after winning a stunner the night before in 10 innings. Here is the bottom-line: the Angels gave up 22 runs to Houston in two back to back nights with each starter lasting three innings. Their bullpen is wasted. 
As bad as Severino has been for New York, the Angels pitching is a catastrophe going into this series. They lost a must win series to the Astros while Houston was without three key players: Alvarez, Altuve and Pena. Ouch. 
Pick: Yankees (+125) 
Tigers (-130) at Royals 
Kansas City won a game! Ok, that's it for this week. Jordan Lyles for the Royals is 1-11 for a reason. K.C.'s bullpen is a sieve, with an ERA of 5.52 and a WHIP of 1.56. 
Detroit's Matt Manning has held opponents to a .145 batting average in his last three starts, where he's given up just eight hits in his last 17 innings. 
Pick: Tigers (-130) 
Giants (-145) at Reds 
Giants are hot. Reds are not. I'm fading the Reds, as their bats begin to come back down to earth. Cincy's pitching is proving to be way overvalued as well. I'm calling them the Big Fade Machine. 
The Giants are making their move, and leaving San Diego in the dust. They've reeled off five in a row while outscoring their opponents 23-12 in that span. The Reds bullpen has one weapon: Diaz-their closer. But they have to be ahead in the ninth to use him. 
Pick: Giants (-145)