John Fredericks: MLB Moneyline Wagers – Sunday, April 30th
Godzilla MLB Record 2023 
56-33
+1,174 for the Season  
JOHN FREDERICKS: MLB MONEYLINE WAGERS – SUNDAY, APRIL 30th – Oh yeah, baby! We are as red hot as rocket fire, going a blistering 7-1 yesterday and cashing in +$585 bananas.
That makes us 56-33 and plus +$1,174 buckaroos for the season! We are 11-2 over the last two days, and 17-6 over four days. My motto:
Yesterday is a canceled check. Tomorrow is a promissory note. Today is READY CASH! Let's go!
*Based on all wagers at $100 per game at money or run line odds as specified in DraftKings. Note: If moneyline is -$150, we are laying $150 to win $100, etc.  If we take +$130 and we win, we win $130 for our $100.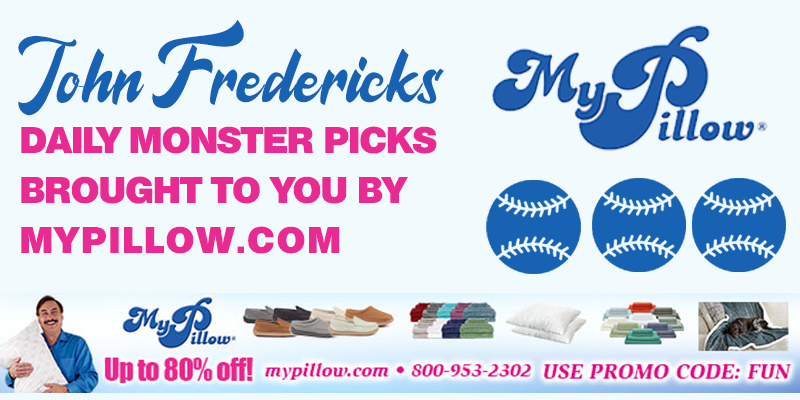 Bucs (-145) at Nationals 
Washington is a really pathetic club, and they have basically quit on Manager Dave in April.
They play to get paid and go home. Meanwhile the Buccos are on fire, they are young and don't know yet that they aren't supposed to be any good. Ride this Bucco-train for all its worth! 
Pick: Pirates (-145)
Orioles (-155) at Tigers 
Baltimore is for real. They're a well-balanced team, they hit and they have a competitive rotation.
The Tigers are a year away. The O's are 18-9, winners of eight out of their last 10. Ride the streaks, go with the turns, don't be a crybaby! 
Pick: Birds (-155) 
Angels at Brewers (-125) 
I'm catching the Brew-Crew on a hot streak. I was patiently waiting for this.
They've won three straight and they go for the home sweep today against the hapless Halos. BTW, Jose Suarez has been a catastrophe for Anaheim: ERA 10.26, WHIP 2.28, 30 hits in 16 innings. Dumpster fire.
Pick: Brewers (-125) 

Rays at White Sox (-190)
I am betting against Chicago until they win two games in a row. They have lost 10 straight, and yesterday the Rays put up a 10-spot in the top of the seventh after trailing 3-0.
This White Sox bunch is really reeling. 
Pick: Rays (-190) 
D-Backs (-120) over Rocks 
Colorado is losing again. Once this team goes bad, lay it in against them. They've dropped three straight and seven of 10. 
Pick: Arizona (-120) 
Reds (-150) at A's 
Yesterday, the A's had a 2-1 lead in the top of the ninth. The Reds had runners on second and third with two outs. Farley hit a bouncer up the first base line, lining up for an easy out to end the game. 
The ball hit the edge of the bag, and bounced over the head of the first baseman for a game winning double. 
All three A's batters then struck out in the bottom of the ninth. 
When things go bad in baseball, they go bad. The Reds have won four in a row.
Pick: Reds (-150) 
Cards at Dodgers (-145)
I am catching L.A. on a winning streak. This is the ONLY way to beat MLB day in and day out. Catch the wave. Cards, BTW, are losing now every day on the road. They are losers of three in a row, seven of 10, and are 5-10 away from Busch. 
Pick: Dodgers (-145)