John Fredericks: MLB Moneyline Wagers for Tuesday, June 13th
JOHN FREDERICKS: MLB MONEYLINE WAGERS FOR TUESDAY, JUNE 13th – It's good to be back on the diamond! I've been traveling the last few days but now we are ready to get back in action. 
We are in need of a really sustained winning streak, like 20 out of 25. We need to get over $1,000 by July 4! Right now we are down -$135 on the season. 
Here we go!
June 13, 2023
2023 MLB Godzilla Season Stats
131-104: -$135 for the Season
 *Based on all wagers at $100 per game at money or run line odds as specified in DraftKings. Note: If moneyline is -$150, we are laying $150 to win $100, etc.  If we take +$130 and we win, we win $130 for our $100. 

Yankees (+150) at Mets 
The Mets are just a mess right now. I'll keep fading them until they win two in a row. That could be weeks.
The Yankees are playing better and Luis Severino is no slouch, even though he has struggled as of late. 
Is Max Scherzer done? It's getting close. 
Pick: Yankees (+150) 
Reds (Even) at Royals 
Kansas City's Jordan Lyles is 0-10 this season for a reason. The Royals have dropped seven in a row and nine of 10.
When bad teams start losing, don't be shy about fading them into oblivion.
Pick: Reds (Even)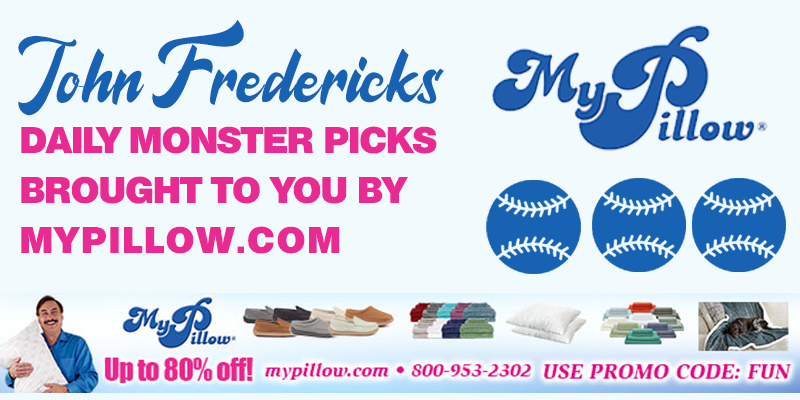 Marlins at Seattle (-155) 
The Mariners have to get going right now. Seattle is everyone's chic pick to challenge Houston, but they are still not a .500 team. It's now or never. 
Pick: Mariners (-155)
Phillies (-130) at D-Backs
The lack of respect Arizona gets is stunning. They have a four game lead in the N.L. West, while the Phillies at eight games back in the East. 
Enter Zach Wheeler, stage right.
The Phillies' Wheeler has much better stuff than Arizona's Zach Davies. 
Two of Wheeler's last three starts have been outstanding. He's gone over seven innings in both and striking out 20 combined batters. 
The Phillies have won seven of their last nine games. When the Phillies get hot…
Pick: Phils (-130) 
Tampa Bay (-1.5 Runs, -110) at Oakland
The A's have reeled off six straight wins! 
The Rays have averaged 6.6 runs per game against southpaw starters this season, hitting .292 as a team. 
Oakland has averaged just 3.2 runs per game at home this season hitting .207 as a team and their bullpen has been terrible at home with an ERA of 5.75 and a WHIP of 1.48. Numbers don't lie. 
Pick: Rays (-1.5 Runs, -110)