John Fredericks: MLB Best Bets for 4/21/23
JOHN FREDERICKS: MLB BEST BETS FOR 4/21/23 – Yesterday we went a blistering 3-0 and plus $300. HOT-HOT-HOT- Just call me Johnny Red-Hot! 
MLB Record 2023 
25-16  
+$542 for the Season  
*Based on all wagers at $100 per game at money or run line odds as specified in Draft Kings. Note: If money line is -150 we are laying $150 to win $100, etc.  If we take +130 and we win, we win $130 for our $100.  
Dodgers (-155) at Cubbies, 2:20 EST 
Cubbies fans have to be excited on their hot start at 11-7. While the Dodgers have played so-so .500 baseball out of the gate, the pitching matchup today favors L.A. Julio Urias has been the Dodgers dominant starter, coming in with a nice 1.90 ERA. I like 26 K's in 21 innings—lots of swings and misses.  
Cubs starter Drew Smyly is getting roughed up, and his K ratio is way down.  
I think the Cubs are a good fade this afternoon.  
Pick: Dodgers (-155)  
Reds at Pirates (-145), 6:35 EST 
All I know is this: The Pirates keep winning – four in a row and five our their last six—while the Reds keep losing. This Pittsburgh bunch is playing with reckless abandon and having fun. Who am I to be Debbie Downer? "We are family!"  
Pick: Pirates -145 
White Sox at Rays (-170), 6:40 EST
I bet Mike Kopech last time and get lucky with a win. He's not sharp. The Sox are not winning and the Rays just keep rolling. I was sold on Chicago on paper in March. Spreadsheets don't win games. Players do. 
Pick: Rays (-170) 

Rockies at Phillies -1.5 runs (-150), 7:05 EST
Colorado is dreadful. They won their one game for the week on Thursday. As many problems as the Phillies have, I can't see Nola losing here at home. This game is your typical Rockies blow-out.  
Pick: Phillies -1.5 runs (-150) 
A's at Texas (-220), 8:05 EST
Who is going to cool off the Rangers? Oakland—or is it Las Vegas. This entire season is loser for the A's and the city of Oakland. They will lost 110 games and re-tool for Vegas. Jon Gray has not been lights out, he's been solid. That's all you need against the Triple-A's.  
Pick: Texas (-220)  
Padres (-115) at D-Backs, 9:40 EST
I like Seth Lugo for San Diego, he's off to a nice start: 2.70 ERA, 1.32 WHIP. Bottom line is I want to catch the Padres early on a hot streak.
Tattis is back and he'll start to hit soon. Padres are ready to start bashing some baseballs. Let's ride the bull.  
Pick: Padres (-115)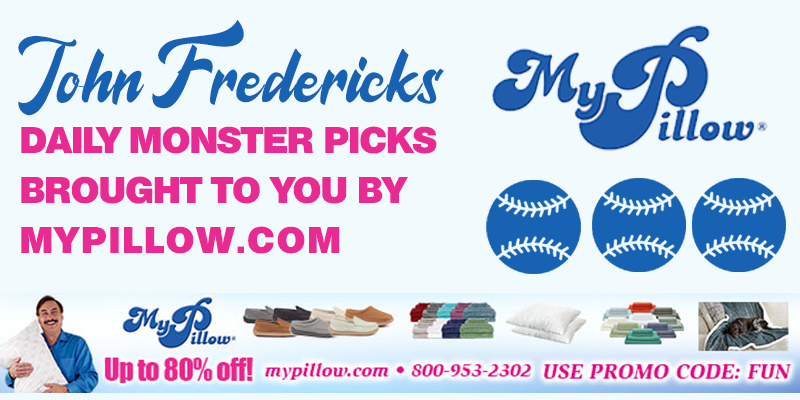 Godzilla on a roll 3-0 yesterday 🧹🔥⚾️@Dodgers sorry @Cubs @Pirates We are Family @Phillies yikes @Rockies pathetic @TexasRangersPR love Jonny Gray @Padres get hot!☄️ go to https://t.co/Qvjt8Th2Ud pic.twitter.com/k1Iy5L1ul2

— John Fredericks (@jfradioshow) April 21, 2023