FIFA World Cup 2022 Finals Preview
Tournament Recap
FIFA WORLD CUP 2022 FINALS PREVIEW – With tournament favorites Brazil failing to perform against Croatia and despite a deep run by underdog nation Morocco, we ended up with two powerhouse international teams in the World Cup Finals.
The stage has been set for Lionel Messi in what is likely to be his final World Cup. Can he cap off his unbelievable career holding the one trophy he still lacks? The odds say no. Nevertheless, this No. 3 vs No. 4 battle is exactly what this sensational 2022 World Cup deserves.
Argentina
A loss to Saudi Arabia in their first match of the tournament shocked the world. But since that loss, they have not looked back.
Decisive 2-0 wins against Mexico and Poland saw them advance from what was a tough group. In the knockout stages they defeated Australia 2-1, Netherlands in penalties, and a convincingly beat a solid Croatia team 3-0. 
France
Like Argentina, France finished their group with 2 wins and 1 loss, although the one loss came in their final match of the group against Tunisia which was essentially a meaningless game for France.
In the first 2 matches they dismantled Australia 4-1 and beat Denmark 2-1. After defeating Poland in the round of 16 they came head-to-head with England where they were able to escape thanks to a missed penalty by Harry Kane. In the semifinals they were able to end Morocco's remarkable run. 

Argentina vs France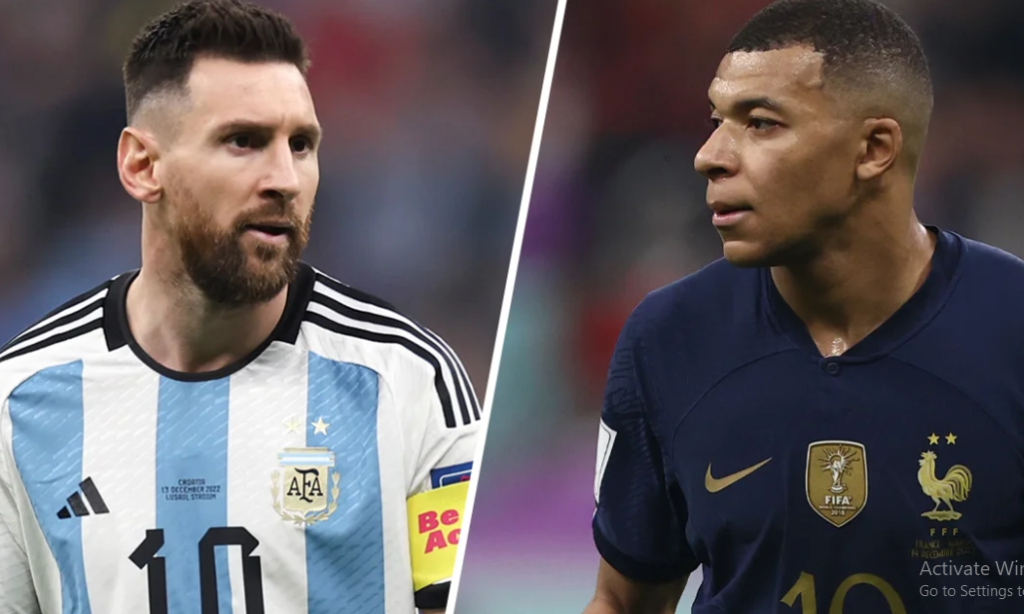 Date: Sunday, 12/18/2022 at 10:00 AM EST
Pitch: Lusail Iconic Stadium, Lusail, Qatar
Coverage: FOX
Moneyline: | ARG: +185 | TIE: +205 | FRA: +175 |
Total: 2.5 | Over: (+142) | Under: (-174) |
To Win: | ARG: +100 | FRA: -120 |
Head-to-Head Record

France

4-3

Argentina

06/30/2018

FIFA World Cup

France

0-2

Argentina

02/11/2009

Int. Friendly

France

0-1

Argentina

02/07/2007

Int. Friendly

Argentina

2-1

France

06/06/1978

FIFA World Cup

Argentina

1-0

France

06/15/1930

FIFA World Cup
Opponents Faced
Argentina has had a tough schedule in their road to the finals facing several top ranked countries with 3 of them being in the FIFA top 25 rankings (Mexico, Netherlands, and Croatia).
Thanks to the low ranking of Saudi Arabia to skew things, Argentina's average opponent FIFA ranking is 25. France only faced 2 top 25 opponents in Denmark and England, but both of these teams happen to be in the top 10 bringing France's average opponent FIFA ranking to 23. 
Goal Averages
Argentina is averaging 2 goals per match this World Cup scoring 12 goals in 6 games, while conceding an average of 0.83 goals per game (3 clean sheets). France is averaging 2.2 goals per match with 13 goals scored thus far, while conceding 5 total goals for an average of 0.83 goals per game. 
Squads
Lionel Messi and Julian Alvarez have been carrying the team on the score sheet for Argentina, with 4 goals for Messi and 2 for Alvarez. Molina, Fernandez and MacAllister also have tallied goals for Argentina this tournament.
For France, Kylian Mbappe has been impressive with 5 goals and Olivier Giroud continues to add to his tally as France's leading scorer. Although, Ousmane Dembele and Antoine Griezmann haven't gotten any balls in the back of the net this tournament, they have both played a heavy role and will be players for Argentina to keep an eye on.
The Pick
I'm backing Lionel Messi to fulfill his dream of winning the only major tournament that has illuded him in his outstanding career.
Argentina have won 4 of their previous 5 matches against France, two of which have been at the World Cup. After their initial loss, Argentina have looked very strong going forward.
The French are the defending World Champions so never count them out. But despite weathering the crisis this tournament, don't forget that they are still an injury ridden team and are without Paul Pogba, N'Golo Kante, Karim Benzema, Lucas Hernandez and several others. 
Of course, there are reasons to worry about either side, but France has struggled at the back, they've been put under pressure for long stretches of games, and they've only been able to keep one clean sheet thus far. France have built their game around speed and precision on the counterattack.
In my opinion, this Argentina team are well built to possess the ball against the French setup and also have the pace to deal with the counterattack. 
AUSTEN'S PICK: ARGENTINA  1 – 1 FRANCE / ARGENTINA WIN ON PENALTIES