England vs Colombia Women: Expert Pick and Prediction – August 12, 2023
ENGLAND VS COLOMBIA WOMEN: EXPERT PICK AND PREDICTION – August 12, 2023 — England might have survived Nigeria, but now things really get challenging because they've got to play without one of their best players. Lauren James got caught stepping on an opponent on video review and took a deserved red card for it.
So with James out, England's ability to scrape by in lieu of dominating will be more under scrutiny than ever. The Three Lionesses have been rock-solid on defense, but the attack's been lacking. They played out a pair of 1-0 victories before thumping China in a match where the Chinese got desperate and allowed the game to become far too open.
Colombia's also been heavy on the defense, only giving up two goals in four matches. The Cafeteras have been susceptible at the end of halves though, conceding in stoppage time to Morocco and a minute before to Germany. With James on the shelf, this looks like a match where defense might rule the day, as both teams look for one opportunity.
Match Preview
When: Saturday, August 12th at 6:30 a.m. EDT
Where: Stadium Australia, Sydney, Australia
Spread: England -1/Colombia +1

Odds courtesy of DraftKings. Table provided by editorial staff.
Scouting England
On one hand, England hasn't played its best in most of this tournament. The Lionesses weren't good against Nigeria, and they've tended to do just enough to keep progressing. The attackers continue to struggle, and much like the United States did, the English seem reluctant to make changes.
Despite playing 120 minutes against Nigeria and 30 minutes down a player, English coach Sarina Wiegman only used three of five substitutes, and one came in the very last minute.
On the other, the defense is rock-solid. Mary Earps continues to own the net, and the back line of Lucy Bronze and Millie Bright have been almost impossible to break down. England's just not going to give up many goals, which means that if the likes of Chloe Kelly, Beth England and Alessia Russo can get rolling, the English will have the edge.

Scouting Colombia
The Coffee Growers have been the surprise of the tournament, having already reached the last eight for the first time in their history. Not bad for a team that was essentially ignored by its federation eight years ago, but has kept building a little at a time.
With a gifted scorer in Catalina Usme, one of the sport's best young talents in Linda Caicedo and an experienced captain in Daniela Montoya, Colombia is legitimately talented.
But fixture congestion might bite Colombia here, as the Coffee Growers have played the entire tournament with nothing to lose and treated every match as a final. That's a large reason why they made it here, but it's not good preparation for the matches to pile up.
That's why smaller countries crash out around this stage of the event: they just don't have enough world-class players to sustain playing at this level for five, six or seven matches. Colombia has been brilliant thus far, but might have nothing left here. And that is reflected by current futures: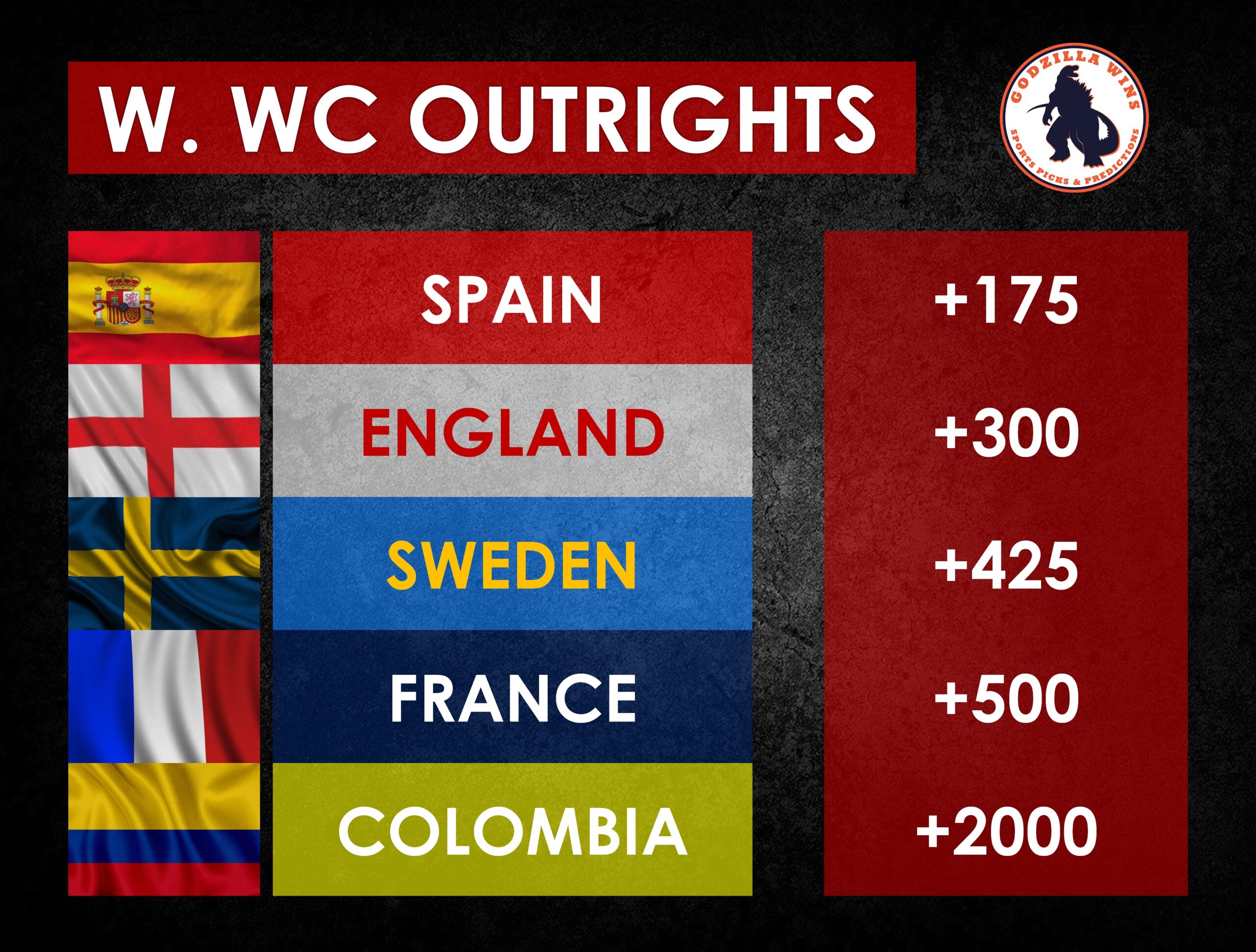 Match Bets
Under 1.5 (+155)
The total is low for a reason. England is hampered and Colombia is gassed, which means neither side is going to push until it has to. England is also far deeper than Colombia, so it's likely to read the game well and accept going to extra time if it needs to. Colombia will have a hard time breaching the English defense here.
Scoreless First Half (+135)
The value on England to win is zilch, but the value on a late England winner isn't bad. I think England takes at least a half-hour to get its shape without James, leading to a lack of chances at both ends. I think the breakthrough comes late.
Final Score: England 1, Colombia 0 (+340)
As fun a story as Colombia is, it likely doesn't have enough left for England after lasting this long. The Lionesses' defense is legit, and Las Cafeteras don't have enough bodies to pick it apart this late in the tournament. Colombia will be very dangerous in 2027, but this isn't the year to back them.

Dan's Picks
Under 1.5
Scoreless First Half
England 1-0