Donny Diamond is an indy league baseball legend. Stories of him are told throughout the country and his slider is the stuff of legend. He watches four times more baseball than your therapist would recommend and devotes much of his other time to thinking about baseball. He will be a contributor for Godzilla Wins as we enter into the MLB playoffs.
It's time to say goodbye. We must bid farewell to the most reliable of friends. You know, the one who's there at a moment's notice with bail money and a case of beer? That one. That's Baseball's regular season. See ya 'round the watering hole, bud. Time to be going. Time for a new routine. No more of rolling outta bed after the 4th alarm, checking the box scores as the coffee brews, reading the injury and transaction reports while mainlining the first cup of coffee, setting the fantasy lineups while beerbonging the second cup of coffee, and then hunting down all the most lopsided pitching matchups for your next winning parlay while casually enjoying the third cup of coffee. It's a bittersweet time of year the baseball addicted. For as we leave Ol' Faithful in the past, we welcome the party on wheels that is the MLB Postseason.
Nothing beats the Postseason and this year we get a shiny new Wild Card round to kick it off. The new format comes with bracket-style seeding for the 3 division winners and 3 wild card teams from each league. The wild cards and the division winner with the weakest record are matched up 3 vs 6 and 4 vs 5 to play a 3 game set at the home ballpark of the higher seed. The top two seeds get a bye, awaiting the WC winners in the Division Series. It's business as usual from then on with the potential quirk that there will be no re-seeding after each. This could mean that a Wild Card team like say, the Mets (4 seed, 101 – 61, too soon?), could make it to the World Series and meet a division winner, maybe the Guardians (3 seed, 92 -70), and have home field advantage land in Cleveland. Unlikely as it may be, this is baseball. You never know what kinda weird shit you'll see next. So let's predict some of this nonsense!
What's it look like?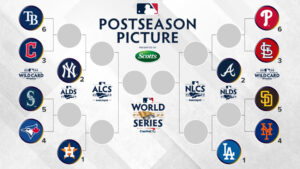 What do we think?
WILD CARD SERIES
AMERICAN LEAGUE
(6) Tampa Bay Rays @ (3) Cleveland Guardians
This series seems like it's straight out of the acid flashback of an OG SABRmatrician. Both of these teams seek to maximize each and every one of the thirty-four dollars they spent to assemble their rosters by being younger, faster, and more prepared to party than their opponents. The Rays will lean on the playoff experience of short-burst, high end pitchers Shane McLanahan, Tyler Glasnow and 12 other dudes you've likely never heard of but will be absolutely stunned by. They always run out a fantastic defense that features about as much speed as any 80's metal band could inhale pre-show. Oh yeah, they also have the playoff answer to every playoff problem. Randy Arozarena.
The Guardians feature a roster of some of the most under-appreciated, high quality players in baseball. Their position player group is led by switch hitting baseball wizard, Jose Ramirez, and rookie, Steven Kwan, who also wields the magic wand at the dish. The Cleveland Pitching Factory keeps pumping out above average big league pitchers. The rotation is anchored by former Cy Young winner Shane Bieber and breakout star Triston McKenzie. The Cleveland bullpen will seem somewhat similar to the Rays bullpen in that they are highly effective and none of the names will be really all that familiar to many fans, with one huge exception… Emanuel Clase is a monster. I'm not kidding. He's that inexplicable fear that's hiding under the every kid's bed, but in this case the kid's are Major League hitters and his place of residence is the 9th inning.
Vegas series odds: Rays +100/Guardians -120
My pick: Rays in 3. This Rays team knows how to carry themselves in the postseason. Also, Randy Arozarena.
(5) Seattle Mariners @ (4) Toronto Blue Jays
With all the explosive young talent on the field, this series could be the main factor in the potential success of the expanded playoffs. The amount of talent between this and the aforementioned Wild Card series is an indicator that the future of baseball is in great hands.
Last year was the coming out party for most of the young Blue Jays roster, which only created greater expectations for them this time around. The Baby Jays lived up to the hype. With an offense headed up by Vlad Guerrero Jr., George Springer, and Cannonball Kirk, Toronto sits atop the AL leader board in all 3 of the triple slash categories with a mark of .264/.329/.431. The Jays' defense is solid and at times stellar with the insanely high upside athleticism of Matt Chapman, Springer, and Bo Bichette, but in this case, a  combination of youth and experience (oldness) can at times create a defense that is less than the sum of it's parts. The pitching can be a bit of an enigma for Toronto as well. Alex Manoah and Kevin Gausman provided high quality innings in the rotation, Jordan Romano and Adam Cimber were nails at the back end of the bullpen, and Ross Stripling threw the piss outta the ball whenever he was handed it. The rest of the staff has flashed a high ceiling, but has mostly been underwhelming.
The Mariners are back! They're back and all it took was a good old fashioned donnybrook with Phil Nevin's Angels. The little brother of the AL West is growing up right before our eyes. They finally kicked out their shitty old roomie, Playoff Drought. That guy was the worst. He was that guy who was old enough to buy them beer for their parties, never invited to hang out, but he did anyway. PD (pronounced Petey) overstayed his welcome, and it fell on AL Rookie Of the Year lock, Julio Rodriquez and company to kick him to the curb. The M's did so due in large part to one of the more disgusting pitching staffs in recent memory. They got a ton of dominant innings out of starters Logan Gilbert, George Kirby, and mid season acquisition, Luis Castillo, but the bullpen was the real showstopper. Paul Seward, Erik Swanson, Diego Castillo, Andres Muñoz, Penn Murfee, it didn't seem to matter who was coming outta that pen, when their number was dialed, they delivered. The defense was a thing of beauty all year. Say what you will about the stat itself, but when you commit 69 errors AS AN ENTIRE TEAM, you're doing more than a few things very right. The pitching and defense make the young Mariners a dangerous postseason team, add into that the high potential offense built around Julio, Eugenio Suarez, Ty France, and Cal Raleigh, and these M's can be a real problem. One last note: "Big Dumper" Cal Raleigh's walk off beezo to clinch the postseason birth is one of the more beautiful moments in recent sports memory.
IT HAS BEEN 21 YEARS CAL RALEIGH TWO RUN BOMB!! pic.twitter.com/vVjOQ9KumA

— Jared Carrabis (@Jared_Carrabis) October 7, 2022
Vegas odds: Mariners +140/Blue Jays -165
My pick: Seattle in 3. I like the consistency of their pitching/defense, and the momentum they have going right now is magical.
NATIONAL LEAGUE
(6) Philadelphia Phillies @ (3) St. Louis Cardinals
With arms like Zack Wheeler, Aaron Nola, and Ranger Suarez, the Phillies have starting pitching that matches up with just about anyone in a short series. They have a boom or bust offense fueled by some of the sweetest beer league softball swings you'll ever see from boppers like Kyle Shwarber, Bryce Harper, and JT Realmuto. Their defense is nearly nonexistent and they continue to struggle with consistency in the bullpen.
The Cardinals have all the Devil Magic. There are times when baseball can be predictably poetic, and this feels like one of them. The Cardinals legendary trio of Albert Pujols, Yadier Molina, and Adam Wainright will likely pull off some unfathomable feats to put their team in a position to win these ballgames. Not to mention they have two of the best players at their respective positions in the sport in third baseman Nolan Arenado, and likely NL MVP, Paul Goldshmidt. There may not be actual evidence to support this, but it seems likely that the definition of sound fundamental baseball is based on the St. Louis Cardinals.
Vegas odds: Phillies +110/Cardinals -135
My pick: Cards in 3. Too much Devil Magic.
BONUS BET: If Bailey Falter faces Albert Pujols, you should immediately put money on a prop bet for The Machine to hit a bomb.
703!!

Albert Pujols has hit home run 703 and passed Babe Ruth for second place on the career RBI list! #stlcards #pujols pic.twitter.com/orCFJYY8IZ

— Under The Arch Sports (@_UTASports) October 4, 2022
The Dads get Son'd
(5) San Diego Padres @ (4) New York Mets
The Padres are one of the more entertaining teams you could hope to watch and it's not just because of their dope uniforms. The field is littered with all stars, gold glovers, and silver sluggers like Manny Machado, Jake Cronenworth, and Trent Grisham. Their rotation of Yu Darvish, Joe Musgrove, Blake Snell, Sean Manaea, and Mike Clevinger (if healthy) is as deep as any in baseball. They made the biggest trade deadline splashes by adding all the beef with Juan Soto, Josh Bell, Brandon Drury, and Josh Hader. All of these stars, and yet, they still seek the ever elusive consistency that makes great teams.
The New York Metropolitans did not actually Mets this one up this time. The Braves just sauntered up and took the NL East and their lunch money, plain and simple. That doesn't change the fact that Steve Cohen's Mets are an incredible ball club. The offense is a nice balance of speed, power, and bat to ball skill. Franky Lindor had a fantastic bounce back season, Polar Bear Pete and another huge campaign to reinforce the nickname, Jeff McNeil and Brandon Nimmo broke out in big ways, and Eddie Escobar currently resides in a different baseball dimension. And how bout that pitching staff? Jacob deGrom, Max Scherzer, and Chris Bassitt in a short series? Nope, no thank you, please stop. Ya just hope to get into the bullpen early. Or do you? They can kick Taijuan Walker and Cookie Carasco to the 'pen and that's before you even get to arms like Drew Smith, Adam Ottovino or (cue the trumpets) Sugar Diaz. Sprinkle in a versatile defense and you've got yourself a legitimate World Series contender.
Vegas odds: Padres +150/Mets -185
My pick: Mets in 3. So much good pitching in this series, it's gonna come down to the bullpen and the Mets have the advantage.
BONUS BET: The Mets will lose DeGrom's first start. Not because he's going to pitch poorly, just because the Mets are still the Mets and the Mets will (almost) always Mets up a good thing.