Bundesliga Picks: Matchweek 32
BUNDESLIGA PICKS: MATCHWEEK 32 – Thirty-one rounds gone, and now just three to go. What more can be said at this point? Once again, it's still tight at the top with just a point separating Dortmund from Bayern Munich, with neither blinking in the previous round.
Meanwhile, there's an almighty battle at the wrong end of the table, with a gaggle of teams still battling to avoid the final automatic relegation spot, above a Hertha Berlin side that still looks doomed despite beating Stuttgart last weekend.
Speaking of which, the Swabians are first up in Sunday's double header.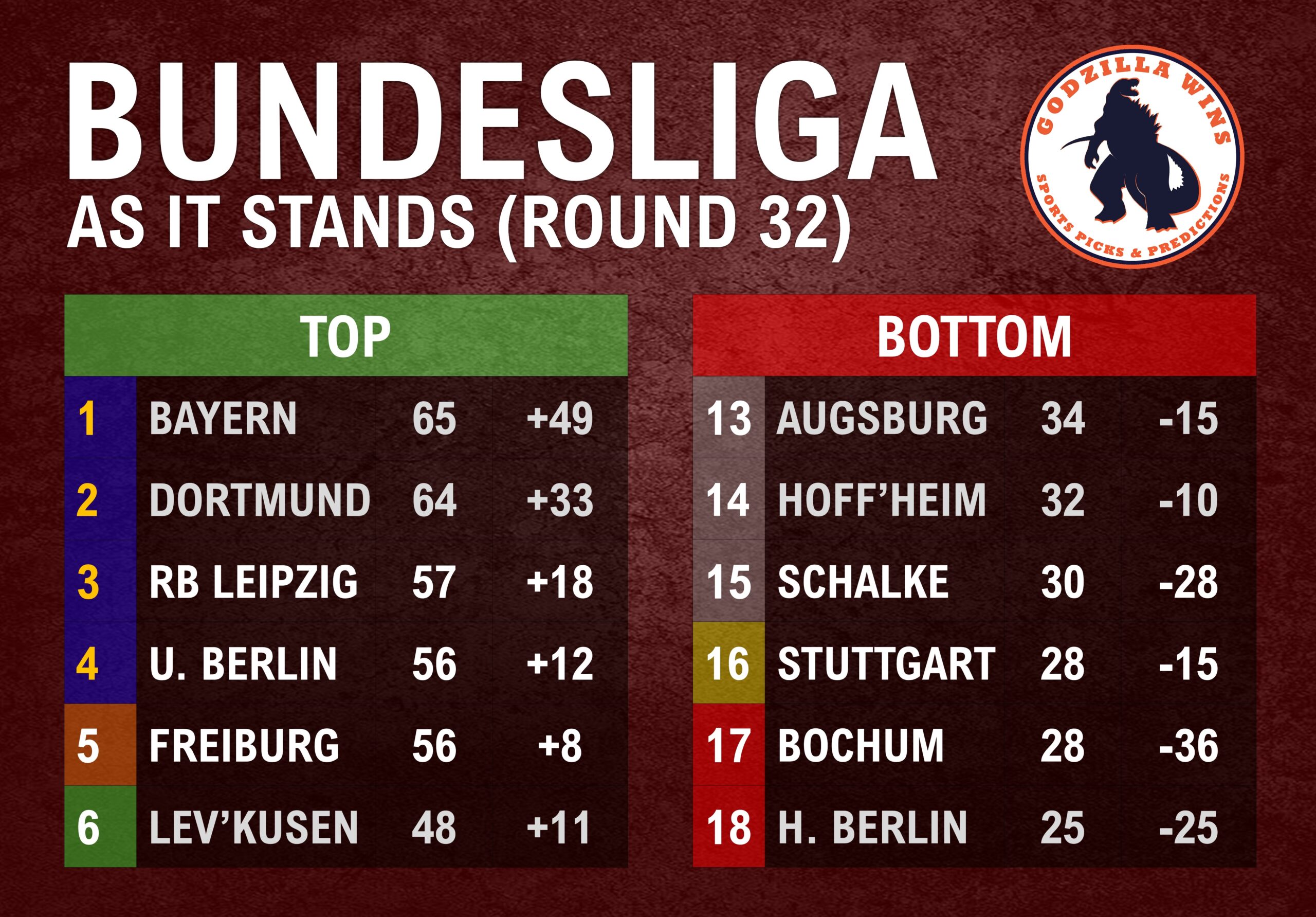 With three rounds to go, this is the state of play at both ends.
VfB Stuttgart (16th) vs Bayer Leverkusen (6th)
Date: Sunday, 05/14/2023 at 09:30 AM EST
Pitch: Stuttgart – Mercedes-Benz Arena, Stuttgart, Germany
Current Bundesliga Form: | Stuttgart (LWDDW) | Leverkusen (LDWDW) |
Last Bundesliga Match: | Hertha Berlin 2-1 Stuttgart | | Leverkusen 1-2 Cologne |
Head to Head
| | | | | |
| --- | --- | --- | --- | --- |
| Leverkusen | 2-0 | Stuttgart | 11/12/2022 | Bundesliga |
| Leverkusen | 4-2 | Stuttgart | 02/12/2022 | Bundesliga |
| Stuttgart | 1-3 | Leverkusen | 09/19/2021 | Bundesliga |
| Leverkusen | 5-2 | Stuttgart | 02/06/2021 | Bundesliga |
| Stuttgart | 1-1 | Leverkusen | 10/03/2020 | Bundesliga |
Draft Kings Moneyline Odds: | HOME: +155 | TIE: +250 | AWAY: +145 |
Prop Bet: | Leverkusen to win by 2+ goals (+380) | 

Tips
Each of Stuttgart's previous six games have seen both teams find the net.

None of those six games separated the sides by a margin of 2+ goals.

The last five of those also saw the away side on the day score second.

Leverkusen are unbeaten in their last six Bundesliga road trips (3W, 3T).

All three victories saw them score exactly three times (with 2+ second-half goals).

Leverkusen are unbeaten in ten Bundesliga visits to Stuttgart (7W, 3T).
The Word
Stuttgart can move out of the relegation playoff place with a win, assuming Schalke fail to stun Bayern Munich the day before – unlikely considering the very one-sided recent history between them. And in any case, Leverkusen typically eat the Swabians for breakfast under normal circumstances, especially after taking huge strides so far in 2023.
In fact, they were considered shock relegation candidates earlier in the season, but former Champions League gold medallist Xabi Alonso has reinvented the 'Werkself' beyond all recognition. Contrast that to Stuttgart's stuttering ways, failing week after week to build as expected, following a 3-0 win over Cologne in February.
Perhaps the only saving grace for Stuttgart here is the fact that Leverkusen are distracted by a huge chance to lift some major silverware, with this fixture coming between two Europa League semi-final battles against Roma. There were some signs of this last weekend too, as Leverkusen fell 2-1 at home to Cologne in a real lock breaker.
We're still calling a road win for Leverkusen though, and a contribution from Adam Hložek at some point seems likely, given that he netted in each of his side's last two wins during a strong April.
PREDICTION: VFB STUTTGART 0 – 2 BAYER LEVERKUSEN (+1000)
April 23, 2023 – Hložek opens the scoring against Leipzig
RB Leipzig (3rd) vs Werder Bremen (12th)
Date: Sunday, 05/14/2023 at 11:30 AM EST
Pitch: RB Leipzig – Red Bull Arena, Leipzig, Germany
Current Bundesliga Form: | RB Leipzig (WWLWW) | Werder Bremen (LLWLD) |
Last Bundesliga Match: | Freiburg 0-1 RB Leipzig | | Werder Bremen 1-2 Bayern Munich |
Head to Head
| | | | | |
| --- | --- | --- | --- | --- |
| Werder Bremen | 1-2 | RB Leipzig | 11/12/2022 | Bundesliga |
| Werder Bremen | 1-1 | RB Leipzig | 04/30/2021 | DFB Pokal |
| Werder Bremen | 1-4 | RB Leipzig | 04/10/2021 | Bundesliga |
| RB Leipzig | 2-0 | Werder Bremen | 12/12/2020 | Bundesliga |
| RB Leipzig | 3-0 | Werder Bremen | 02/15/2020 | Bundesliga |
Draft Kings Moneyline Odds: | HOME: -390 | TIE: +500 | AWAY: +700 |
Prop Bet: | Exact Leipzig goals (first half): 2 (+275) | 
Tips
Leipzig have a perfect win-rate from the last eight matches to see them score first.

Three of Leipzig's previous four home wins have come with a shutout.

All but one of Bremen's previous six defeats have seen a 2-1 scoreline.

Bremen have conceded exactly twice in all of their last six away games.

They have also permitted Leipzig to score in the nine most recent league H2Hs.
The Word
Saturday's action also sees Union Berlin take on Freiburg in what practically amounts to an eliminator for a top-four finish. But a tie in the capital plays right into the hands of Leipzig, who would go three points clear in the third Champions League spot (of four) with a win in response.
At the very least, the Red Bulls' end of the bargain should be straightforward, as they have won five of their last six home games. Starting strongly has been no problem either, as the Red Bulls have also netted inside the first 30 minutes in their last three matches on home turf.
Werder Bremen already have a history of playing their part in the success stories of better teams, and current sportsbook prices on both sides of the Atlantic strongly suggest they'll add to that litany. There is nothing left but time for the mid-table Green-White Army in this campaign, and they will be unlikely to overexert and risk injury before next season.
As for candidates to net first or at any time, Timo Werner has been Mr Consistent recently, with the German striker averaging one goal per game across Leipzig's last six home wins.
PREDICTION: RB LEIPZIG 3 – 0 WERDER BREMEN (+650)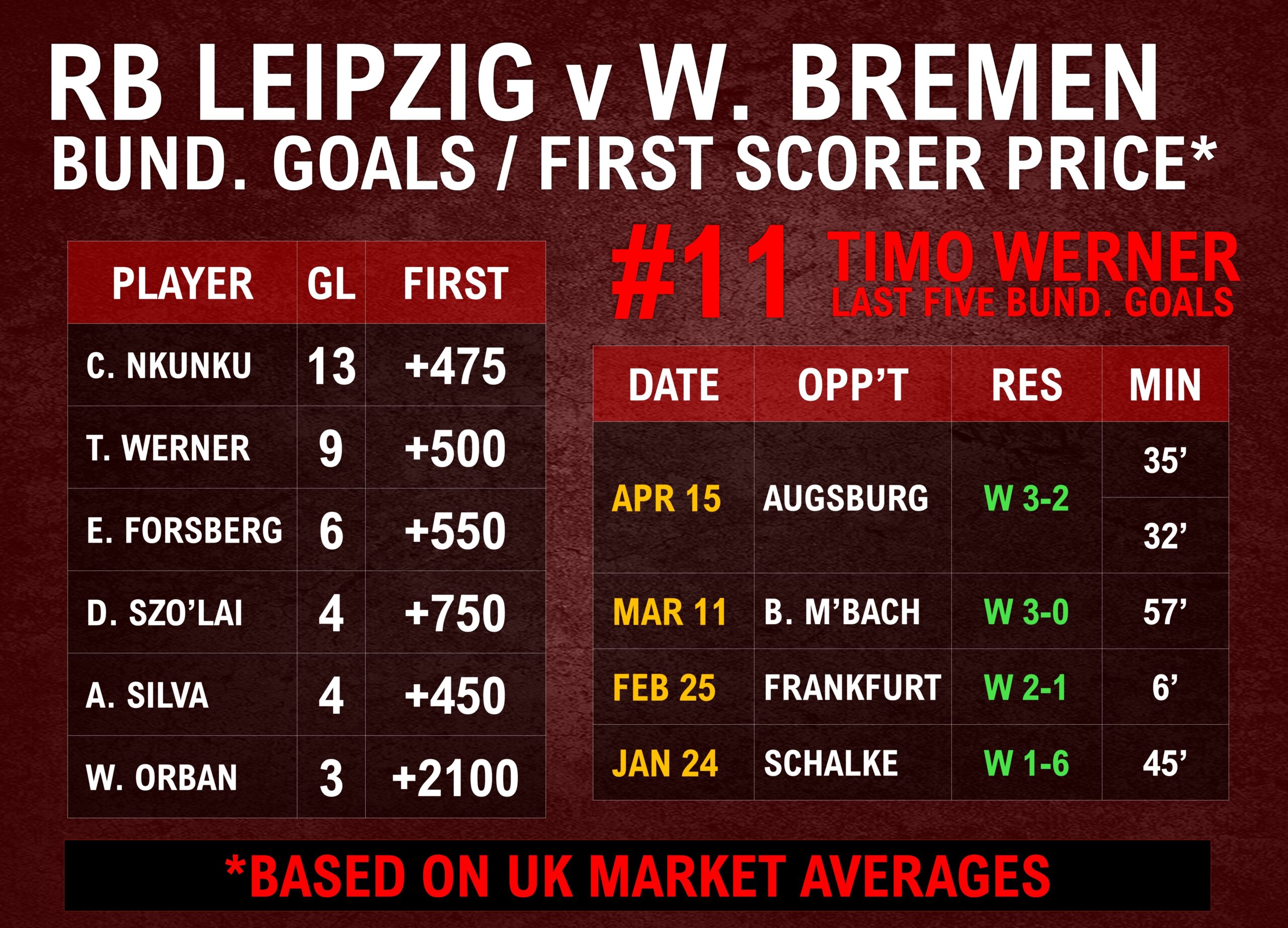 Werner's second goal against Augsburg was his 100th in the Bundesliga, while also adding to an impressive 76% win-rate from goalscoring games in the German top-flight (57W, 14T, 4L).
Saturday's Hot Tip
Union v Freiburg HT/FT: Tie/Union Berlin and Under 2.5 (+700)
With Bayern and Dortmund both at home and looking like absolute locks against far weaker opposition, the focus will firmly be on Union's aforementioned clash with Freiburg. This is basically impossible to call with much confidence either way, and neither team will be willing to take many risks, given the vast fortunes promised by Champions League entry via fourth place.
On the one hand there's Union Berlin, who have the edge on goal difference and an exceptional work rate on the pitch. However, their goals have run dry of late, with the latest round bringing a second blank in succession, when the 'Iron Ones' unexpectedly lost 1-0 to Augsburg. They've also failed to score more than once in their last six outings overall.
That's bad news when one considers Freiburg's ability to frustrate any hosts, as evidenced by them travelling unbeaten in five Bundesliga road trips, while keeping three clean sheets during that time.
But on the flipside, Freiburg conceded an eye-watering 13 goals across their three prior away league games against other sides currently in the top-four, which should motivate Union to try and be more adventurous as dreams of a fairy tale ending continue for the working-class heroes from Berlin's once downtrodden and still-overlooked east end.