Bundesliga Feature: Who Will Be Top Gun?
BUNDESLIGA FEATURE: WHO WILL BE TOP GUN – Just eight matchdays of the 2022/23 Bundesliga season are left, and the golden boot – the first in six years guaranteed to not be won by former Bayern Munich idol Robert Lewandowski – is still up for grabs.
We foresee an action-packed spring in the goalscoring charts, with two contenders in particular looking good to overtake the current leader.
The Story So Far for Leader Füllkrug
Naturally, Werder Bremen's Nicolas Füllkrug is still the favorite by default, as he tops the league's scoring charts and remains on course to be the Weserstadion outfit's first golden boot winner since German international legend Miroslav Klose in 2006: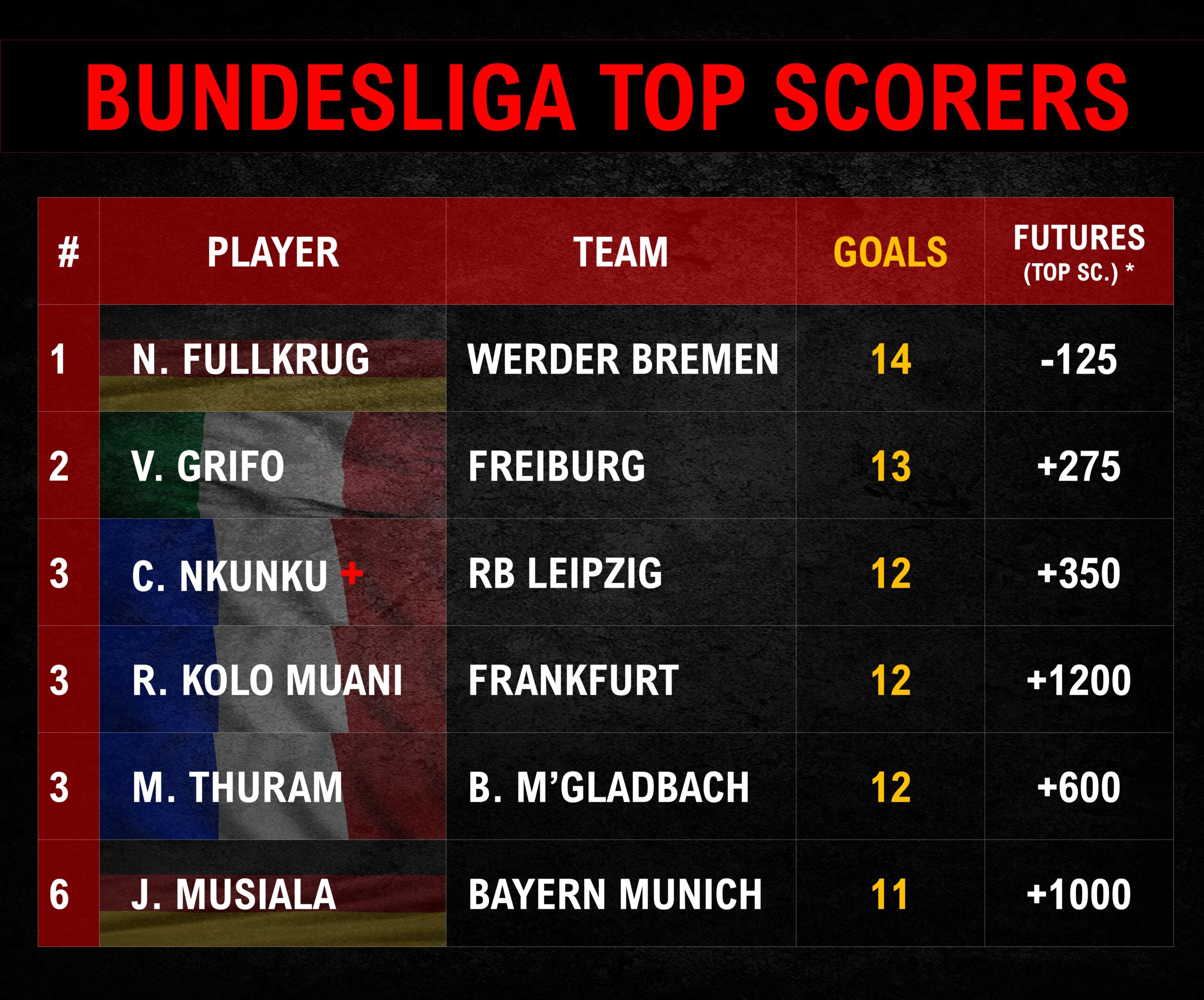 Using the relationship between Thomas Müller and Lewandowski as a prime example, consistent joint-goal participation – where one player assists another in scoring – usually plays an important role in deciding who gets the golden boot in any league. In the case of Müller and Lewandowski, it created for the latter an unprecedented monopoly over German football's greatest personal honor.
And so, with Füllkrug and Bremen teammate Marvin Ducksch already registering four joint-goal participations so far in 2023, there is a clear reason to back Füllkrug all the way. His own motivation should have a long shelf life too, with 2015 still the last time a homegrown player (Alexander Meier of Frankfurt) topped the Bundesliga scoring charts.
However, a reversal of the 2-1 scoreline predicted in Bremen's favor, as they shockingly fell to relegation-threatened Hoffenheim on Sunday, marked the Green-White Army's seventh loss in eleven league outings this year. Bizarrely though, just two of those games saw Bremen fail to score, which underlines their porous nature at the back.
In turn, it is only natural for Bremen fans to fear that once European qualification becomes a mathematical impossibility – thanks much to a defense that has shown little improvement since being whacked 7-1 by Cologne in January – the Green-White Army will start looking towards next season for inspiration, potentially allowing Füllkrug's nearest competitors to move in.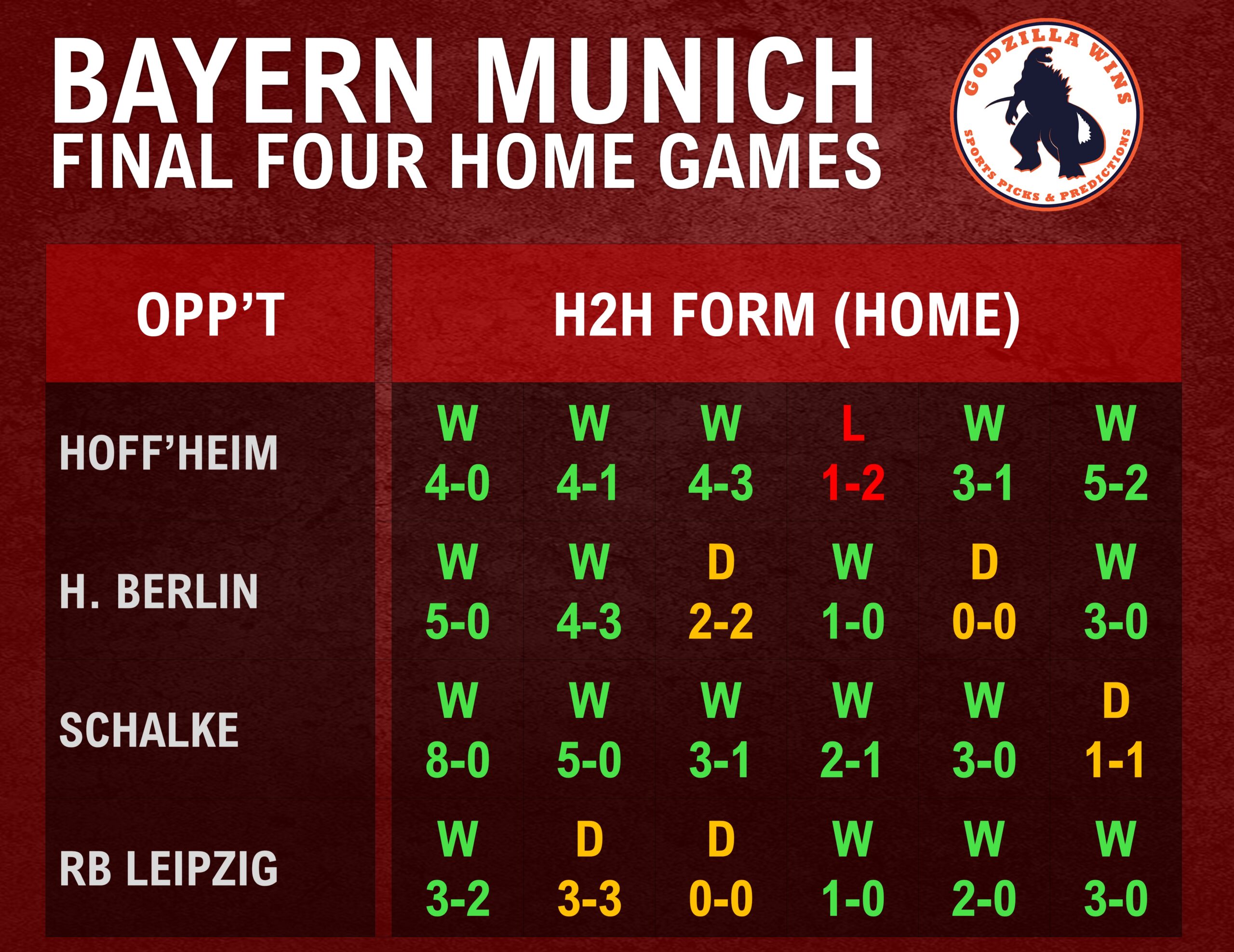 Musiala to Continue Bayern Monopoly?
Bayern's sheer might means that none of their biggest threats can be ruled out, even if they have much ground to make up over the final eight rounds. Regardless, they will be more confident than ever, having subjected main title rivals Dortmund to a four-goal deluge on Saturday evening, via which Bayern immediately retook top spot in the Bundesliga just a round after vacating it.
Only fatigue from an ongoing Champions League campaign, and the flare up of existing injuries – alongside the ever-present possibility of new ones – could stop any of the Bavarians' realistic contenders from pushing right to the end to continue Lewandowski's legacy.
Being their leading scorer going into the penultimate month of 2022/23, Jamal Musiala will be one such player as the situation stands. So too is Eric Maxim Choupo-Moting, who is the elder statesman in what would be a classic battle of 'youth versus experience' if it is between those two.
Since Musiala is on the junior end of a 14-year age gap from Choupo-Moting, he is expected to cope better with Bayern's continued battle on two fronts, on home shores and in Europe.
And as another added bonus, he's already matched the 11 league goals netted across the previous two seasons combined, giving him some very favorable comparisons to his fellow Reds. Current stats also show that this is partly down to his improved knack for scoring with either foot compared to 2021/22: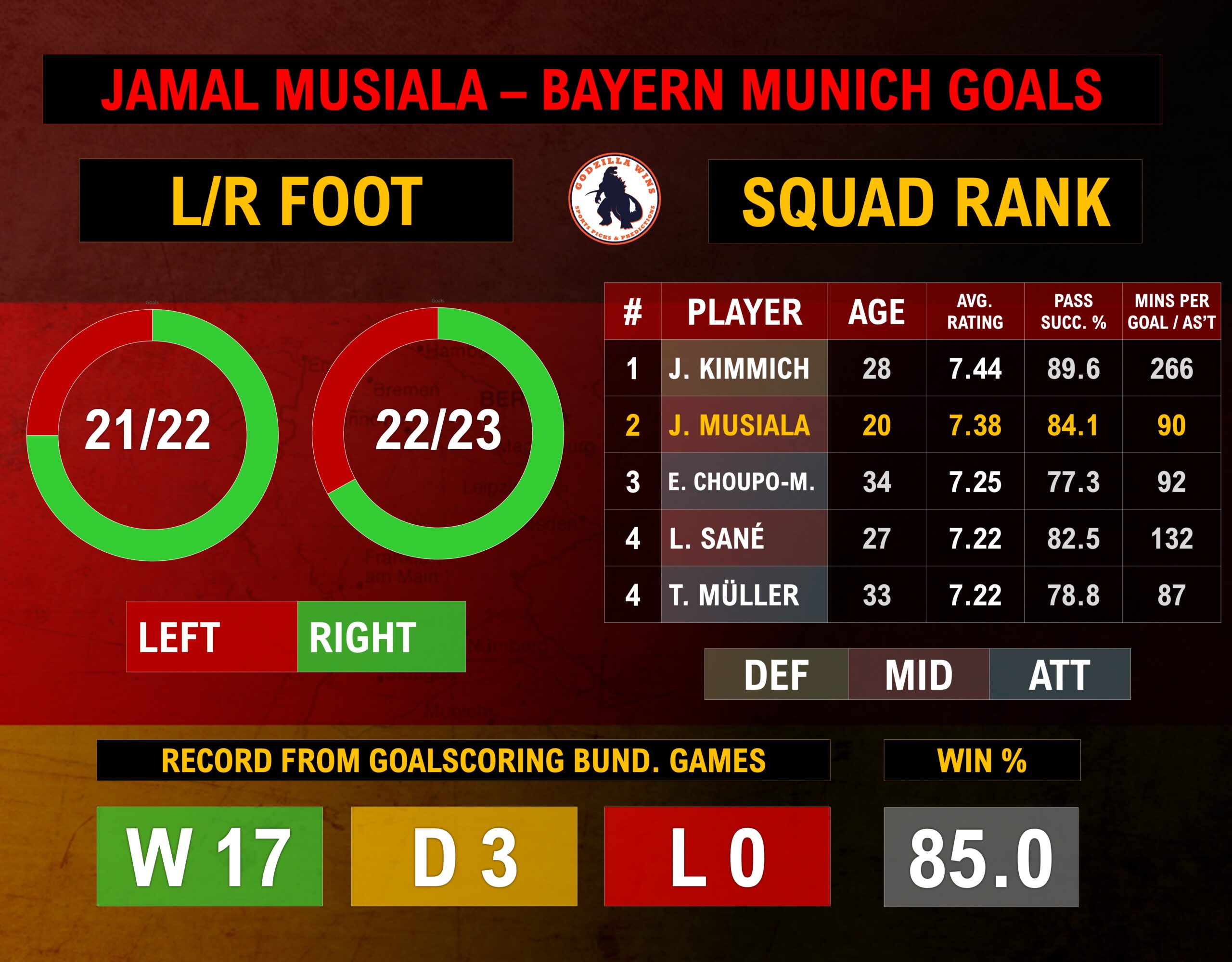 Grifo with the Edge?
Despite being genuine contenders for a top-four finish, Freiburg still aren't anywhere near the team Bayern are. Yet, Vincenzo Grifo's near-unrivalled threat from set-pieces and penalties could easily swing it, and while his team fell short of expectations by drawing 1-1 to lowly Hertha Berlin last weekend, he kept up his momentum with a cleverly-worked strike from the dead ball.
Grifo's chances are further magnified if Freiburg follow the formbook more closely later in the month. They end April by facing a duo of sliding teams in poor form (Schalke at home and Cologne away), both of which may by then feel the need to resort to desperate measures to get a result.
That's bad news for them if they are sufficiently rattled to concede penalties against any team with Grifo's services. The Italian international ended March as the Bundesliga's leading 12-yard specialist, with exactly half of his dozen league goals coming via the spot, adding drastically to an all-time personal conversion rate of 85% in spot kicks.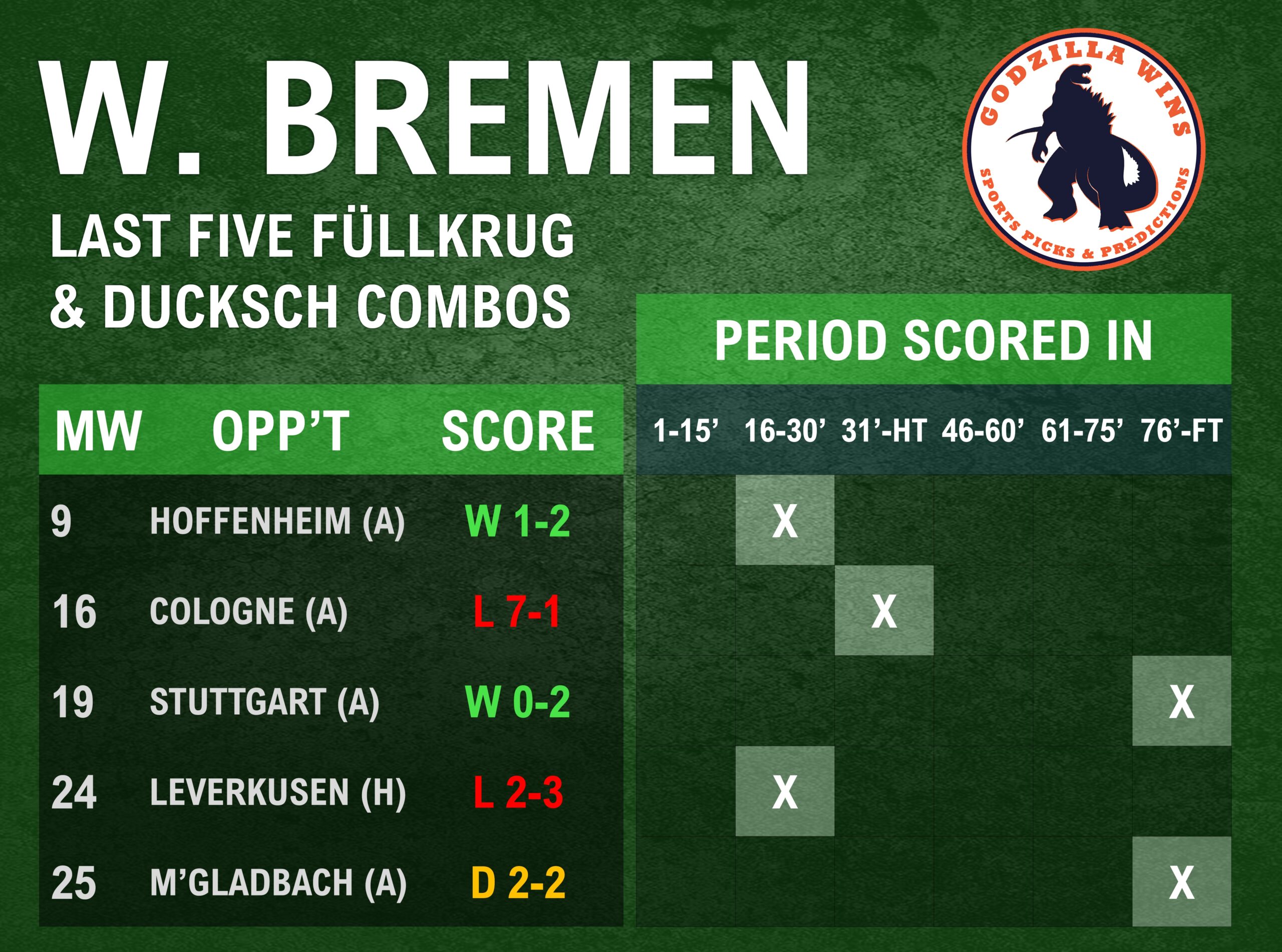 In Conclusion
Luca Toni's excellent 2007/08 campaign with Bayern also remains the last time an Italian forward lifted the golden boot in Germany's top-flight, so Grifo certainly has the chance to nail an abstract personal achievement as well as the tangible, howitzer-shaped golden boot award.
But can he do it? In a word, yes. We have every faith in Grifo to at least match Füllkrug, given Freiburg's clear superiority to Bremen right now. In fact, such is the closeness of the golden boot race now, we may even see the league's first joint-winners since 2003!
Meanwhile, Musiala is admittedly a significant call, though far stranger things have been documented in six decades of Bundesliga lore.
And even with Musiala's longer price, Bayern's run in at home almost could hardly be easier on paper, with the three home games before their Allianz Arena finale with RB Leipzig all coming against teams that began April inside the bottom-four. They are all absolute solid-gold locks:
As can be seen above, that trio of home games in the title race run-in includes one against a Schalke side that Bayern destroyed 8-0 the last time they hosted the relegation-threatened Royal Blues, taking them to a tally of 13 unanswered goals across the last two H2Hs at the Allianz Arena.
For that reason, Musiala's tempting price could start shortening quicker than the Black Knight in Monty Python and the Holy Grail, provided that he stays fit and can consistently start.
All information correct as of April 3, 2023. Statistics do not include friendly matches. Prices within the top scorer market, and their availability, may change.