By: Jack Fredericks (He/Him/His) and Nate Perry (#NoPickNate)
The IUCN recently listed Big 12 fans on the endangered species list. I haven't seen one in the wild in quite some time. The last Big 12 fan I knew farmed cotton in West Texas. He sported a gigantic tattoo of a cross on his right bicep, wore well-fitting polo shirts, periodically combed his windswept hair, memorized lines from No Country for Old Men and walked everywhere with an absolute certainty in his gate. He also rooted for Texas Tech, one of the few schools that can't seem to find a way out of a once-proud conference. If I asked him his thoughts on the Big 12 feeding frenzy, he'd most likely give a shrug, fit his gun back into its holster, and walk back into the hardware store.
We might as well make some money off the conference before they shut off the lights. The conference is completely wide open and DraftKings has not set the odds so that there is a clear favorite. Will Baylor repeat a 12-win season? Can Texas finally put together a complete season? Is Oklahoma State going to dominate on defense this year? And what's going on in Manhattan? The bookmakers know about as much as we do. We love this conference because any bet has a 10% chance of hitting! The juice looks good. Let's have some fun. 
Odds to win the BIG 12 

Oklahoma +190

Texas +290

Oklahoma State +550

Baylor +650

TCU +1200

Kansas State +1200

Iowa State +1800

West Virginia +2500

Texas Tech +4500

Kansas +2500
Odds brought to you by DraftKings
OKLAHOMA
Odds to Win the Conference: +190
Jack: Change can be good, but it usually spells trouble for a major sports program in a power 5 conference. Brent Venables should have high hopes for his new OC, Jeff Lebby, who helped Ole Miss to the highest scoring offense in the SEC last year, but they are going to have to rely on UCF transfer Dillon Gabriel at QB. The worry is that a troublesome offense line can't protect Gabriel long enough to let Lebby's play class develop. Lebby also likes to run the ball, so the line will have to be up to the task. There is nothing too impressive about the defense, aside from some strong linebacker play. Defense doesn't matter so much in the Big 12, but you need to come up with some key stops in order to win the big games. The odds aren't horrible if you really like this team. I see value in other places. 
Nate: Things are going to be interesting in Norman this year, as the program is making a massive transformation in the post-Lincoln Riley era. Riley left over the offseason for sunny southern California, taking over the job at USC and took a lot of talent with him via the transfer portal. Brent Venables takes over as head coach to try and pick up the pieces. He was at Clemson as DC for a decade, so he's used to winning and being under the bright lights.
He has a host of new coordinators who should shake things up, installing a fast-paced aggressive offense, while Venables installs his aggressive blitz-heavy defensive scheme.
This is a team that is leaving to join the SEC soon and this could well be the last season in the Big 12 for the Sooners. I'm not totally sold on this team and could never recommend a play at odds of less than 2/1 while the coaches are trying to overhaul the scheme, change the culture, and piece together what they could salvage from the roster and transfer portal. They could very well still make it to the conference championship game, but the odds suck. I wouldn't be surprised to see them stub their toe in big games against Texas, K-State, or Oklahoma St. This team just needs some time, and they don't have it this season. 
TEXAS 
Odds to Win the Conference: +290
Jack: No thank you. Texas benefits yet again from the name brand, but what has the program done for us lately? Nothing but lose. Listen, we all like Steve Sarkisian and we can all agree that college football is a better product when Texas is good (sorry, Nate). The problem here is in order to believe in these odds, you have to really believe in Quinn Ewers. The lamestream media loves the NFL-caliber talent at wide receiver and tight end and the run game should be effective behind Bijan Robinson. We all love the offense. However, the defense is atrocious. They were 100th last year and they don't seem much better this year, outside some possibly good linebacker play. If Quinn Ewers implodes – or needs some time to learn – this team could lose a lot of games early. I'm staying away from the Horns. 
Nate: Steve Sarkisian is expected to be the savior of this team, which speaks to the delusion of Longhorn fans. After a rough stretch at USC where he struggled with substance abuse issues and was rumored to have been drunk at various public appearances, team meetings, and on the sidelines, he was terminated. Since then, he's rebuilt his career under the watchful eye of Nick Saban, along with a brief stint in Atlanta as the OC. 
 This is a team that has routinely disappointed since Vince Young won it all in 06. Additionally, they were just horrible last year, losing six games in a row at one point. They also managed to blow double-digit leads over Oklahoma, Ok. State, and Baylor. So, the culture obviously needs to change as this is a team unaccustomed to winning. 
Despite how horrible last season was, Sarkisian has done a ton to put this team into position to win now. Between recruiting, the transfer portal, and coaching hires, this is a team with talent and coaching expertise that could give any team in the country a run for their money. The talent is there. The only issue I can see is that it doesn't seem like the QB situation is settled and both are a bit of an unknown commodity at the college-level. I think this team does well this year. 
OK STATE
Odds to Win the Conference: +550
Jack: Mike Gundy lives off Redbull and hot takes. GODZILLA readers should love him, because there's no way this guy supports canceling student debt. The Pokes are returning stud QB Spencer Sanders as well as seven of their eight core receivers from last year. The O-line is effective in protecting the pocket and, let's face it, OK State doesn't run the ball. The questions are on defense, where the team really shined last year. The team lost four of their five leading tacklers, but analysts are bullish on their ability to replace them. Their schedule really doesn't pose a problem. Look for the early game against Baylor to show you who this team is. I would take these odds. At least you'll get to ride the adrenaline wave like Mike Gundy at a press conference. 
Nate: This is a team that surprised last year, putting out an elite defensive unit and storming its way to the Big 12 Championship game. They lost their DC in the offseason, but Derek Mason should keep them performing at a high level.  
Realistically, this is a team that has to be better offensively in order to continue performing at an elite level. Their run game has been basically non-existent in recent years, and that does nothing to help their QB Spencer Sanders. 
Full disclosure: This is a team that I love and want to do well. My father is an alumnus, and I have spent way more time than is healthy or reasonable watching OSU games throughout my life between Alamo Bowl appearances and at T. Boone Pickens stadium. This team probably makes a bowl game, but I doubt Mike Gundy and his mullet are on the sidelines of a second consecutive Big 12 Championship game.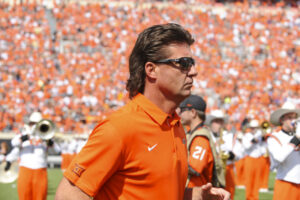 BAYLOR
Odds to Win the Conference: +650
Jack: These odds are insane considering Baylor is a top 10 preseason team. Yes, yes. Preseason rankings are silly. Still, this team won 12 games in 2021. They brought home a Big 12 championship and a Sugar Bowl victory. And you get 6.5/1 odds for them to recreate the '21 magic? I love it. The problem is that the Bears have a new quarterback, lost their biggest threats on offense, and have a tricky schedule to boot. I'm betting QB Blake Shapen will be effective. I believe the defense will be nasty again. The Bears relied on that defense for the Sugar Bowl victory and I'm thinking it's enough to get you past Oklahoma and Texas. They'll be in the conversation. Lay some cash on the Bears. Bet Baylor +650 to Win the Conference.
Nate: This is another team that raised some eyebrows by going 12-2 last season. Sorry, Bears fans, but that won't happen this year. They will win games they're supposed to against weak non-conference opponents and Kansas, but everything else figures to be a grind this year.
The offense is just replacing too many pieces to be counted on to be as good as they were last season. Vegas has this team pegged to win 7.5 games this season, and even that feels too high. Absolutely do not take these odds to win the conference. This isn't the same team that almost snuck into the CFP last year. 
TCU
Odds to Win the Conference: +1200
Jack: The Horned Frogs had a horrible defense last year. I'm wagering that even with whatever improvements they attempted to make, this team is middle of the pack. Stay away from these guys. I'm still pissed they beat Ole Miss in the Peach Bowl like six years ago. 
Nate: NOW WE'RE TALKING. This is a team I've been thinking about a lot and they seem to be getting overlooked by everyone. Sonny Dykes takes over after a really solid run at SMU, and will implement his Air Raid offense. TCU returns a ton of talent on offense and defense which is usually a harbinger of good things.
If this team can improve a little bit on defense, I don't see any reason they can't make a run to the conference championship game. Hop on the train and take 12/1 on this team loaded with talent that should be a handful for everyone in the Big 12. 
Bet: TCU to win Big 12 +1200
KANSAS STATE
Odds to Win the Conference: +1200
Jack: Your confidence in Kansas State lies with your confidence in Adrian Martinez. Martinez transferred from Nebraska, where he wasn't very effective, but the Wildcat nation assures us he's in a better system now. The O-line is pretty soft and there's not much of a rushing attack. The defense finished third in the conference last year and it will have to repeat that success to have a chance. I'm lukewarm on this team. I see more value in Oklahoma State and Baylor, but the Wildcats should be good and you get some nice juice at 12/1. 
Nate: This is a sexy team that everyone seems to be looking at in the preseason, and there's a lot to like. Bill Snyder was one of those coaches who fielded a scrappy team that made bettors some money over the years, and their new coach Chris Klieman has done nothing but keep that going with a fantastic record against the spread since coming to Manhattan in 2019. 
Here's my issue: They seem to be really excited about getting former Nebraska QB Adrian Martinez through the portal and he was…not good at Nebraska. He's a turnover machine and I don't see how a change of scenery changes that. 
I don't think it's unreasonable that this team goes bowling, but any thoughts of Martinez elevating this team to a sneaky elite level are ridiculous. Don't buy the hype here.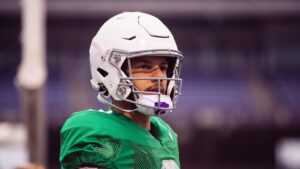 IOWA STATE
Odds to Win the Conference: +1800
Jack: The Cyclones haven't done anything interesting in years. They will be serviceable and I guarantee they will beat someone they're not supposed to (my money is on Iowa on Sept. 10), but these yahoos cannot win the Big 12. Take your money somewhere else. 
Nate: : I still haven't recovered from how much I liked this team last year. Myself and plenty of other very smart football handicappers had this team as a dark horse to make a run to the CFP. Then they lost to Iowa to start the season, looked mediocre from there on out and lost their bowl game. 
They return very few players from last year's disappointment and will be lucky to win six games this year. To quote our former president, "There's an old saying in Tennessee – I know it's in Texas, probably in Tennessee – that says, fool me once, shame on – shame on you. Fool me – you can't get fooled again."
WEST VIRGINIA 
Odds to Win the Conference: +2500
Jack: I have a burn barrel in my backyard. If I wanted to burn money, I would just toss hundreds into that, not bet the Mountaineers to make any noise. Avoid. 
Nate: This is a fun throwback, reuniting JT Daniels with his former offensive coordinator Graham Harrell from 2019. There isn't a good reason to think this team does well this year. They won't be bowling at the end of the year, so it's time to focus on basketball for Mountaineers fans.
KANSAS
Odds to Win the Conference: +2500
Jack: Kansas just doesn't win Big 12 championships so save your money. They should be better this year, though. They are absolutely a team that will upset someone. I love their win total at +/-2.5. Take those odds and pray they beat Iowa State. 
Nate: Lance Leipold is entering his second season trying to salvage this Jayhawks team and he's doing as good a job as anyone could probably do. Kansas may have exceeded expectations with two wins last year, so that's where we're at with this team. Leipold competed with his former team at Buffalo for years despite always having low expectations and what looked to be poor recruiting. He's like a poor man's Bill Belichick and may surprise someone this year, but don't count on it. 
TEXAS TECH
Odds to Win the Conference: +4500
Jack: These guys are going to stink, again! The oddsmakers have them at 45/1 only because the rest of the conference is such a question mark. 
Nate: They fired their coach midway through the season and hired Joey McGuire who is a legend in Texas high school football circles. He's done a fine job filling out his staff and has a decent amount of talent coming back on both sides of the ball.
The problem here is that the talent he gets back wasn't great. This team wasn't great a year ago, and won't be this year either. Like I told Mountaineers fans, look forward to basketball season.