BAYER LEVERKUSEN TITLE ODDS – ALONSO TO STAY IN THE GROOVE? – After last week's look at a team that has been a bride more times than Elizabeth Taylor, we move on to Germany's 'eternal bridesmaid'. After that, there's some mid-table fodder and the first of two Bundesliga newcomers.
Bayer Leverkusen
A terrible start to 2022/23 pretty much killed their hopes of a top-four finish before anyone could blink. But the situation could be far worse for Leverkusen, and head coach Xabi Alonso's arrival in October was simply a godsend.
While it wasn't all plain sailing, a glut of wins in the New Year set a course for sixth place. Impressively, that was Leverkusen's 19th top-half finish in 20 seasons: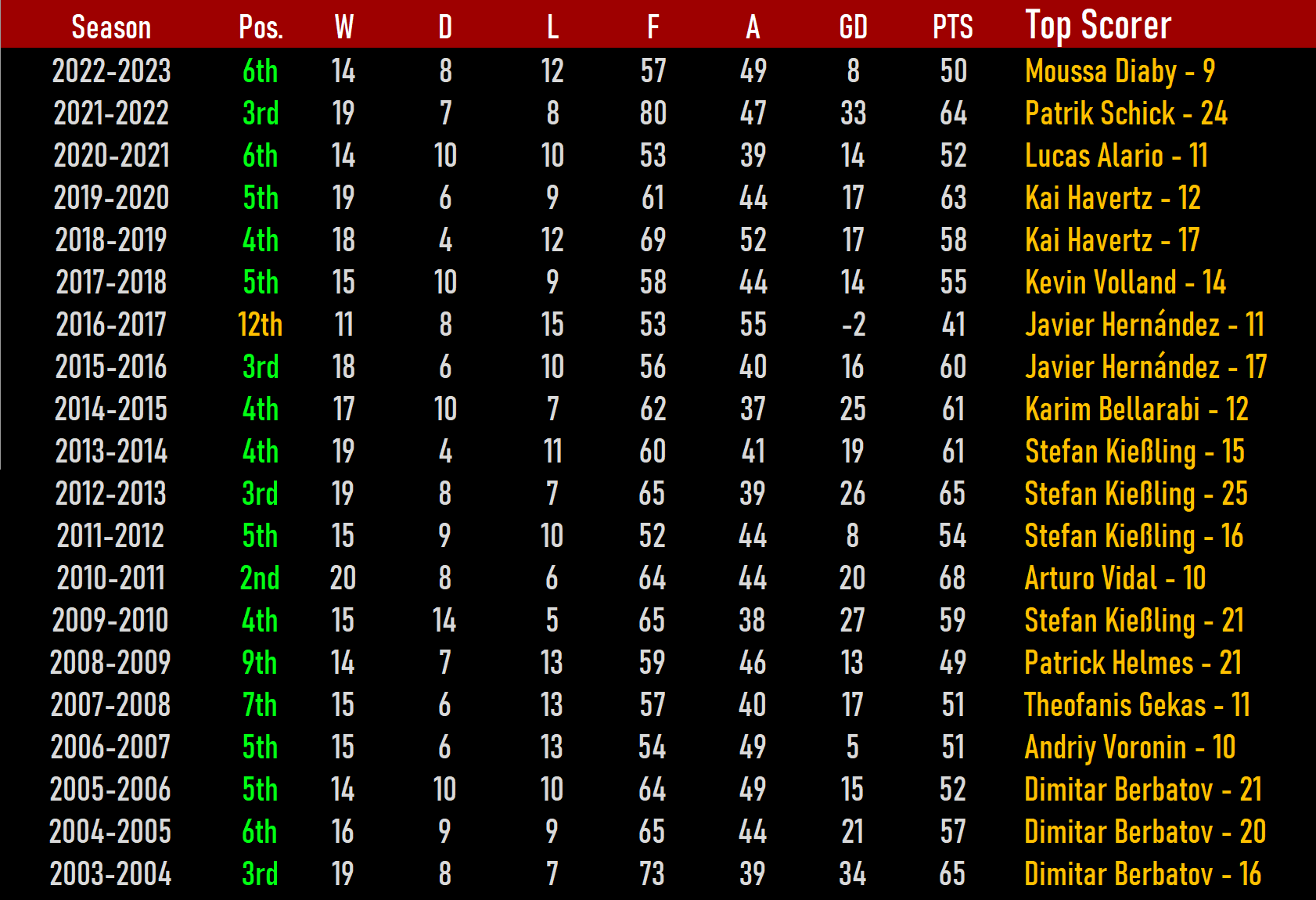 That was good enough for a spot in the 2023/24 Europa League. While it's not the golden goose that is the Champions League, it nonetheless maintains Leverkusen's pull factor for potential new signings.
Club info
Founded: 1904
Stadium: BayArena
Notable honors: DFB-Pokal (1993), UEFA Cup (1988)
Nickname: Die Werkself (The Company)
Last season: 6th
Bayer Leverkusen title odds: +5000*
Key player
Moussa Diaby was the only Leverkusen player to hit double figures in all competitions last season. The France international has also been identified as a target for several Premier League heavyweights, so coach Alonso will have a real job keeping hold of him.
Above all, he offers incredible pace and vision to go with his eye for goal. A brace against Union Berlin in November showed these qualities in abundance:
Predicted finish: 4th
On the face of it, current Bayer Leverkusen title odds will only continue to shorten under the current regime. However, that relies on the core of an attack-minded squad resisting attention from bigger clubs. Expect them to be much more like Dortmund once again, where the best form of attack is defense.

Cologne
It's fair to say that Cologne struggled to balance domestic and continental duties last term, though there are mitigating factors. After all, six Europa Conference League matchdays were squashed together in the fall due to an unprecedented winter World Cup.
Cologne's mid-table finish therefore had an air of inevitability for a long time.
Poor form in the fall of 2022 also included three straight losses just before the World Cup. However, there are no such distractions this time, perhaps paving the way for slight progress.
Club info
Founded: 1948
Stadium: RheinEnergieStadion
Notable honors: Bundesliga (x2), DFB-Pokal (x4),
Nickname: Die Geißböcke (The Billy Goats)
Last season: 11th
Cologne title odds: +50,000
Key player
Davie Selke arrived for free in January, and gave Cologne a breath of fresh air in the final yards. He scored in the Billy Goats' last three wins too, including a brace at the home of Rhineland rivals Leverkusen!
An honorable mention also goes to Florian Kainz. He was the only squad member to set up Selke more than once, and ranked second overall in Cologne's ratings, ending last season averaging 7.06.
Predicted finish: 10th
A four-place dip from 2022 isn't a sign of imminent disaster for Cologne. Yet, a return of four defeats from their final seven home games is something of a red flag, making another narrow top-half miss seem likely.

Darmstadt
2. Bundesliga runners up Darmstadt return to the big time after six years of absence. Impressively, it's success at only the second time of asking, after Torsten Lieberknecht's tenure began in July 2021.
Yet, while the club is in a good place by its own standards, Darmstadt are obvious relegation candidates without reinforcements.
Club info
Founded: 1898
Stadium: Merck-Stadion am Böllenfalltor
Notable honors: None
Nickname: Die Lilien (The Lilies)
Last season: 2nd in 2. Bundesliga
Darmstadt title odds: +200,000
Key player
Having appeared in every Darmstadt league game under coach Lieberknecht, Phillip Tietz will surely be crucial to the Lilies' survival. He's netted 27 league goals across the past two years.
While those were plundered at a lower level, such efficiency should still translate reasonably well in Bundesliga combat.
Though he's never played in the Bundesliga, Tietz is no stranger to changing rungs on the German soccer ladder either: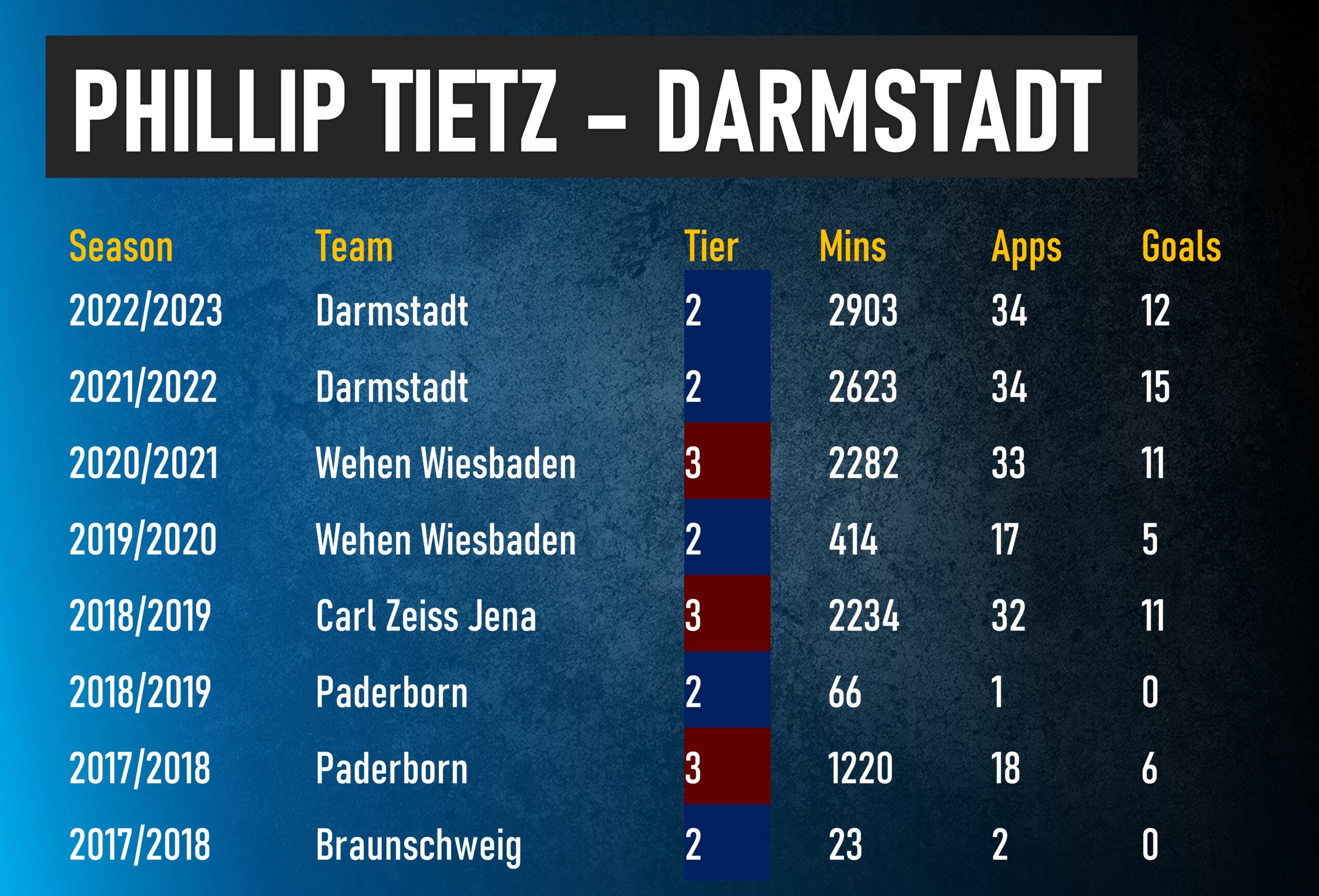 Predicted finish: 17th (Relegation)
With promoted status inevitably comes a tag of 'relegation frontrunner'. That said, a lack of experience isn't necessarily a death sentence.
After all, Union Berlin had never previously played in the top-flight when joining the Bundesliga just four years ago. This fall, they will make a UEFA Champions League debut, proving that a solid work ethic in lieu of vast riches can craft miracles.
All key players featured were on the active roster at their respective clubs as of June 27, 2023. Prices shown are based on average UK sportsbook odds.