911
Read all of Peter's columns here. 
Does anyone know the number of a good cardiologist? This Baltimore Ravens team is obsessed with making every game as entertaining as possible and it's giving me a heart attack.
After last week, no fourth-quarter lead would have made fans comfortable. And once again, Baltimore left the door open for their opponent even while holding an eleven-point lead entering the fourth.
The Ravens' first two drives of the fourth quarter managed to take a combined 2:44 off the clock. When Rashod Bateman fumbled in the fourth up only 5 points, I'm sure every Ravens fan was convinced they were witnessing another meltdown. Fortunately, defensive stalwart Marlon Humphery came up huge with an interception in the Red Zone.
But the Ravens' offense, determined to provide fans with a climactic finish, punted the ball away five plays later. All the Patriots had to do was come away with a touchdown against a Ravens defense that allowed 42 points versus the Dolphins. But like something out of a movie script, the goat (in a bad way) from a week ago, Kyle Hamilton, made a tremendous diving punch-out on Davante Parker to save the game. It was heartwarming to see Marcus Peters recover Parker's fumble, his first big play since coming back from the ACL injury that robbed him of his 2021 season. 
.@kyledhamilton_ 🤝 @marcuspeters

📺: Sunday at 1 p.m. on CBS pic.twitter.com/YTKlqwvuUk

— Baltimore Ravens (@Ravens) September 27, 2022
Baltimore's Defensive Inconsistencies
Baltimore's defense needs to play more consistent football. This is a unit that's tied for the league lead in forced turnovers but is somehow also 31st in 1st downs allowed and missed tackles. It's total feast or famine. The Ravens' pass rush is a major disappointment and largely to blame for the team's 32nd ranked pass defense.
Where is Odafe Oweh? The former first-round edge rusher has been a total non-factor to this point, a surprise given all the off-season buzz around him.
Safety Marcus Williams continues to prove why he deserved the massive contract the Ravens gave him. We knew he could play center-field (see league-leading three interceptions) but to also lead this team in tackles is all-pro level football. Humphrey and Peters looked more like the elite tandem that would shut down opposing teams' top wideouts. Most of the Patriots' chunk plays came when targeting the Ravens' rookie corners rather than testing the established duo.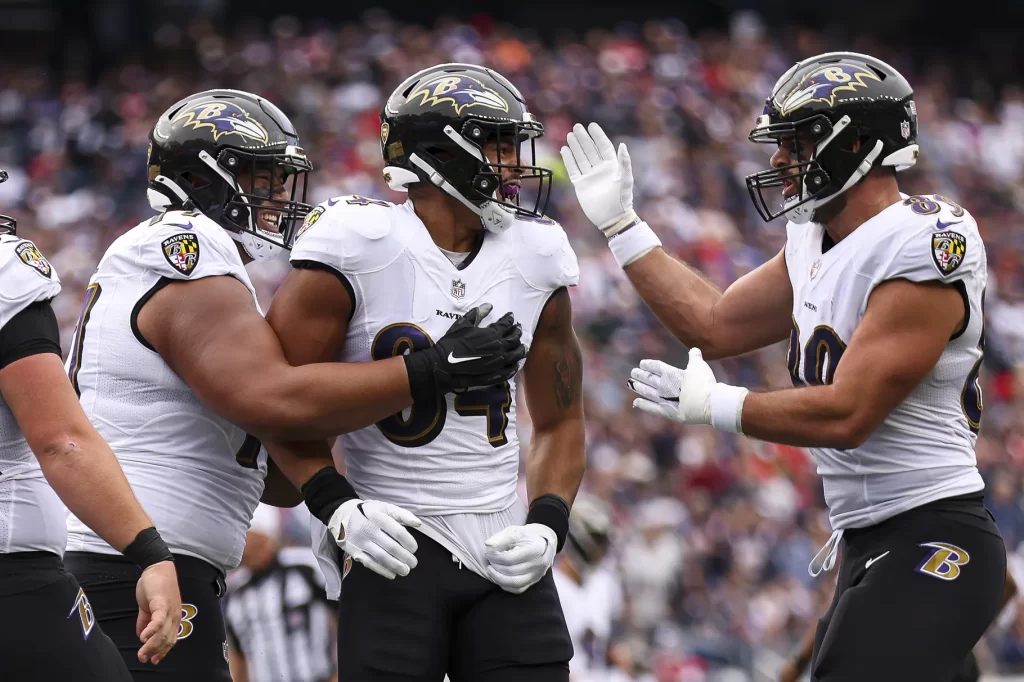 Did the Ground Game Find Its Footing?
J.K. Dobbins' return was a sight for sore eyes. He may not have had any big runs but physically, he looked good. The running game finally got back on track as the team averaged over 7 yards per carry against a good Patriots defense.
Patrick Ricard deserves major praise. He had multiple key blocks to spring explosive gains in the running game as well as steady pass protection versus the Patriots' edge rushers.
If it weren't for Ricard, Lamar might have been sacked 10 times because the Ravens' offensive tackles struggled mightily. They made Patriots edge rusher Deatrich Wise looked like a Hall of Famer, letting him by for three first-half sacks.
I say it every week but we NEED Ronnie Stanley back in the worst way. It seems this Ravens' team is still finding itself, as corny as that might sound. At the moment they have the rare ability to win or lose any game they play. And while that's scary against a team like New England, it's exciting looking ahead to their matchup versus Buffalo.  
Battles with an old friend… @PRic508 🥞🎤
Back in action Sunday at 1 p.m. on CBS! pic.twitter.com/vhOz1mOyd7

— Baltimore Ravens (@Ravens) September 26, 2022
Report Card
The Ravens were supposed to win this game, but coming off the loss to Miami, nothing could be taken for granted. There are so many things to celebrate about the win, such as Kyle Hamilton flashing for the first time in his young career, Marcus Peters taking the ball away from the Patriots twice in the fourth quarter, Lamar Jackson becoming the MVP frontrunner, and J.K. Dobbins' return. There's also plenty of area for improvement, especially on the defensive side of the ball. The Ravens are a matchup nightmare for opponents and as long as Lamar maintains this level of play, they are a threat to anybody. 
Grade: B+