Australia vs. England Women: Expert Pick and Prediction – August 16, 2023
AUSTRALIA VS. ENGLAND WOMEN: EXPERT PICK AND PREDICTION – August 16, 2023 — Welcome to the Ashes, soccer style. The traditional cricket rivalry moves over to the soccer pitch, as England is the last obstacle standing between the Aussies and the chance to play for the World Cup in front of their home fans.
But England represents a rather large obstacle, as it's been consistent as ever at this tournament. For the past decade, you've been able to pencil in England in the semifinals of a major tournament, as the Lionesses have now made it four straight World Cups or European championships where they got to the last four.
And they even finished the job in 2022, when beating Germany to claim Europe's big prize. However, there's one side Sarina Wiegman's charges haven't been able to tangle with, and it's Australia!
Since Wiegman took over the English in 2021, the Lionesses have played 37 matches and gone 29-1-7. The one loss was Australia, as the Matildas came up to England in April and stunningly won 2-0.
That doesn't bode well for England's chances of getting past this one final step and reaching its first World Cup final, giving bettors a real dilemma ahead of this tournament's second semi-final.
Match Preview
When: Wednesday, August 16th at 6 a.m. EDT
Where: Stadium Australia, Sydney, Australia
Spread: Australia +0.5/England -0.5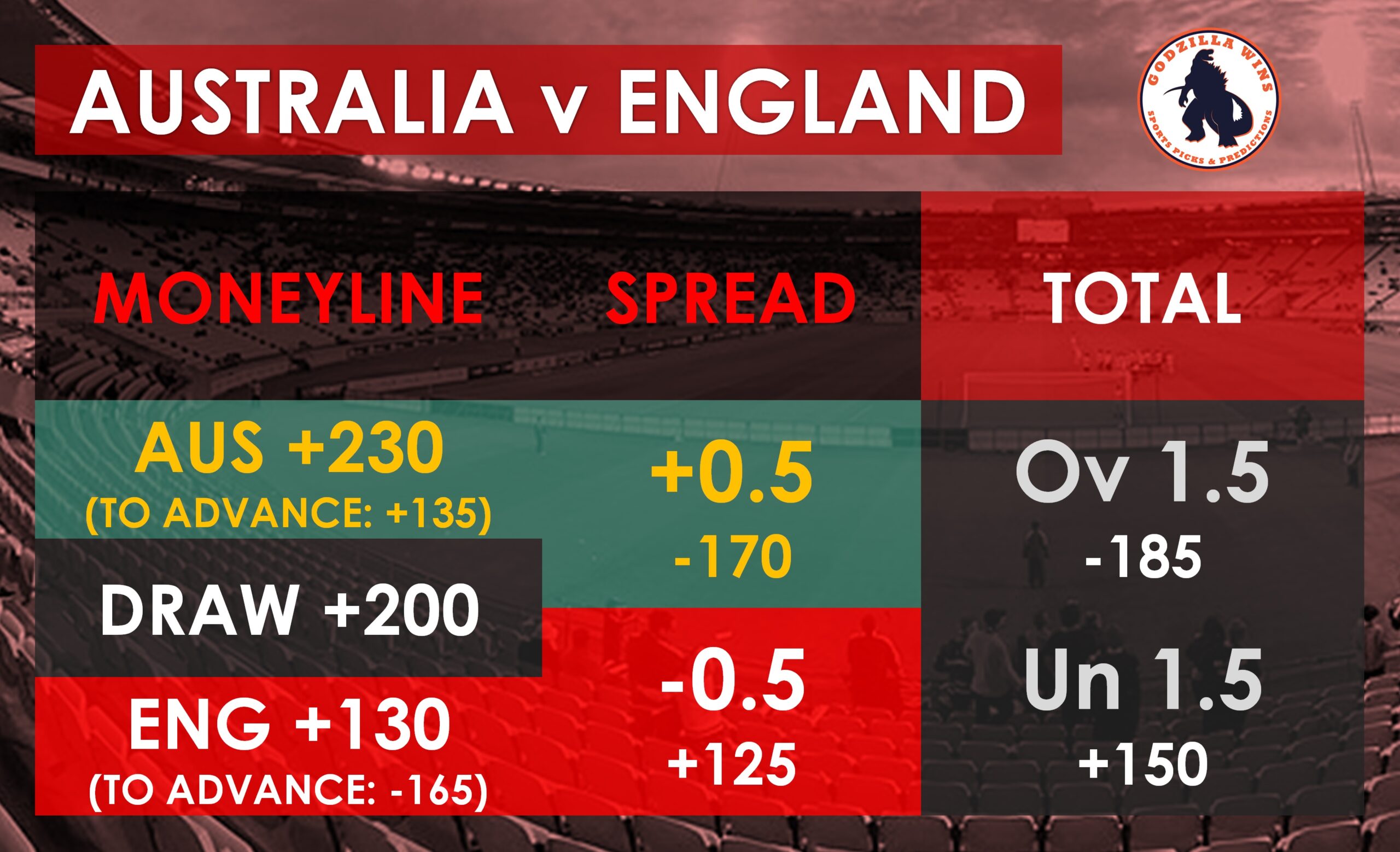 Odds courtesy of DraftKings. Table provided by editorial staff.
Scouting Australia
Australia's recent H2H success goes beyond their 2-0 win in April. The Matildas also dumped a mostly-English 'Great Britain' team out of the 2021 Olympics in the quarterfinals. And if that trend is to survive here, it will be down to Sam Kerr's possible return to full fitness, alongside Lauren James' suspension for that ridiculous Round of 16 red card against Nigeria.
There's good and bad for Australia coming out of its matchup with France. The 'good' is that the Aussies have been getting stronger in every match, and haven't given up a goal to anyone but Nigeria. The bad is that their use of the bench becomes more of a weight with every match.
Some of it isn't coach Tony Gustavsson's doing, as the Matildas have had to do whatever they can just to put a healthy team on the pitch. But they did have to go 120 minutes with France and only used three of six allowed substitutes.
And that nearly cost the Aussies everything. One through 11, Australia can stand up to anyone in the world when it has a healthy Sam Kerr. But once it becomes 1 through 14, 15 or more, Australia runs into problems.
The Matildas only made one substitution in regular time against France, and it was Kerr coming on at 55 minutes. The good news is she played 75 minutes, but that's also the bad news. The longer this match goes, the more it favors England. If Australia is to advance, it must do the job in 90 minutes.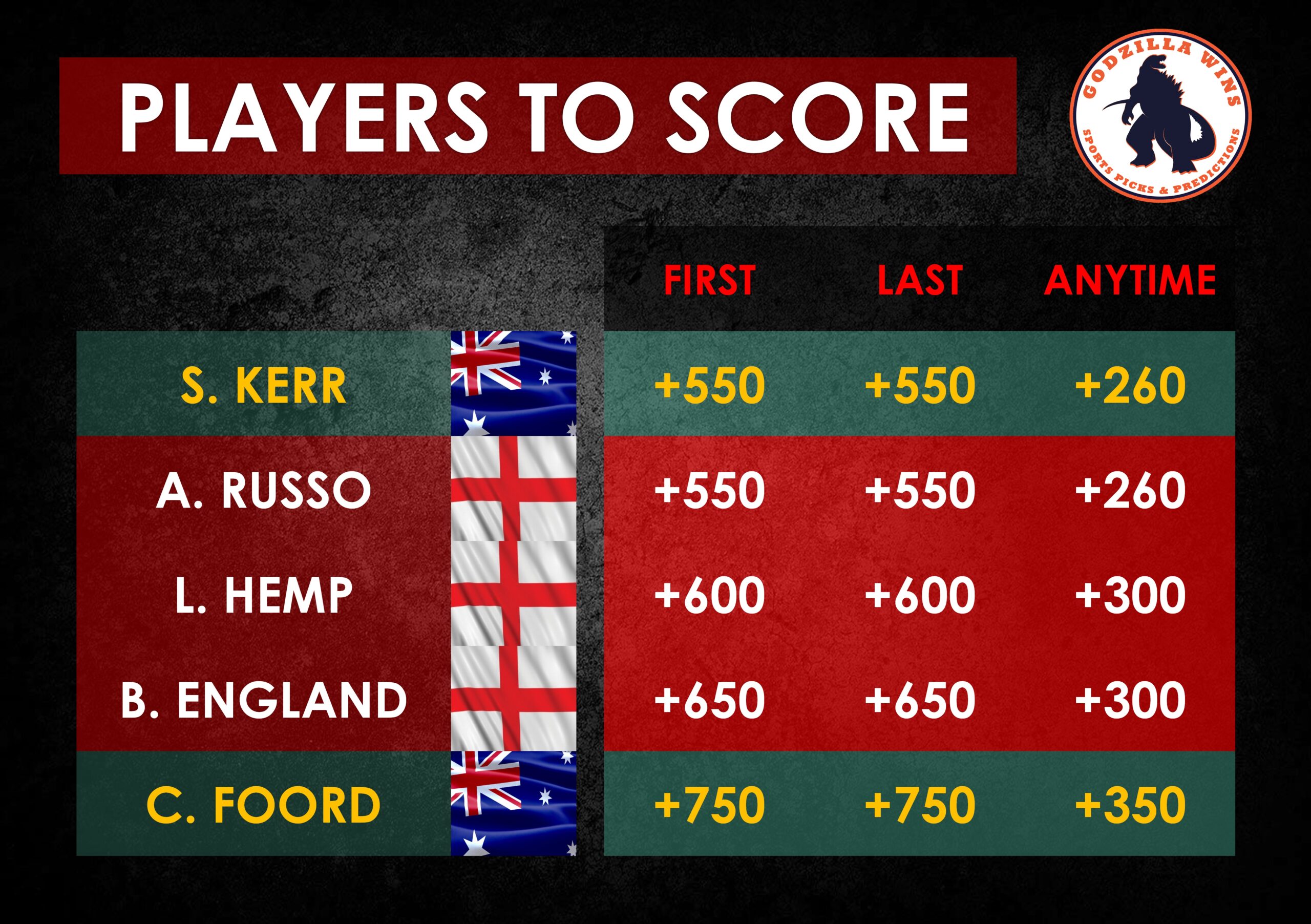 Scouting England
James would be available against Spain in the final, but the Lionesses have to get there first. Yet, with the sister of an England international and Champions League winner still out for a ridiculous momentary lapse of judgment, the focus is again on bossing the midfield for 90 minutes. Should that approach fail, the substitutes will be relied upon to finish the job.
With no James, the English cannot match Australia for 90 minutes unless dead legs become a factor for the Matildas. But England has the ability to bring on the likes of Chloe Kelly and Beth England late in the match – something Australia cannot do.
Most likely, England will attempt to let Lucy Bronze, Rachel Daly and Georgia Stanway clog the middle and force Australia to find different ways to get the ball to Kerr. If the Millie Bright-led defense can remain solid, the Lionesses will have the edge in extra time.

Match Bets
Australia ML (+230)
England knows what it has to do, but whether it can do it is another matter entirely. If Kerr starts, Australia will be trying to score the knockout blow in the first 30 minutes, as it's going to have the edge at that point. The feeling here is Australia succeeds and ends up in control of the match.
No on Both Teams to Score (-160)
With how well both defenses have played in this tournament and how dead legs are likely to be a factor, backing the offenses seems unwise here. Mary Earps and Mackenzie Arnold are both world-class keepers with solid back lines in front of them. One goal might be enough.
Final Score: AUS 1-0 ENG (+600)
Both teams know Australia has to win this thing in 90 minutes, or it's probably not going to win at all. But I'm not sure England can do anything about that. The Lionesses have looked shaky in the knockout stages, and the lack of James leaves them in a tight spot if the Matildas score early. I think they will, and it proves the difference-maker.
Dan's Picks
Australia ML
No on Both Teams to Score
Australia 1-0