Georgia Wins 2023 National Championship
GEORGIA WINS 2023 NATIONAL CHAMPIONSHIP – "Brutal, cold execution." Stetson Bennett summarized the game as the Dawgs annihilated the Frogs on Monday night.
The Cinderella story of TCU's Horned Frogs came to a crashing finale, while UGA established itself as college football's current powerhouse program. The Dawgs played a nearly flawless game with TCU providing little resistance.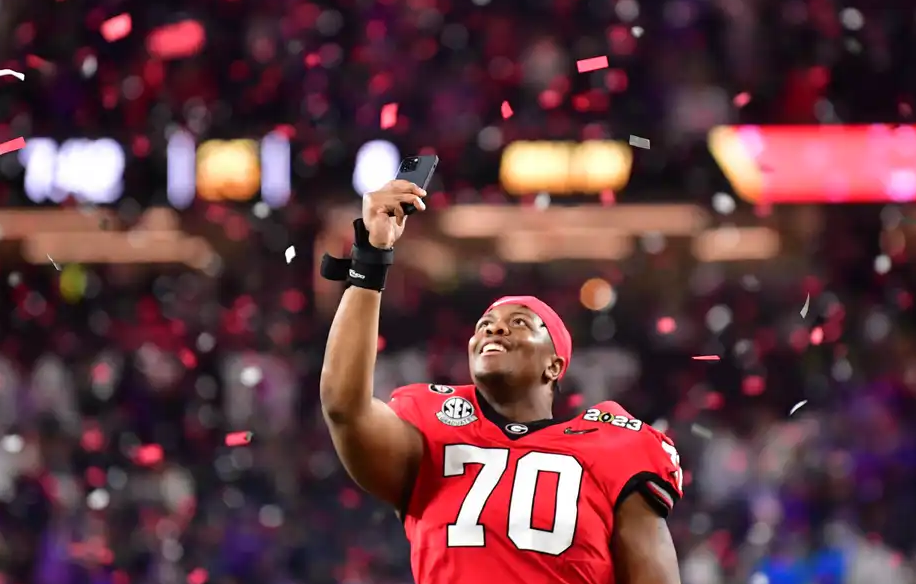 Game Recap
After deferring to receive the ball in the second half, UGA kicked off to TCU. On 3rd down, Duggan missed an open receiver to move the sticks, and the Frogs promptly punted on a 3 and out.
UGA sputtered in their first drive some as well, with a false start and an illegal shift penalty. However, two catches by Brock Bowers moved the ball down the field before Stetson ran 21-yards untouched to the end zone. 
TCU was able to get a first down after a UGA holding penalty by Javon Bullard on the following drive.
Then, on the next play UGA safety Chris Smith hit TCU receiver Derius Davis, forcing a fumble. Bullard recovered the fumble, making up for his previous mistake.
TCU's defense held up, as Todd Monken dialed up a clear-out play for Daijun Edwards. However, with great linebacker play, Edwards was not able to take his catch beyond the first down marker. Jack Podlesny, in his final game for the Dawgs, hit the field goal.
TCU'S Explosive Play (Singular)
Duggan and TCU hit one of the explosive plays that they have done all year on the next drive. After a short run by Emari Demercado, Duggan found Derius Davis for a 60-yard throw. Bullard and Kelee Ringo had a miscommunication in coverage, which led to Davis being wide open. TCU ran the ball twice more before Duggan ran in a touchdown.
Ladd McConkey
The next drive was all about WR Ladd McConkey. He caught passes for 11-yards, 11-yards, and then 37-yards for the touchdown on an excellent play design. UGA forced the TCU safety to decide between covering McConkey going deep or Kenny McIntosh on a wheel route. In a no-win situation, Bennett hit McConkey, who was wide open to go up 17-7.
Demercado pulled off a couple of nice runs to get TCU moving on the next drive. DE Mykel Williams sacked Duggan to help the Dawgs stall out the TCU offense, which resulted in a punt after 6 plays. 
Then, UGA went for an 11-play, 92 yard drive. Bowers had 2 more catches for a combined 45 yards. Stetson scrambled on a 3rd and 10 for a first down, and later ran in, once again untouched, for a 6-yard touchdown. 
With about a minute remaining, TCU tried to score some more points to lessen the deficit. Instead, Javon Bullard picked off Max Duggan, and Stetson promptly hit AD Mitchell, who hauled in a one-handed catch for a touchdown. It was half time and the game was well out of reach, 38-7 Dawgs.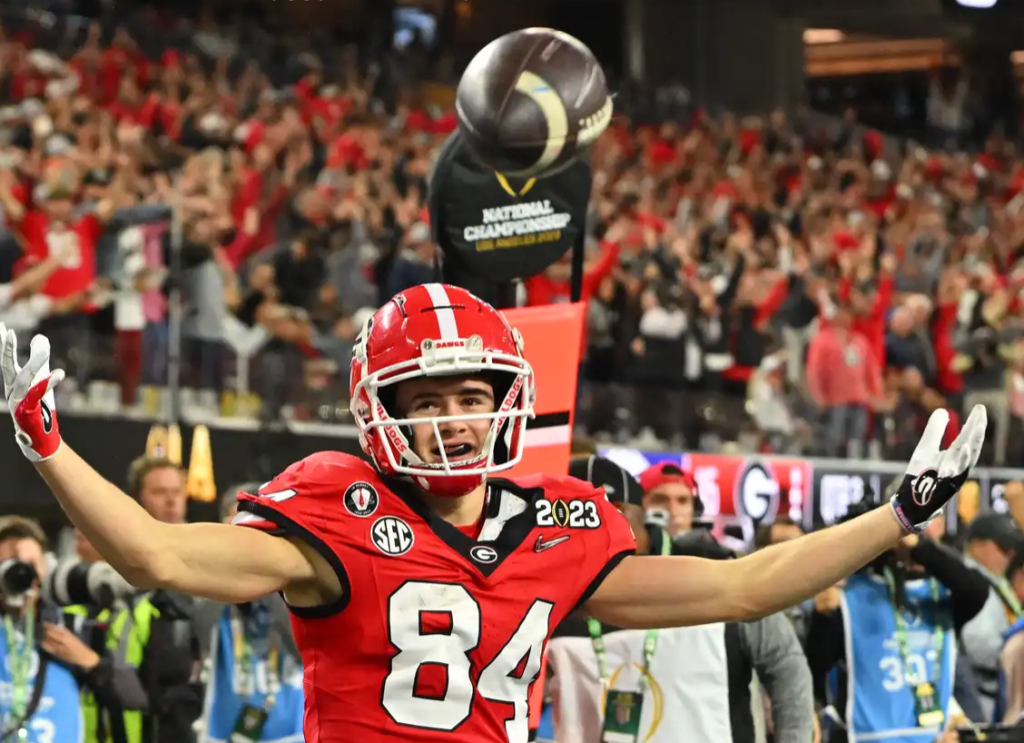 The Second Half
The second half was a mere formality. Stetson didn't play the 4th quarter as Kirby Smart called a timeout so his quarterback could receive the standing ovation he deserved. It was his last game in red and black. It was his best. 
Even with the backups in, UGA managed to pile on the score. Freshman RB Branson Robinson scored a couple of touchdowns, and the QB waiting in the wings, Carson Beck, made some nice throws. Before long, the red and black confetti rained down on the undefeated Bulldogs. 
Reaction
With UGA's win, Kirby Smart became the first UGA coach to win two national titles, which he has accomplished in 7 years.
Stetson Bennett becomes one of a handful of quarterbacks who have won two national titles, while setting the single season record for passing yards by a Georgia QB.
With his 6 touchdown, 304-yard performance Bennett became the offensive MVP for not only this game but for all of the semi-final and national championship games he has participated in. 
UGA Defense
Defensively, CB Javon Bullard followed up his semi-final defensive MVP with another MVP performance.
Despite not playing the second half due to injury, Bullard recovered a fumble and nabbed two interceptions in the game. He hauled in a Max Duggan deep ball that was overthrown due to pressure from Jamon Dumas-Johnson for his first INT. Then he undercut a route right before the end of the first half. I
nterestingly, Bullard appeared injured almost immediately before his second interception. He fought through what appeared to be a shoulder injury to make his next big play, which set up another UGA touchdown.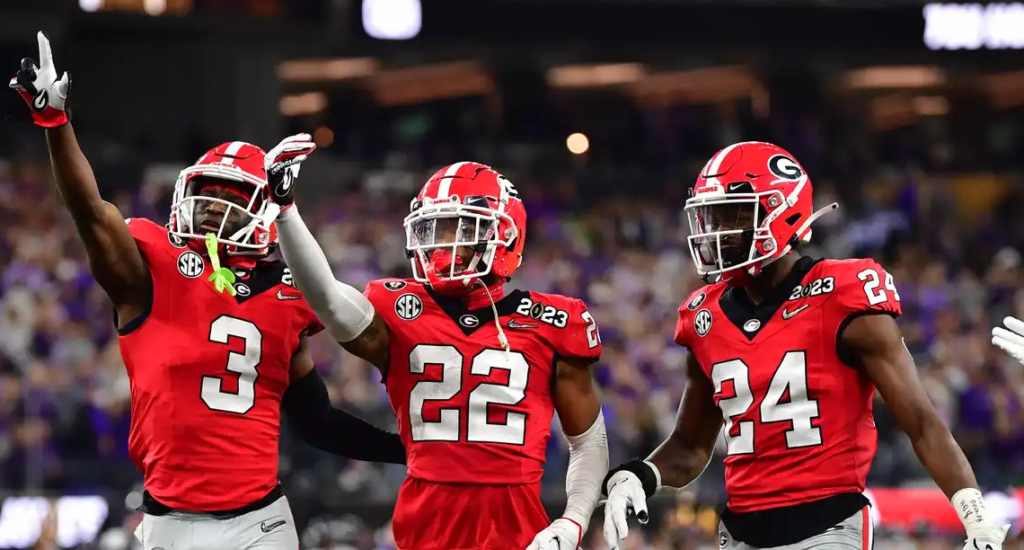 The Cali Connection
A couple of California kids on the Dawgs were able to show out as well.
TE Brock Bowers powered the UGA offense throughout the game. He finished with 7 catches for 152 yards receiving, 15 yards rushing, and 1 touchdown.
Bowers showed why he could make himself a legitimate case for a Heisman candidate next year, as his athleticism was on full display.
He hauled in balls over the middle, deep throws to the edge, fades to the end zone, rushed on end-arounds, and blocked exceptionally well. His Cali-counter part, Kendall Milton, rushed for 33 yards and a touchdown himself. 
The Line of Scrimmage
UGA completely dominated both lines of scrimmage.
Despite RT Warren McClendon seeing limited action in the game, the UGA offensive line bullied TCU's d-line, who could not match their size and strength.
UGA moved the ball at will for nearly 9 yards per play and nearly 1 point per play. Defensively, UGA used several true freshmen to pressure Duggan on their way to recording 5 sacks. Mykel Williams, Jalon Walker, and Bear Alexander all freshman, all recorded sacks. These three will be a fearsome pass rush for the future. 
The Secondary
UGA's secondary was torched two games in a row before the championship. Duggan couldn't hardly move the ball against them.
If you take away the miscommunication that led to a busted coverage, UGA could have easily shut out TCU and held them to around 100 yards of total offense.
Kelee Ringo was light's out after I and many other Dawgs criticized his performances. Fellow cornerback Kamari Lassiter had several impressive tackles himself.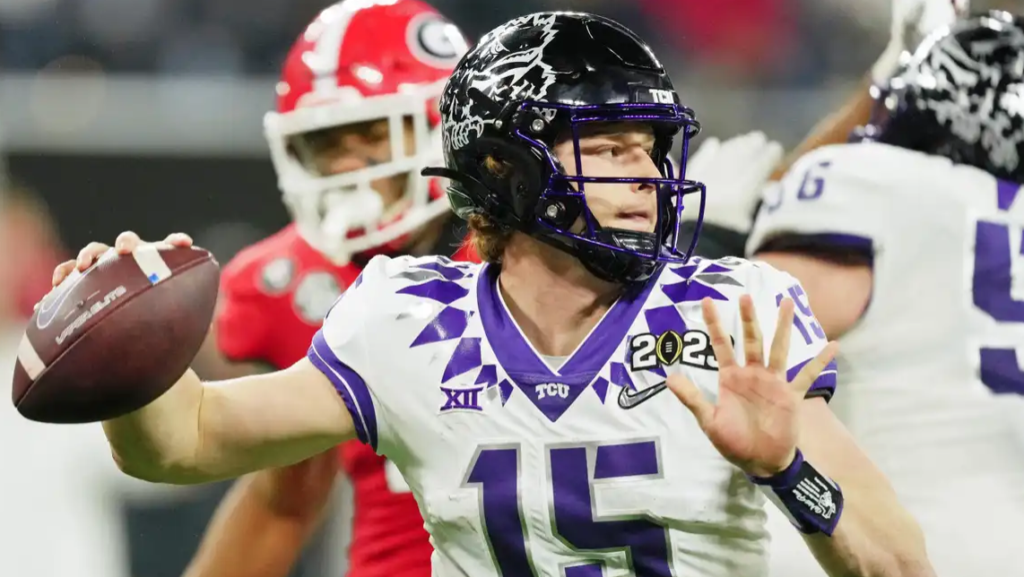 Healthy Football
Surprisingly, every player that I expected to be injured or out, played.
Ladd McConkey looked 100% even after being visibly hurt against Ohio State. Chaz Chambliss had a nice game at linebacker, as well as Robert Beal.
TE Darnell Washington played well into the second half, despite not playing at 100%.
I don't know if it was the toroidal or the adrenaline from the natty, but UGA found a way to get nearly all of its contributors physically ready to go. 
The Staff
Lastly, right before the game, Kirby Smart said his guys were ready to hunt. Boy, were they. Todd Monken just about emptied the clip into TCU, as UGA dialed up plays and formation that had yet to be seen this season. The defense put the nail in the coffin by half time. Muschamp and Schumann did an excellent job prepping the defense for Duggan. It was a coaching and performance masterclass. 
The bottom line, from the opening snap to the final whistle, UGA proved it is the best team and program in the nation. They set the record for the largest bowl game defeat in history, and I can all but guarantee you'll never see a national championship as lopsided as this one again. As a Dawg fan, I'm in awe of what I witnessed. It's great to be a Georgia Bulldog.